"Drinking is joy of life, you have to celebrate with colourful glasses!" , says Count Giberto Arrivabene. He lives in Venice, where glass art has been a tradition for centuries, and he designs beautiful glasses based on old historic patterns. Growing up in the famous Palazzo Papadopoli, one of the oldest and most stately palaces on the Grand Canal, Conte Giberto Arrivabene Valenti Gonzaga, known by friends as Gibi for short, inherited not only the magnificent house in which the father of five and his wife Bianca now live in the attic. But also lots of glasses, treasures, some from the 18th and 19th centuries, when lavish parties were still being celebrated in the "piano nobile", the noble floor of the palace. 
Giberto Arrivabene was raised in Palazzo Papadopoli, Venice, surrounded by frescoes of Giambattista Tiepolo and other artists. The context in which he grew up had a great impact on his unique aesthetic sense. Love for glass and craftsmanship is at the heart of his work. Giberto creates each piece starting first with a watercolour sketch. "When I see something that inspires me, or an object that I like, I sketch and rework it – then move on to the realization of  and handing it to expert glass blowers from the glass capital Murano.  These true artists are entrusted with the difficult work of engraving designs of any kind. The glass, the main material in the collections, is worked exclusively in Murano.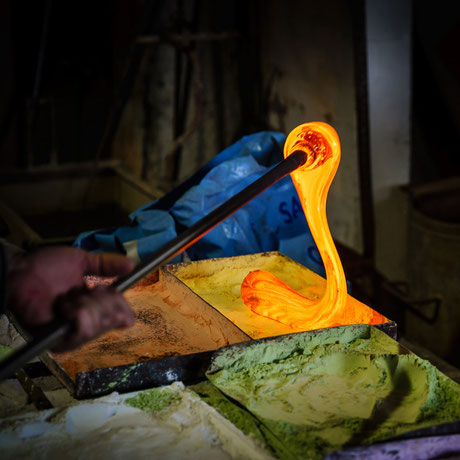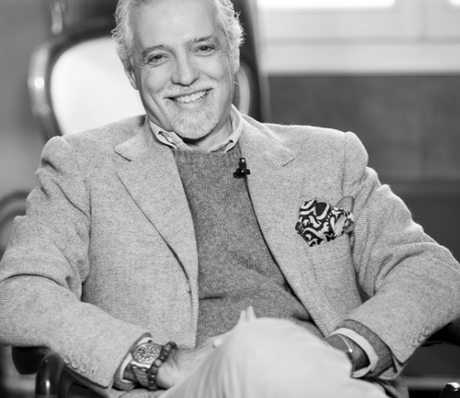 "When I started, my expectations were high: I wanted to design glasses that didn't exist yet, which of course is almost impossible! Inspired by old, classic shapes, but redesigned with a modern touch. "
There is a set of glasses, such as whiskey tumblers set with amethysts. The bright colours are typical of Giberto creations - turquoise, titian red, yellow. It is the colours of the water, flowers, fruits and facades of the area from which the glasses come. And the idea is to serve them just as colourfully thrown together: decoratively on a large tray. Or, as with Gibi, casually and always ready to hand on a chest of drawers next to colourful bottles and carafes, so that everyone can help themselves whenever they want.