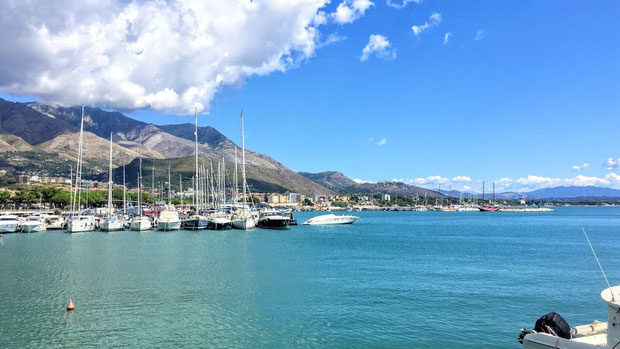 The gulf of Gaeta is named for the nearby Italian city of Gaeta. The Gulf is famous for having the most beautiful beaches of the Lazio Coast;  characterized by flat and accessible beaches, covering many kilometres before getting steeper. The most beautiful beaches attracting tourists during the summer are: the Spiaggia dei 300 gradini, Spiaggia di Fontania", Spiaggia dei 40 remi", Spiaggia di Sant'Agostino with its bays, caves and cliffs overlooking the sea. The Gulf also features famous cities such as Formia, Scauri, Terracina, Sperlonga and Gaeta. Some of the best fish cuisine can be discovered along the 361 kilometres of the Lazio coast. But also the opportunity for lots of water sports, such as windsurfing and sailing. So planning a holiday of water sports or beach not far from Rome, and indulging in refined Fish cuisine, sounds just like the perfect holiday! For example along the Ostia coast, you will find  the Lux restaurant , where  Micaela Di Cola prepares specialties such as clam and potato soup, with crispy pork popcorn and Sichuan pepper, to  be enjoyed perhaps even sitting on the terrace with a glamorous touch, overlooking yachts and sailboats. 
The Lido La Perla in Gaeta is the ideal place for moments of relaxation and enjoying beautiful seafood. This establishment offers a private beach, a bar and an excellent restaurant service for both lunch and dinner, as well as enjoying a pizza at the Beach Bar.
If you are looking for a luxury beach hotel along the Lazio coast; there a few suggestions. With its coastline of 250 kilometres, 8 Blue Flags and a lot of wonderful villages, the choice is difficult. Gaeta stands out as a destination, based on its ancient history, centro storico and hotels such as Hotel Le Rocce or Grand Hotel Il Ninfeo. Hotel Le Rocce with its private beach has been awarded with the Blue Flag for over 21 years. The guests staying in this hotel will have the chance to enjoy the panoramic pool, the amazing gardens, the beautiful terrace and much more. The Grand Hotel Il Ninfeo is a  luxury hotel, with an extreme attention to detail, comfort, and has its own private beach in one of the most amazing spots of the coastline between Gaeta and Sperlonga. In the garden, with an abundance of plants and flowers, there are the ruins of an ancient roman villa, from the first century. For those who prefer being closer in the centre, there is the Hotel Gajeta, the most elegant and classy hotel facility along the Caboto seafront. Having a happy hour with a view on the entire Gulf of Gaeta or waking up with the lovely image of the sailing boats travelling on the sea is a unique experience.
This hotel is famous for its priceless view, but also for the rooms, all furnished with great taste. Sea food restaurants such as Tavola Dei Cavalieri in Gaeta tops the location with delicious flavors.