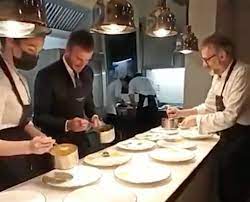 David Beckham was recently in Modena and visited Massimo Bottura's Casa Maria Luigia, and rather than simply enjoying his meal and posing with Bottura for the obligatory photo, he joined Bottura in the kitchen and helped plating up.  The former footballer was wearing an apron over his tuxedo and lets himself be guided by the starred chef in the serving of dishes. A gentleman who knows how to kick a ball, how to choose a great wine and now how to serve the perfect dish!" Massimo Bottura wrote , sharing the images of the evening with a special help in the kitchen. David's passion for cooking is nothing new. During the quarantine, he tried his hand at cooking with family recipes, offering Victoria Beckham and their children his delicacies. There are rumors that he is in talks for a cooking show of his own, in collaboration with a world-famous chef like Gordon Ramsey . 
Not only do Bottura and Beckham share a love of football, but they both have a passion for Maserati cars - photos of the former England footballer posing with his Maserati Mc20 at Bottura's B&B Casa Maria Luigia were all over Italian media .  Beckham made a stop in the Modena countryside during an Italian mini tour (he seems to have been in La Spezia, probably to buy a yacht). On board a flaming Maserati Mc20, he reached the home of Massimo and Lara Gilmore, where he probably ate, and then let himself be immortalized - with the impeccable style of all time - in front of the racing car. He was also paying a visit to the home of Maserati, as he became a brand ambassador for the Modenese car maker some months ago.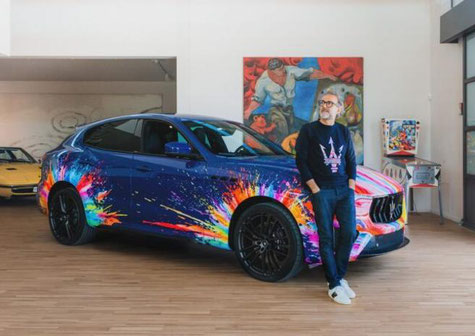 There are many great chefs passionate about cars.  But even in this Massimo Bottura, twice awarded chef n.1 in the world, shows that he has an extra gear beyond his famous motto "Slow food and fast cars" which he often exhibits in events and on social media. On the occasion of the Motor Valley Fest that was held in Modena, his city, Maserati paid homage to him with a Levante, called the Fuoriserie Edition Trophy, absolutely out of the ordinary: it combines the exteriors in street blue with multi-coloured sketches, the same ones that are then found on some inserts of the passenger compartment (dashboard and central tunnel). Bottura wanted it this way, an action painting experience that has already made it a real one-off. Moreover, the Casa del Tridente considers the Fuoriserie format as a real white sheet with a wide range of drawing tools and colours, available to customers. It applies to Levante, Ghibli, Quattroporte and also the new MC20.
A unique painting La Levante Trofeo dedicated to the tristellato chef of the Osteria Francescana, seems painted with splashes of colour as well as some of its iconic dishes. Sketches that, however, in reality, do not take their cue from Bottura's culinary activity, but from his youthful passion to venture into the Modena countryside on classic cars, filling the bodywork with mud stains.  «They were scars of running that, as happens in life, transform us into something else. That's why I liked not to wash for days and days the car muddied after the off-road raids» says Bottura.