Chicken is frequently used in the Italian cuisine. There are amazing regional recipes as well as some quick modern Italian recipes. The pan-fried chicken breast is a fast classic that is very common on Italian tables. According to a recent survey, it is the favorite dish of Italians ( 59% of preferences), followed by baked chicken ( 57% ), and chicken salad ( 43% ). Why chicken? Fitness fans love chicken as it is also an ally of well - being and versatile in the kitchen . According to Italian women, chicken and white meats are appreciated because they are lean and nutritious, practical and quick to cook, versatile for many recipes, suitable for a healthy lifestyle. Here today, two regional traditional recipes.
Pollo alla Cacciatora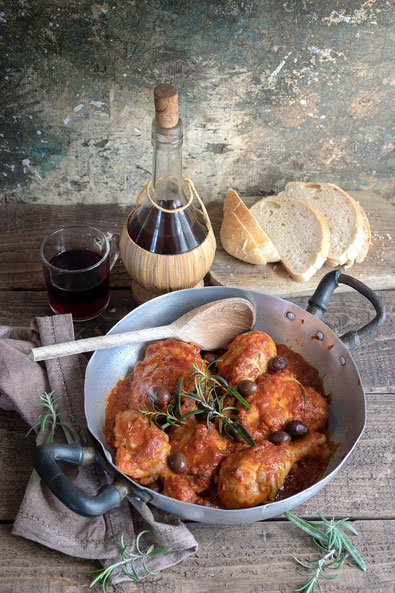 Although many people claim this recipe for their region; it seems that the original recipe for chicken cacciatora was born in Tuscany. A timeless recipe that has the typical taste of home: one that restores, consoles and above all gives you a feeling of well-being.  For those who don't know this wonderful recipe, it is chicken cut into pieces, browned in a pan and seasoned with the classics: onion, celery and carrot. A main course as simple as it is delicious and can even be turned into a very rich recipe if and only if you perform the most important of tasks: eat all the tasty sauce! 
Ingredients:
 Chicken - whole about 3 lb (1.3 kg); Peeled tomatoes 14 oz (400 g); Yellow onions 1; Carrots 1; Celery 1 rib; Garlic 1 clove
Red wine ½ cup (100 g); Extra virgin olive oil to taste; Rosemary 1 sprig; Parsley 1 sprig - chopped; Fine salt to taste
Black pepper to taste
Preparation:
To prepare Chicken Cacciatore, start by cutting the vegetables. After peeling the onion, peel the carrot and trim it, finally remove the top from the celery and chop it all until it is diced about 1/10" (2-3 mm) . Then start cleaning the chicken. Cut it into pieces separating the thighs, chest and wings. At this point you have everything you need so go to the stove. Heat a drop of oil in a saucepan, do not overdo it because the skin of the chicken will release a lot of fat. Light the flame and let it warm up for a few moments, then put in the chicken pieces, starting with the skin side down. Let it brown for about ten minutes, turning it after a bit . When the chicken is well colored add the chopped celery, carrot and onion and then the peeled clove of garlic . Then add salt, pepper and rosemary, stir and let it flavor together for another 5 minutes .Blend with red wine and let the alcoholic part evaporate completely. Now remove the rosemary and garlic clove  and add the chopped peeled tomato pieces. Mix everything together and cover with a lid, let cook over moderate heat for 30-35 minutes . Remember that if the chicken is bigger then you will need to increase the cooking a little bit more, and vice versa if it is smaller. In any case, the chicken is considered ready as soon as the meat detaches from the bones. When finished cooking, make sure it is salted right and then sprinkle with parsley. One last stir  and your chicken cacciatora is ready. Enjoy your meal! Grazie a Gialla Zafferano!
Pollo al forno alla Nissena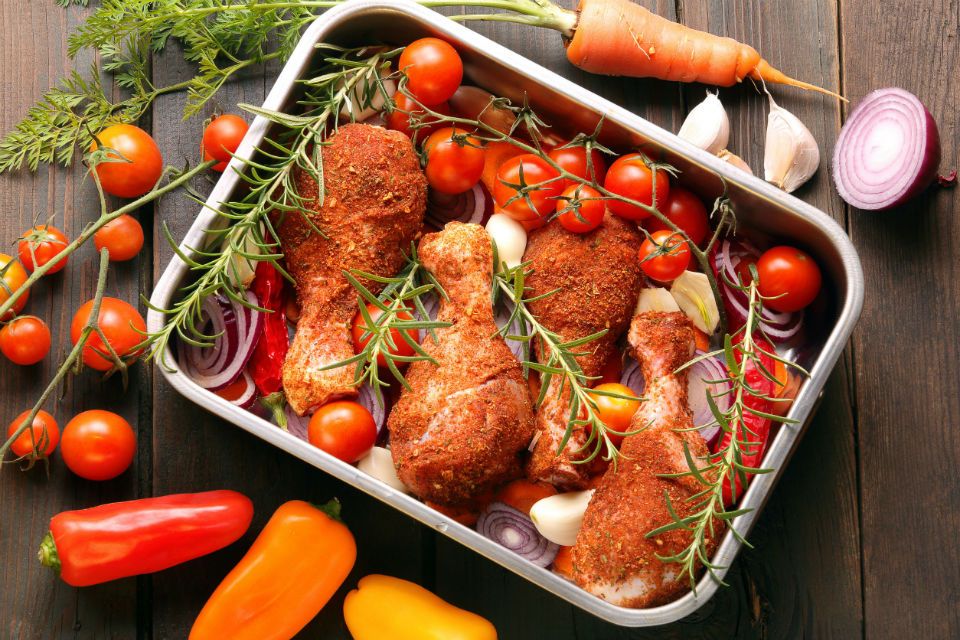 Nature, art, history, gastronomy: four cardinal points whose coordinates point straight to Caltanissetta and its province located in the center of Sicily, The territory of the province of Caltanissetta is characterized by a hilly landscape rich in natural reserves, archaeological areas, castles, industrial archeology The characteristic second course of this province is Pollo alla Nissena, whose main ingredients are onion and caciocavallo. Chicken  Nissena is a tasty and rich dish, with many typical Sicilian ingredients. To prepare it, in fact, laurel , grated pecorino, lemons and cloves are used. The preparation phase does not take long, but of course the cooking takes a bit. The result, however, will amaze you. It is a classic Sunday dish, which goes very well with baked potatoes or seasonal vegetables.
Ingredients:
1 free range chicken; 1 onion 1 carrot; 1 rib of celery; 1 bunch of parsley; 1 bay leaf; 1 clove; 50 g of grated pecorino 1 cup of breadcrumbs; 2 lemons; Origano; extra virgin olive oil; salt; pepper in grains
Preparation:
Peel the carrot, parsley, celery and transfer them to a pan, together with the bay leaf, a few peppercorns and the onion battened with cloves. Cover with 3 dl of cold water, add salt and bring to a boil. Dip the chicken in the broth, then bring it back to the boil and cook for 1 hour and three quarters. Drain the chicken and chop it up. Dip it in an emulsion of oil, lemon juice, salt and pepper. Pass it in a mixture of breadcrumbs and pecorino cheese, then arrange it in an oiled baking pan. Bake at 200 degrees for 45 minutes. Serve hot.