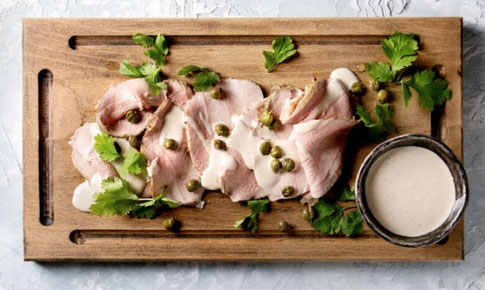 La Tonnato sauce is a traditional sauce that is easy and quick to make: a real delicious relish to enrich and accompany meat, fish, vegetables or eggs! Obviously the absolute classic combination is Vitello a Tonnato, a famous Piemontese dish. 
Ingredients:
6 anchovies or anchovies in oil; 200 gr canned tuna in oil; 30 gr caper;2 eggs; 1 glasses beef soup
The tuna sauce is a historic recipe, used in particular to prepare vitello tonnato, a cold dish of Piedmontese origins that lends itself to being served both as an appetizer and as a main course, especially in summer. But, this delicious sauce can accompany not just meat dishes! In fact, you can also use it for fish, to fill canapés , cream puffs or croutons or to dip steamed, grilled or raw vegetables; and is perfect for summer dishes ! Have you ever tried the tuna sauce to dress pasta?
Veal Magatello with Tuna Sauce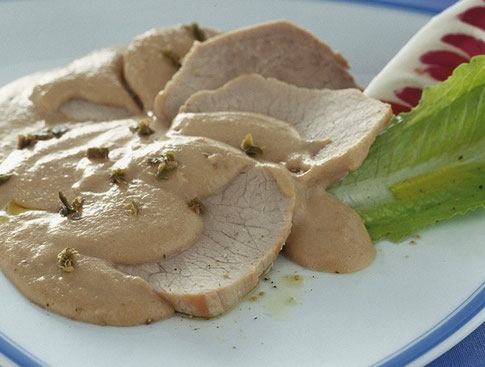 Ingredients and Preparation:
Garlic clove; 2 anchovies or anchovies; to taste laurel
1 carrot; 1 dl olive oil; 1 celery; 320 g canned tuna in oil
1 eggs; to taste salted caper; to taste pepper; to taste salt
to taste red vinegar; 800 gr veal magatello or walker
1 onion.
Tie the joist with kitchen twine; Bring plenty of water to a boil in a saucepan, add a carrot, an onion and a leg of celery, peeled and washed, a bay leaf, three cloves, a tablespoon of vinegar and a pinch of salt and pepper. Let the broth simmer for 30 minutes. Cook the magatello for about an hour in the prepared broth, in the meantime put the yolk (at room temperature) in a bowl, then, drop by drop and stirring, add the oil; when the mayonnaise is whipped add salt and pepper. Mix the drained tuna with a tablespoon of washed and dried capers and the anchovies, add a couple of tablespoons of meat broth and mayonnaise to the cream. Stir and place in the refrigerator. Cool the meat, untie it, slice it, and service it.
The ideal restaurant to try a gourmet version of Vitello Tonnato is Al Peck in Milan, an icon in the city centre since 1883. A benchmark of the Milanese and Italian enogastronomy. A shop on three floors just a few steps the Duomo of Milano: a selector and a manufacturer; a butchery, a cold cuts shop, a cheese maker, an artisan pasta factory, a delicatessen, a pastry and gelato shop; a wine cellar with more than 3000 among wines and distillates. A shop, a gourmet restaurant, a caterer. A haven for who loves discovering the taste of tradition, a destination for who looks for the new frontiers of the international cuisine.