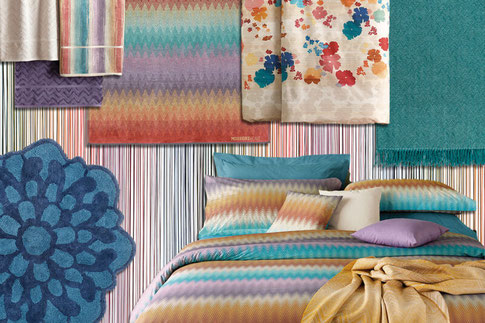 The new Missoni Home 2021 catalog: stunning decor novelties in bright colors for  your home. Fabrics for sofas, carpets, curtains and bathroom linen. The MissoniHome 2021 collection revels in geometric patterns and vibrant colors.  Rosita Missoni, renowned fashion designer and proprietor of the acclaimed fashion house Missoni is behind the MissoniHome project, and its latest collection - MissoniHome 2021 - which sees a congruence of all things simply geometric, stylishly colorful, and functionally layered. When everything shut down due to the pandemic, we saw a rise in the number of people wishing to refurbish and beautify the space they now spend most of their time in – their homes. The collection responds to that need directly, by offering stunning home decor including rugs, furniture and other accessories, doused in choreographed colors. 
MissoniHome 2021 includes home furnishings adorned in decorative, printed fabrics, modular furniture and decor pieces that are versatile and belong inside as much as the outside. You can create a new look and atmosphere by swapping textiles and furnishings like a a joyful game of design and comfort.  The personality of the style is consistent yet renewed with unexpected additions of accessories and different details," shares the Missoni design team. The color palettes are dominated by soft watercolor shades and rich chiaroscuro contrasts, which are arranged across four settings - Garden Light, Night Flower, Iconic FR and the astral Constellation – all decorated with the Missoni signature, a mosaic of fabrics with definite patterns.
"My home is synonymous with festive hospitality and pleasant atmospheres. To furnish my own way is to create an organised but informal habitat that excites and intrigues, where every space is an oasis of colors and moods, and free form formulas," says Rosita, who also leads Art Direction for MissoniHome.