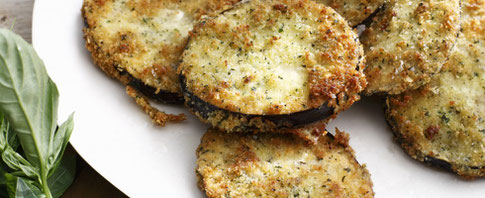 A simple but delicious side dish with eggplant that everyone can cook. The main ingredient are aubergines, which are very versatile in the kitchen. Eggplants lend themselves to many preparations: in oil, cutlets, grilled aubergines, fried, with pasta, etc.
This recipe is ideal as a side dish or for a tasty appetizer, suitable for a nice dinner with friends or relatives.
Ingredients for four people:
2 large and round eggplants;) 2 tablespoons of corn flour; 3 medium eggs ; breadcrumbs to taste; oil for frying;
salt to taste.
Preparation:
Wash the aubergines and cut them into slices with a thickness of about 0.5 centimeters. Place all the slices in a container and cover them with coarse salt for about ten minutes. Take a plate and pour in the corn flour, breadcrumbs and Parmesan cheese. Mix the ingredients with a spoon. Put the three eggs on a plate and beat them.
Take three plates and put in each one: the flour, the beaten eggs, and the breadcrumb mixture in the last one.
Remove the aubergines from the bowl, drain them and divide them into four parts with a knife, forming triangles.
Take each triangle and pass it first in the flour, then in the egg and finally in the breadcrumbs. Proceed in this way with all the eggplant triangles, and place them on a fairly wide plate. Take a pan, pour in some oil and when it is hot, fry the aubergines. As soon as they are golden, place them on a tray lined with absorbent paper. Salt the surface of the triangles and serve.