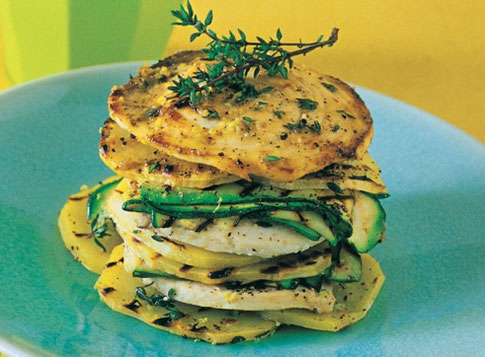 Not a sweet millefeuille but one with a top-class fish - with swordfish. An elegant recipe to amaze guests with a dish that is not at all common, but easy to prepare. If you want to impress your guests, this is the ideal recipe - Pasticciata Millefoglie with swordfish. A great combination of  ingredients that will conquer the diners, a beautiful and delicious creation, made of layers of potatoes, fish swordfish and aubergine puree mixed with dried tomatoes and basil.  So let's have a look at the reicpe.
Ingredients for 6 people:
800 g of swordfish; 5 potatoes; 200 g of dried tomatoes; 2 eggplants; Basil to taste; Salt to taste; Pepper as needed
Breadcrumbs to taste; Butter to taste; Extra virgin olive oil to taste; Sunflower oil to taste for frying.
Preparation:
To prepare this dish, first wash and cut the aubergines into pieces and leave them to soak in water and salt for 15/20 minutes. Meanwhile, boil the potatoes in a saucepan with plenty of salted water for 15/20 minutes. Once ready, then drain, remove the skin and cut them into thin washers, then pour them into a bowl. Be careful not to break them, sprinkle them with rosemary, pepper and a little extra virgin olive oil. In a non-stick pan with a clove of garlic, cook the swordfish for about 10 minutes, turning it halfway through cooking, then remove from the stove and chop it coarsely. Drain the aubergines, remove the excess water and fry them in a pan with plenty of olive oil, when browned, remove them from the heat and absorb the excess oil on absorbent paper, then pour them into a mixer together with the dried tomatoes and plenty of basil. and mix everything, obtaining a puree. Now assemble the Millefoglie, using molds of about 10/15 centimeters, buttered and covered with breadcrumbs, arrange a layer of potatoes on the base and proceed in layers, alternating with the aubergine puree, swordfish and potatoes, until covered again with the latter. Bake the patties then in a preheated oven mode at 180 ° for about 15/20 minutes, when the surface is golden and crisp, remove from the oven and let it settle for about ten minutes before removing the molds. Arrange the millefeuille on the plates and bring to the table, et voilà, here is an amazing dish and also beautiful to look at, you will make a great impression!