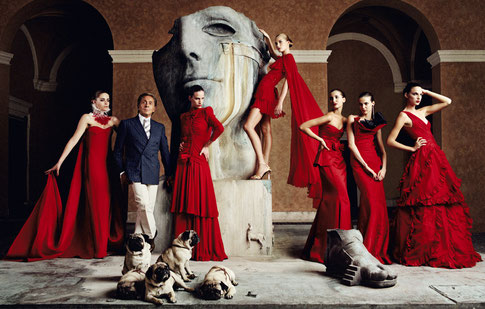 Valentino's fashion stands for stylish luxury from a time when beauty was still viewed without question marks, without cynicism.  On the occasion of his 89th birthday. it is worthwhile reviewing his career and his design influence. Valentino is an anti-minimalist with a thirst for beauty, and accentuated curves, opulent fabrics, sensual dresses for the grand entrance, which should serve the sole purpose: just to be beautiful. He has always been a master of haute couture who created fashion that was unemancipated, not even intended for everyday use. It was not about practical, but about beauty.
On the occasion of his 89th birthday, he was asked about his life, shown here in some of the pictures. You have to understand the designer, born in a small town near Milan,  Rome shaped him with its warm colors and romanticism - red was his color par excellence.  Fitting, that for his last show in Paris, Valentino said goodbye with a final defile in a sunset of red robes - and thus forever from the fashion world. His brand however lives on successfully. As he is celebrating his birthday in Rome, Giancarlo Giammetti, his loyal business partner and comrade, will be there, ten guests. And of course: his little dogs.
His deep love and reference for women has always guided his design philosophy. His great admiration goes to La Loren, even if she sometimes wore Armani. The Hollywood diva from Naples also named his yacht TM Blue One: "Sophia is beautiful, hot, warm and sensitive - the embodiment of Italy par excellence!  Another woman he admired was Alda Countess von Stauffenberg who was a mannequin for Valentino in the 80s.  Valentino's magnificent Palazzo Gabrielli-Mignanelli, where he resided back then, was  the atelier where his clientele came for their fittings . Described as  almost a spiritual experience. When Alda got married in 1990, she was allowed to choose a haute couture dress from Valentino's design archive.