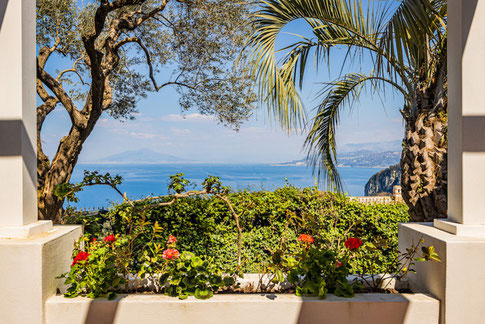 Christian De Sica's villa in Capri is for sale; 250 sqm overlooking the Bay of Naples and the Gulf of Salerno. 
"The Roman actor and his wife are selling the stunning villa they have owned since 1996. 
"The Island of Capri was the protagonist of much of the life of Christian De Sica and his wife Silvia Verdone. The first time the Roman actor saw Capri, he was only nine years old: "I went there with my mother to find my father Vittorio De Sica on the set of the film It started in Naples in which he acted with Sophia Loren and Clark Gable. " Then in 1996 the actor bought the splendid villa.
"The villa, is being put up for sale by the Lionard agency, and is part of the historic residence "The Four Winds", one of those that contributed to the myth of Capri, designed and built by the American symbolist painter and poet Elihu Vedder, between 1900 and 1903, on the slopes of Mount Solaro. It is a villa in perfect Capri style, built in what was once the artist studio of Vedder. The writer DH Lawrence also stayed here, working on the book "Lady Chatterley's Lover" during his stay in Capri. Over time, the historic residence has been frequented by numerous artists, such as Joseph Beuys (who dedicated one of his famous works to Capri), Cy Twombly and then came to welcome De Sica and his wife Silvia Verdone.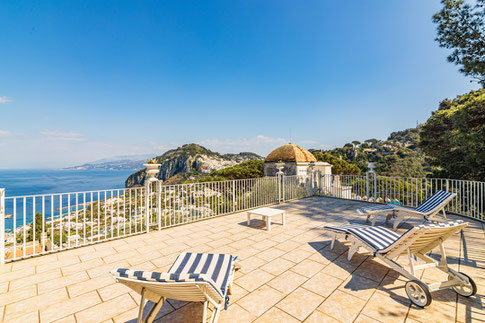 The  villa is surrounded by a large garden with citrus and olive trees that provide privacy. The house enjoys a breathtaking view of Capri, the Bay of Naples and the Gulf of Salerno. It is spread over a total of 250 square meters of interiors, divided over two floors. Access to the large panoramic living room is from one of the two terraces with sea view, characterized by high vaulted ceilings and large windows and is completed by a kitchen and a service bathroom. Part of the living area can also be used as a bedroom and, thanks to retractable blackout systems, it becomes a completely independent room with bathroom and wardrobes. On the sides of the living area, the two large terraces are equipped to be comfortably lived at any time of the day.
To top this off, on the roof, there is another magnificent terrace. The sleeping area, connected internally by a comfortable staircase and externally accessible from the garden, includes two double bedrooms, each with an en suite bathroom. Close, but independent from the villa, is the annex used as a SPA area, with mosaics and bathroom, which can easily be transformed into a space for guests. On the roof another splendid panoramic terrace. And then the villa is only a short walk from the famous Piazzetta di Capri, and offers a rare opportunity to own an exclusive home on an upscale island.