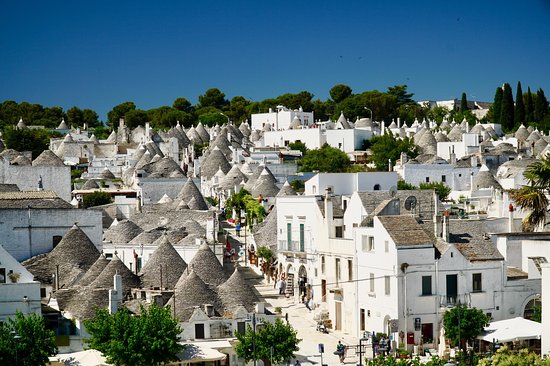 A cuisine that is divided between sea and land and which has unique products , not found elsewhere: this is the Puglian cuisine .  Puglia is a land of great extra virgin olive oils, unique vegetables such as lampascioni, fresh pasta of all shapes and types. A gastronomic tradition linked to meat - in which fish has only been rediscovered in the last 20 years. The delicacies vary from province to province: the specialties of lowland agriculture in the Lecce area, the jewels from the Foggia hills, the fish flavors of the Taranto-Brindisi-Bari triangle. 
Acquasale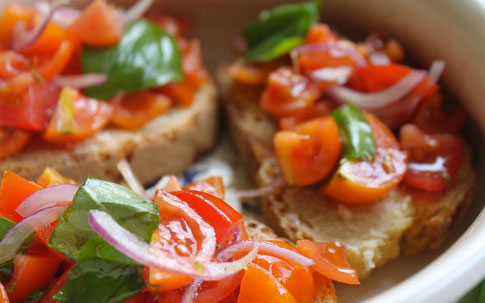 The meal of the Puglian peasants , but also of the fishermen, who had to spend the whole day on the water: acquasale . A sort of panzanella that is made with stale or toasted bread and then soaked in water, onion, salt, tomatoes and oregano. It is said that this dish was born during the period of the Crusades , when the Apulians used to offer it to soldiers leaving for the Holy Land. Today the acquasale has been rediscovered and is offered both in the original version and in more gourmet version. Similar to the acquasale , is the cialledda, widespread especially in the Bari area, but also in Basilicata.
Where can you eat these specialties? For the acquasale, or acquasala, why not try either of these restaurants: the Lilith restaurant , in Vernole, very close to Lecce. For cialledda, the right address is Terranima , a restaurant in the heart of Bari.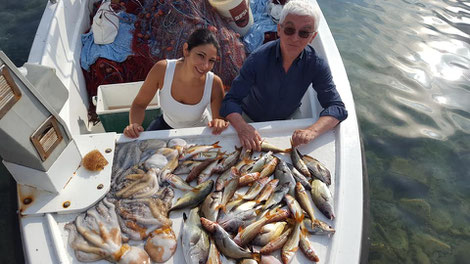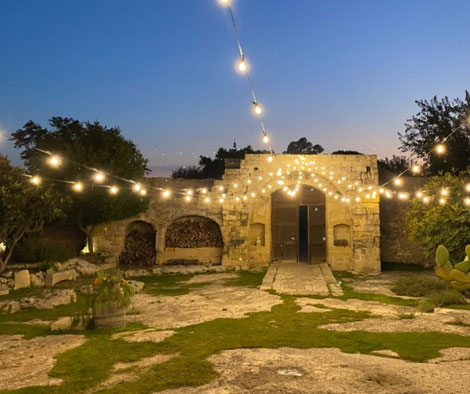 Friselle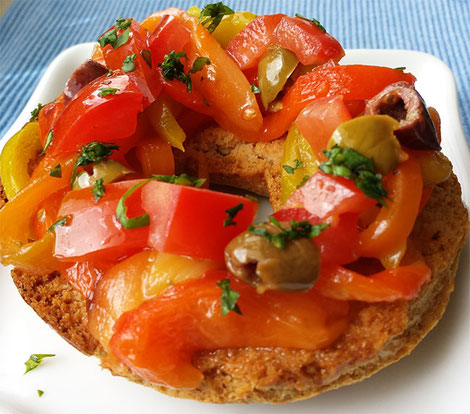 A crisp, dry bread baked in a stone oven with a drop of olive oil. Friselle are one of the most famous and typical foods of Puglia; they can be stored for many months. Dip the frisella in salted water and you will get a more distinct taste and a softer texture. 
Why not eat this delicious summer dish at Togo Bay Beach , the elegant lido of Torre Lapillo, where you can eat your frisella overlooking the sea and with your feet in the sand, perhaps accompanied by a proper cocktail or a glass of sparkling bubbles.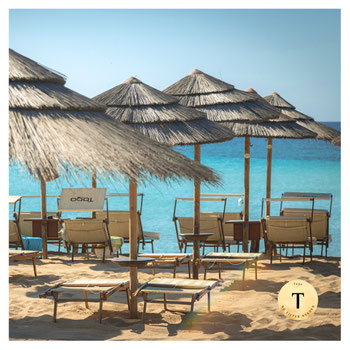 Taralli
Small and circular they are a wonderful snack especially next to a glass of Apulian wine! Try them of all tastes, flavored with aromas such as fennel, black peppercorns or poppy seeds, with white wine and sugar.
You can purchase the original taralli from the La Casa del Tarallino online. Characteristic for the Leccesi taralli is the friability, they are still made in the laboratory today following the ancient recipe. Located in the heart of Lecce, the Casa del Tarallino is bakery linked to the Salento tradition.
Puccia
A sandwich made of pizza dough filled with meats, cheeses and / or vegetables, this is another traditional take-away snack. In a typical pucceria, in the counter, there will be a number of ingredients of raw and grilled vegetables, meat bomblets to cold cuts, from sausages to salad. A great pucceria in Lecce, La Puccia.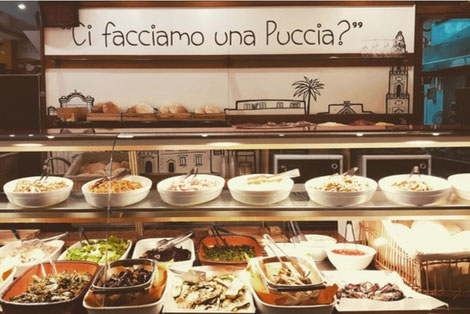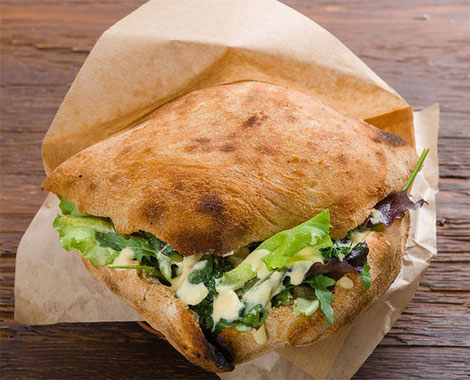 Famous Pasta Types in Puglia: Orecchiette, strascinati and cavatelli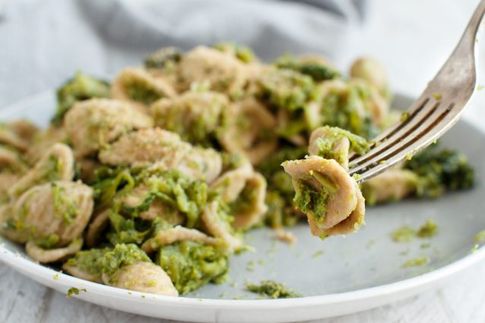 The art of pasta in Puglia is definitely practiced; as this region boasts a record in terms of varieties and formats of pasta. The most typical format obviously, is the orecchiette : an ancient pasta, which was introduced in Puglia between the 12th and 13th centuries in Bari. Also called  strasc'nat , a term that comes from the method of creation with which the pasta takes shape. when dragged onto the work table, today they differ from modern strascinati which are larger and more open . The "nonna's" (grandmothers) of Puglia are the original creators of orecchiette. Orechiette loosely translated to "little ears", because their shape resembles that of al earshell. Orechiette are not eaten with just any old sauce. The traditional way of serving orechiette in Puglia is with brocolli rabe, olive oil, pecorino cheese, garlic and red chili flakes.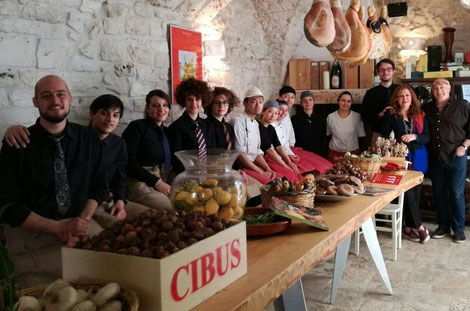 Cavatelli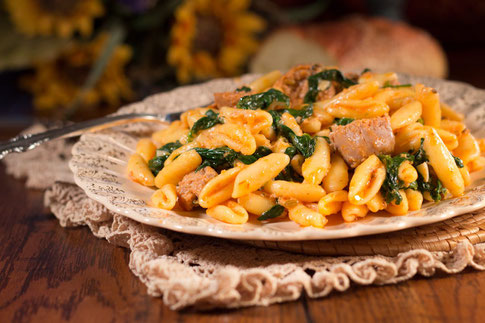 The other pasta type are the cavatelli , which are from the northernmost areas of the Puglian Region, where they are called capunti : they have an elongated shape with a recess inside and they are served with meat sauce , broccoli or cardoncelli . Another particular shape of pasta are troccoli, a sort of rustic and thick tagliolini, typical of the ancient district of Capitanata, which today roughly corresponds to the Province of Foggia. In the area of Nardò, on the other hand, milaffanti , or triddhi, are made: triangles of semolina flour mixed coarsely with eggs, pecorino cheese, chopped parsley, salt and pepper and finally covered with hot broth.
Sagne 'ncannulate (rolled fettuccine) is a long twisted
Sagne ncannulate is a variety of fresh pasta prepared mainly around Lecce, a city in the Apulian region of Salento. It is shaped to resemble twisted ribbons, allegedly to imitate the Baroque architecture of the city. The flour is kneaded with water for a long time until the dough becomes smooth and firm. It's left to rest, then rolled and cut into strips which are rolled in a spiral on a tube or a round stick. The pasta is then slid off the stick and left to dry. Traditionally, it is paired with sugo schiattariciati, a simple, fresh tomato-based sauce flavored with olive oil, basil, and a touch of garlic, all finished with generous amounts of crumbled cacioricotta cheese.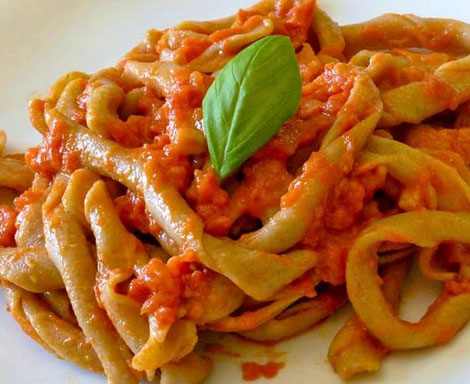 Ciceri and tria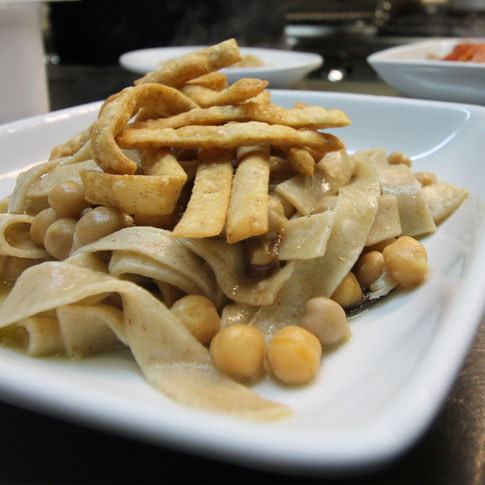 The ciceri and tria dish occupies a special place: the name derives from the Arabic word itriyah, which means dry pasta, but they are also known as Massa di San Giuseppe, due to the connection with the anniversary of March 19. It is a dish made with boiled chickpeas , the pasta tria- made with wheat semolina and water - and frizzuli , that is part of the tria pasta fried in extra virgin olive oil. In most of the modern versions it is a dish of dry pasta, but it is not uncommon to find it with a very light stock of broth, which acts as a counterbalance to frying.
A good place to eat this typical Salento dish is the La Vecchia Osteria da Totu in Lecce. The focus for La Vecchia Osteria is to bring Salento and Apulian specialties to the table , to the liking of both natives and those who come from traditionally and culturally distant lands. Salvatore and other chefs with over twenty years of experience, offer a menu full of typical and traditional dishes from various types of homemade pasta to typical Lecce main courses such as turcinieddrhi ,pieces of horse with sauce , municeddrhi and all the fresh fish. Land and sea become the perfect combination to describe a land that offers so much.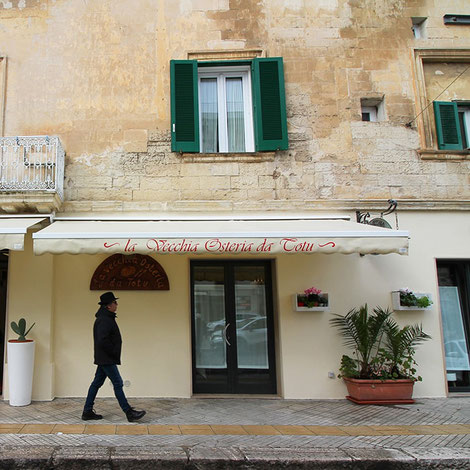 Crema di Broad beans and chicory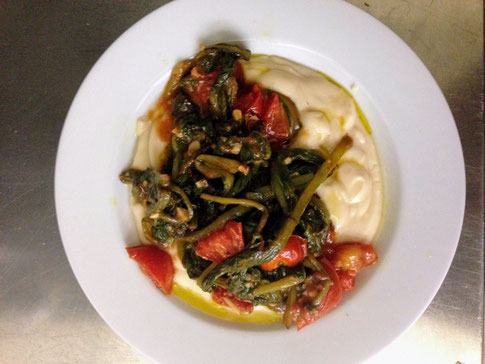 Crema di fagioli is a dish from Puglia made with cannelini beans. The beans are cooked, seasoned and mashed into a smooth cream not unlike humus. This delicious cream is served with brocoli rabe or Swiss chard stewed in a garlicky tomato sauce. It is a very tasteful dish and also a  symbolic dish of the Apulian gastronomic tradition.
The dish that has origins in ancient Greece and which in some areas of Puglia is called  'ncapriata.
To taste an excellent dish of broad beans and chicory, the Cielo restaurant, at the Relais Le Sommità, in the beautiful Ostuni. Relais La Sommità's restaurant also organises Tasting and Apulian Cookery Courses, Theme Dinners, Wine and Oil Tasting,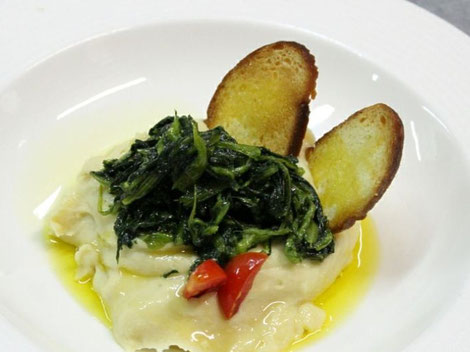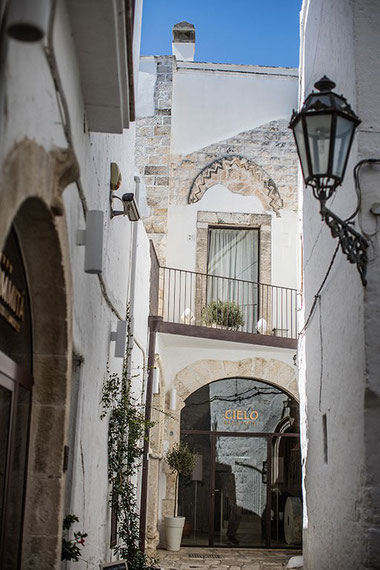 Bombette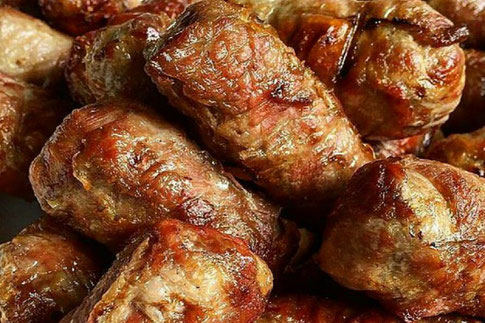 Bombette - the filling is a real explosion of flavor. Pork rolls stuffed with cheese, salt and pepper, bombette are widespread throughout the region, in particular in the Bari area, in the Itria Valley and in the Lecce area: it seems that the recipe was born in Cisternino around the 60s. They are eaten both as a main course and street food: Puglia has several variations of this delicious specialty, so much so that every butcher has the "bombette of the house", made with a particular and almost always secret recipe. Cisternino, is famous for the bombette, 10 km away from Martina Franca. Try them at the  L'Antico Borgo rotisserie butcher's shop , whichis  so famous that you have to book in advance.
Panzerotti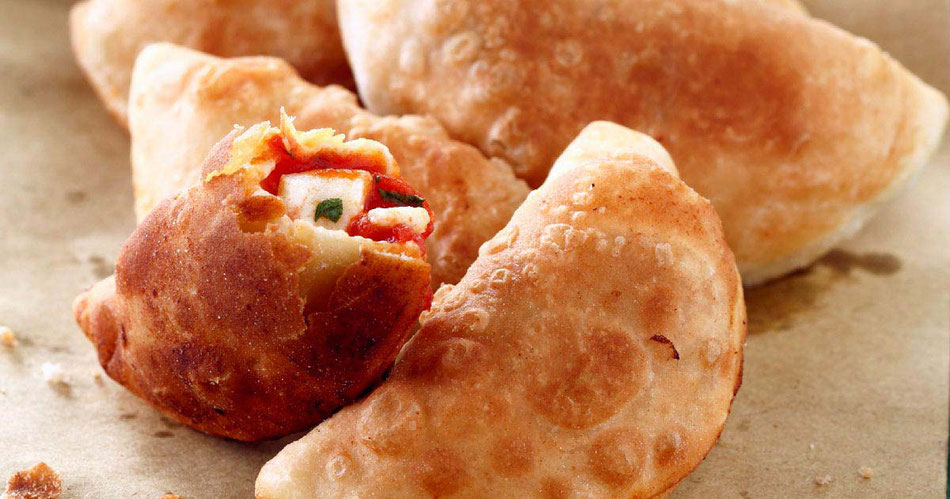 Panzerotti are like small calzones. They are deep-fried pieces of pizza dough, filled with tomato sauce and cheese. Because they are fried, they are crispier and fluffier than regular calzones.
The traditional panzerotto has a margharita filling, but there is also a variety with onion, capers anchovies. Panzerotti are the perfect street food. As with many of the delicious dishes in Italy, panzerotti (or 'panzerotto', singular) is a typical example of regional 'cucina povera' – or peasant cooking, originating from Puglia.
Panzerotti were a tasty way to make use of left over dough from bread making and utilizing some of the most common ingredients found in an Italian home, namely mozzarella and tomatoes. 
Focaccia con pomodoro
Almost every region is Italy has their own version of focaccia. Focaccia is essentially a semi-fried bread. It is made by dousing a sheet pan filled with bread dough in olive oil before baking it in the oven. The result is a fluffy, cripsy, oily bread.
In Puglia, they add cherry tomatoes, gently pressed into the top of the focaccia and baked in the oven. When the tomatoes burst in the heat, they infuse the bread with their sweet and tangy juice. It is utterly delicious.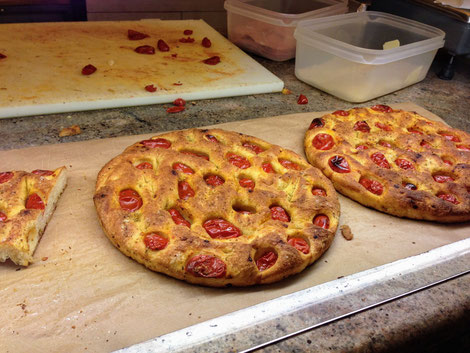 Pasticciotto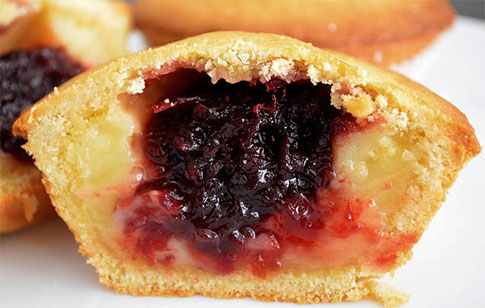 The outside of this dessert is crumbly but features a creamy custard filling, made even sweeter by black cherries. It is said that the pasticciotto was born in 1745 in Galatina in the Ascalone pastry shop in the most classic of ways. The pastry chef was looking for an inexpensive and good dessert and with the leftovers of short crust pastry and cream he created one of the symbols of Salento cuisine. The bakery still exits today and is still famous for its pasticciotto. Pasticceria Ascalone.  And for pasticciotto lovers in the month of July, the Pasticicotto Festival is celebrated in Surano, a town between Maglie and Santa Cesarea Terme.