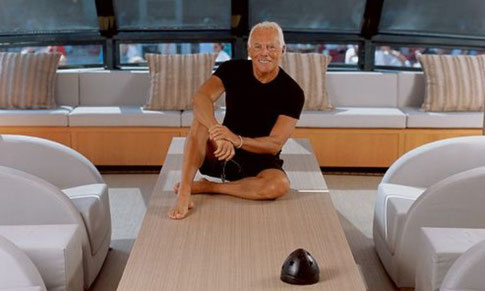 One of the most luxurious and fashionable yachts is owned by a the world-famous designer Giorgio Armani. The luxury yacht inspired by the Armani's style is called Main , built in the Viareggio shipyards of Codecasa, is a 65 meters yacht painted in military green and the width reaches 11 meters and 20 centimeters.
The interiors are personally taken care of by Giorgio Armani in his essential but very elegant and refined style, so much so that the yacht is used as a photographic set for advertising campaigns and fashion services.
The Main represents an architectural and engineering masterpiece with the contribution of Giorgio Armani who with his style has been able to make it perfect. The maximum speed is around 18 knots. The cabins are divided into two compartments, those for guests which are 7 and those for the crew which number 8, one for the captain and one for the engine manager. A breathtaking yacht that Giorgio enjoys in his spare time with friends and family!