Rome's Jewish Quarter today consists of only four blocks – the dimensions of the ghetto. The Jewish community of Rome is probably the oldest in the world outside of the Middle East, with a continuous existence from classical times down to the present day. Summer evenings spent in Rome's Jewish Quarter are like no other; travelers flock here to indulge in the renowned Roman-Jewish cuisine (including the legendary fried artichokes) and dine al fresco beside spectacular Ancient Roman ruins, as the sun sets over the city. Here a couple of new luxury hotels in the centre of the Jewish quarter of Rome.
Luxury Hotel Vilòn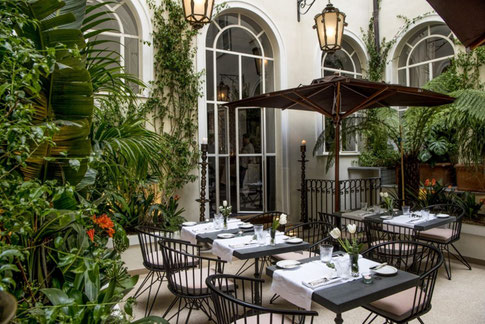 Hotel Vilòn is a new luxury hotel in Rome,  located at Via dell'Arancio 69, at the historical center of Italy's capital, not far from the Pantheon, Piazza di Spagna and Via dei Condotti, based in the Palazzo Borghese. A small doorway and plaque marks the entrance to the terrene of elegance and eclecticism. The Art Deco interior is both welcoming and sophisticated.  The new interiors are rich of details, with unique, custom-made furniture and a color palette ranging from turquoise to earthy wine red to mustard yellow. 
The hotel includes the "In Salotto" lounge bar, with its colonial-style decor and luxuriant palm trees around the patio, and the Adelaide restaurant, where guests have breakfast and anyone can come in to try chef Gabriele Muro's delightful cuisine. Adelaide offers a delicious menu of Mediterranean cuisine, changing according to the seasons, with classics of the Roman tradition presented with fresh modern twists.
Hotel Vilòn is  named after the Hebrew word "vilòn", meaning veil, it is indeed an oasis of beauty and peace.
LEA Relais Luxury Rooms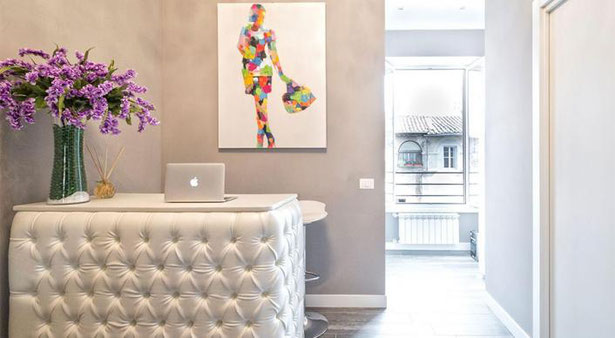 LEA Relais Luxury Rooms are composed of five amazing rooms, all located on the same floor, and situated at the Jewish quarter, one of the most antique districts at the center of Rome. LEA Luxury Rooms respect the Jewish neighborhood in which it is located. and offers its Kosher guests complementary services. LEA Luxury Rooms is located alongside the great synagogue of Rome, and next to KOSHER restaurants and KOSHER bakeries to indulge.
LEA Relais Luxury Rooms offer a variety of special Kosher breakfast options.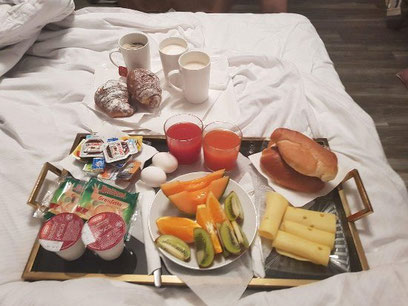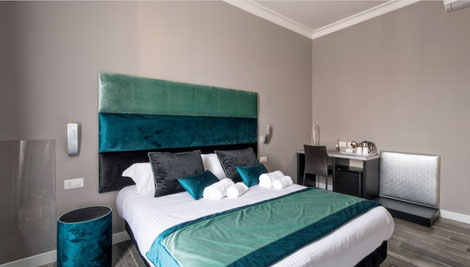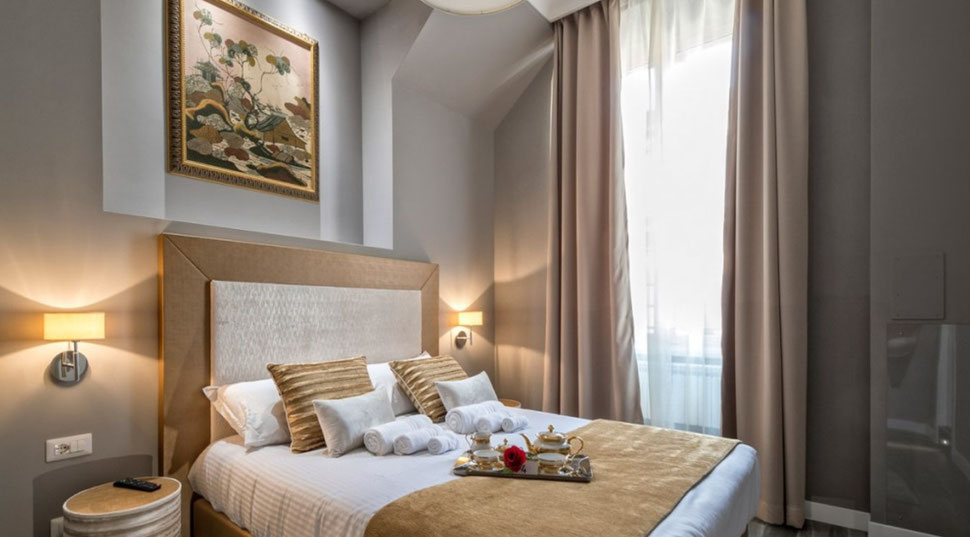 Room options include  four luxury standard double rooms, sized 20 Square Meters with different color decor , and a suite superior triple room of 27  Square Meters. In addition, LEA Luxury Rooms, offer a collaboration with the well known and established wellness center "AcquaMadre" located right next to our establishment. Our guests can now enjoy various Spa & Wellness treatments in an historic Roman Hammam.