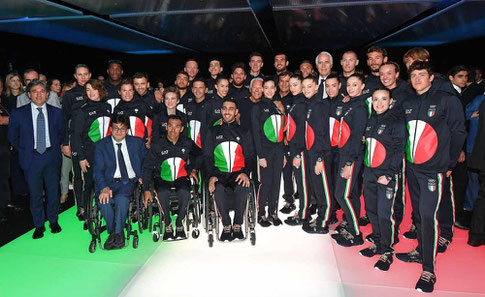 Giorgio Armani, the famous designer will dress the Azzurri this summer in Tokyo and at the Beijing 2022 Winter Olympics. H e states: "Continuity, for me, is a value. This is demonstrated by the partnership with CONI and CIP, which will see me as the official supplier of Team Italia on the sports trip that starts from Tokyo and continues in Beijing. It is an honor and a privilege to dress our Olympic and Paralympic teams, at this particular time. The period we are living calls us to a great commitment: to get out of the current situation we must rediscover ourselves human, loyal, committed, which is what athletes do every day, giving us a wonderful example ". 
They will be special and strongly patriotic uniforms. Inside the garments are the lines of the national anthem, a reaffirmation of energy, sense of unity and belonging. The idea is to convey an important message in a particularly difficult historical moment that requires commitment and team spirit in the community, through the most direct means: clothing. The Italian flag has been transformed into a circle shape and features on the front of the jacket and shirt, while matching black trainers feature red, white and green laces.  The inside collar of the jacket has the words "Fratelli d'Italia" - "Brothers of Italy" from The Song of Italians, the country's national anthem. The lyrics of the anthem have been printed over a traditional Japanese temple, on a tag inside the jacket. Wheelchair fencer Bebe Vio, who has previously inspired work from designer Christian Dior, was joined by racing driver and Paracyclist Alex Zanardi, to model the uniforms in Milan. Armani commented: "I always find it stimulating to look for new solutions for athletes' uniforms, which must be stylishly elegant, yet also practical to use," Armani, who has designed Italy's uniforms since London 2012.  -   
Armani also announced support for Obiettivo 3, a sports club founded by Alex Zanardi, which encourages and gives space to athletes with disabilities, accompanying them on their Paralympic path. And the agreement with Simone Barlaam, the world record holder in the 50 and 100 freestyle, in the 50 and 100 backstroke and in the 50 dolphin class S9, who becomes one of the testimonials of the EA7 Emporio Armani line and will wear sports uniforms specially created for him.
Armani had also designed the uniforms for the Rio Olympics. And also in soccer, he is not unknown. The Italian Soccer Team wears Emporio Armani. After creating the uniforms for the Italian national soccer team for the 2012 and 2016 Olympics and for the 1994 World Cup, Emporio Armani signed a four-year agreement with the Federazione Italiana Gioco Calcio (FIGC – the Italian soccer federation) for the design of the off-field uniforms of the three Italian national teams: Women, Men, and Under 21.