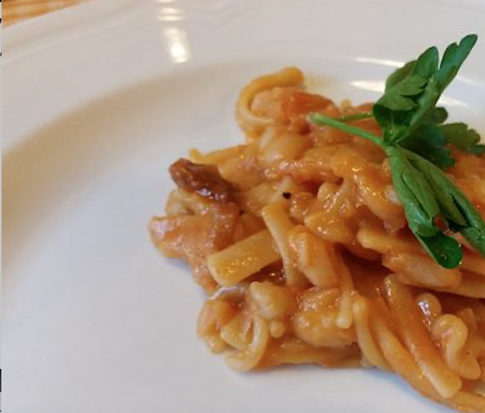 Pasta e Fagioli : a classic of the Italian cuisine. A dish with an intense aroma and flavor, in which the taste of beans marries that of pork and creates a perfect dish to warm the palate during the cold autumn season. Excellent alone or with variations, such as with the addition of pieces of lard, or with clams or mussels. The version presented here is from the famous Michelin Star Chef Bruno Barbieri, well-known face of Italian cuisine and television.  Here he proposes the recipe for pasta and beans on his very popular blog. 
Ingredients:
220 g of mixed broken pasta (spaghetti and broken mafalde pasta,  ditalini pasta, bucatini pasta); 200 g of fresh borlotti beans; 50 g of scraped lard; 70 g of culatello; 1 teaspoon of tomato paste; 100 g of grated Parmesan cheese; a slice of white bread (about 70 g); butter to taste; 2 cloves of garlic; 1 sprig of sage; a sprig of rosemary; 1 bunch of parsley (for garnish); extra virgin olive oil to taste; Salt and Pepper To Taste.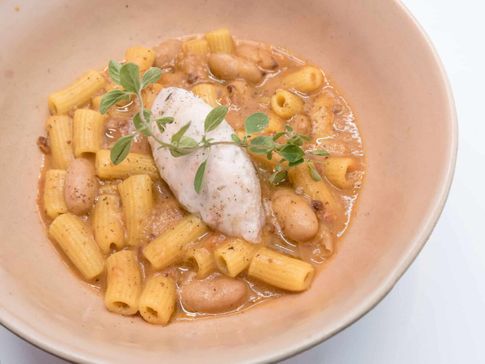 Preparation:
Shell the beans and boil them in a large pot with lightly salted water. In a saucepan with high sides, brown with a drizzle of oil, a clove of unpeeled garlic, the scraped lard and diced culatello. As soon as it starts to boil, pour the broken pasta, stir from time to time and add water every time it dries. At the end of cooking, add the Parmesan and a drizzle of oil. Separately, pass the bread previously cut into small pieces in a pan with a knob of butter.
Put the croutons in four small bowls, pour over the pasta and beans, sprinkle with a drizzle of oil. Put the croutons in four small bowls, pour over the pasta and beans, sprinkle with a drizzle of oil
Then add the sage and rosemary, allowing everything to flavor for a couple of minutes before adding the pinto beans. Cover with water, add the tomato paste, salt and pepper. Grazie a www.piuricette.it
Pasta potatoes and mussels by Bruno Barbieri with this recipe the chef reveals his secret: "I use an ice cube. That's how". A creamy, good dish that tastes of sea and land: pasta with potatoes and mussels. This version is also covered in his book: "Cerco sapori in Piazza Grande".