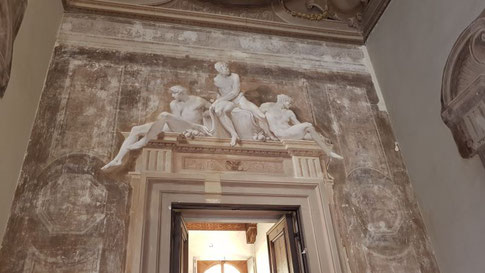 Il Palazzo Portinari Salviati was the the home of two of the most influential and legendary families of Florence Renaissance: Portinari and Salviati. And in 1865, during the period of Florence Capital's Kingdom of Italy, it was the seat of the Ministry of Grace and Justice which sold it in 1870 to the Bank of Tuscany, who owned it until September 2016 when the property was sold to LDC.  The exclusivity of Residenza Portinari Salviati serviced apartments together with the freedom and privacy granted by a private home. With a dedicated Concierge, owners can access the Palazzo's services and LDC Hotels benefits.
Indulging in the restaurants, fine dining and with Tuscan cuisine, living the relaxing atmosphere of the noble floor lounge, or experiencing into the quietness of the SPA: your stay and holiday in Florence becomes your personal space. Owners and their guests can also relax in the Palazzo's country house, Villa Ortaglia, located in Florence's nearby hills, surrounded by vineyards, where you can enjoy the big swimming pool, the park and other activities.
Apartments sell for Euro 1.3 million for 120 square meters in the building built by the father of Dante's muse (hence also called Palazzo Beatrice). There are 44 housing units, some of which have already been purchased. Up to 2,500 euros per month for condominium expenses, but for the owners there is also the re-letting program. The apartments range in size from about 70 square metres up to about 185 square metres, with prices ranging from €700,000 to €2.75 million.
The show-stopper of the collection is the magnificent penthouse which is two units combined, sized at just over 400 square metres and priced at €8.5million, with two breath-taking terraces looking straight out to the Duomo.
The Palazzo Portinari Salviati is also home to  'Residenza d'Epoca' with thirteen magnificent suites that form part of the LDC Hotels & Resorts offering around the world. As well as offering a complete management service for the individual owners, LDC Residences will happily include the apartments in their rental program in order that they pay for themselves.
A home within the Palazzo also comes with the opportunity to become a member of the private club being launched in the building, called 'Your Place in History'. The club offers its members several privileges and benefits as well as discounts on LDC Hotels around the world and use of a beautiful spa and pool in the original Roman basement of the building as well as the gym. There will also also be a shuttle service out to the LDC country club, Villa Ortaglia, a short drive outside Florence, where owners can enjoy the large swimming pool, a BBQ area and a tennis court.