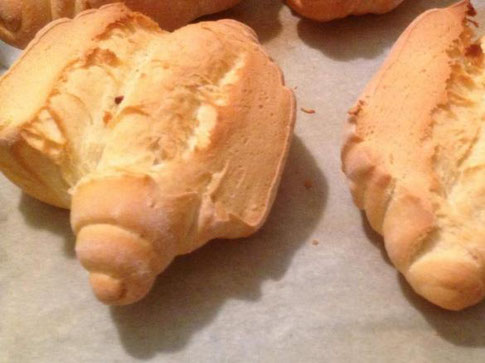 Ingredients:
400 gr. 00 flour; 100 gr. of manitoba; 15 gr. of brewer's yeast; 210 - 220 ml of water; 1 tablespoon of lard; 1 teaspoon of salt
1 teaspoon of malt or honey.
Preparation:
Dissolve the yeast with the malt or honey in the water, put the flour in the mixer, add the water and when it is halfway through the dough, add the lard and finally the salt. It must be a rather hard dough, knead 10-15 minutes and then vigorously beat the dough 2 - 3 times on the table. Leave to rise in the bowl covered with cling film until doubled. Now you have to roll out the dough you can use the sheeter or the rolling pin. (I passed it to the Kenwood dough sheeter at the largest number) Roll out each piece, roll it up to make a narrow strip and then roll out the strip again to make a long one.Leave to rise covered with cling film and a cloth for about 30 minutes. Turn on the oven to bring it to a temperature of about 220 °. Make a small cut along the whole sandwich (not too deep) and bake. Bake until they take on a nice golden color. I made a light cut, if you cut more they are more open). Grazie a Ricette di cucina gustose!
If you want to go even more authentic, you can order online the special Mantovane flour from Molino Bertolo.