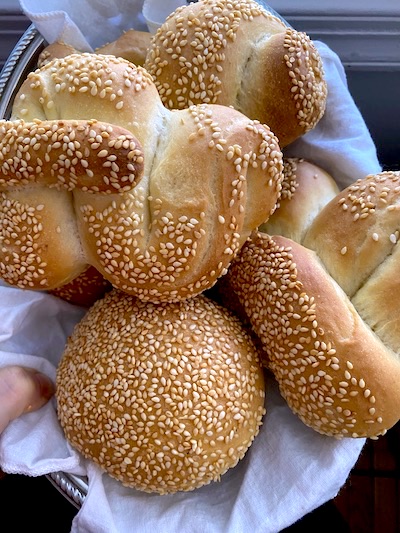 Mafalda is a durum wheat based bread.  The name also refers to its classic serpentine shape.  This rustic sesame seed encrusted bread can be formed into other shapes as well, such as baguettes (bastone) or the popular scrolled eyes of Saint Lucy (occhi di Santa Lucia). One can make the dough into larger loaves or individual rolls.  The rolls are great for making panini sandwiches. Durum flour is the key ingredient in making this bread.  If you don't have durum or fine semolina flour, you can substitute it with bread flour.  Durum and semolina flours are coarser than bread flour, giving the bread a rustic texture and slightly sweet and nutty flavor.  
A great Prima Colazione or breakfast, than sitting outside in the early morning sun, the Mafalda bread, a cappuccino on the table. Golden in color and a soft crust, the aroma of the bread is delicious! Combined with a strawberry or fig jam. Or for lunch with Salami or Mortadella.  Welcome to Sicily!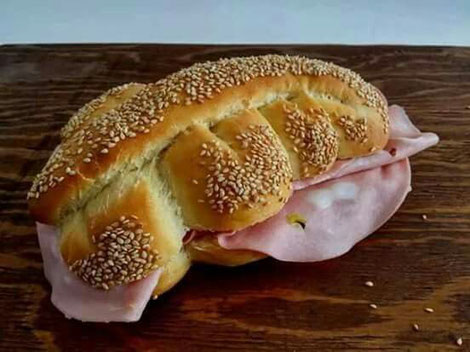 Pane Mafalda
Ingredients:
2 ½ cups durum flour or fine semolina flour; 1 1/2 cups bread flour; 1 (1/4 ounce) envelope instant yeast (2 1/4 teaspoons)
2 teaspoons sea salt; 1 1/2 to 1 3/4 cups water, at room temperature; 2 teaspoons barley malt syrup or 1 tablespoon honey; 8 teaspoons olive oil, divided; roasted sesame seeds or raw sesame seeds.