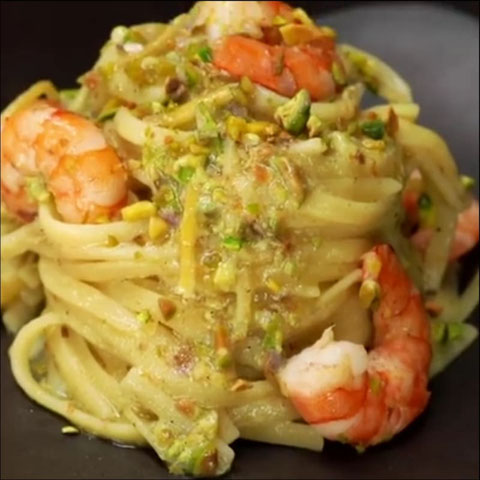 Pasta al Pistachio e Gamberi - a tasty easy recipe perfect to serve on many occasions whether for lunch or dinner.
It is a Sicilian dish and ideally prepared with Bronte pistachio, which are the best. It is a first course with the rich ingredients of Sicily , easy to make and excellent on many occasions, the ingredients to be used are few but of quality. Grazie a Giallo Zafferano!
Ingredients:
300 g pasta ; 200 g Bronte DOP pistachios (or salted pistachio paste); Half a red onion from Tropea; 500 g shrimp; to taste extra virgin olive oil; to taste thyme
salt to taste; pepper to taste.
Preparation:
1. Take the shrimps (we can also use prawns) and peel them, clean them and remove the central gut. Set them aside.
2. Finely chop the pistachios by adding 30 ml of extra virgin olive oil and a pinch of salt and pepper. If we preferred pistachio paste, we omit this step.
3. Fry the onion in a little extra virgin olive oil in a pan. Let it brown then add the prawns and let them cook for 5 minutes, stirring constantly. Let's blend with the white wine well. 
4. Then add the pistachio paste and half a glass of cooking water. Season with salt and pepper.
5. Meanwhile, let's cook the pasta. I chose spaghetti but you can also use short pasta. Drain it al dente and in the pan and stir it for a few seconds.
6. We serve and enjoy.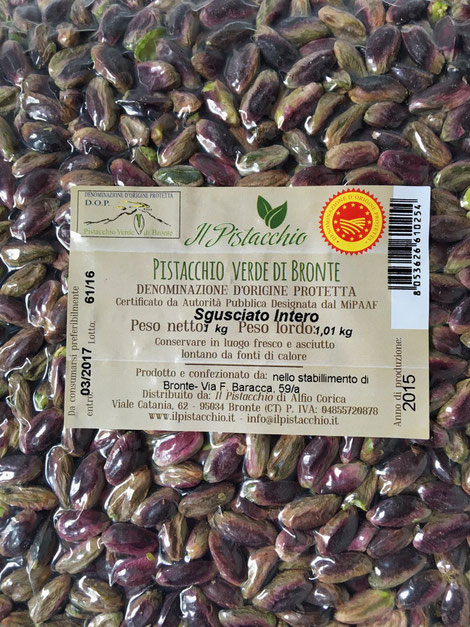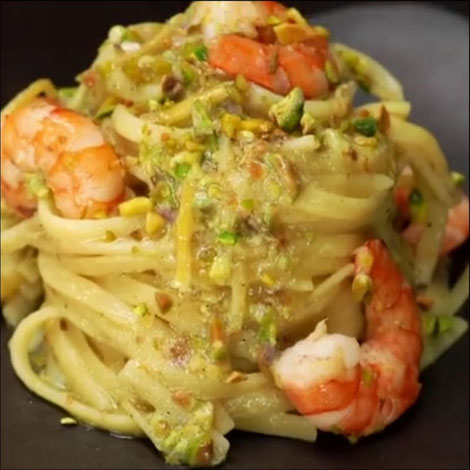 For this pasta my advice is to use the original pistachios from Bronte to have an extra quality and flavor or in any case good roasted and salted pistachios. Alternatively you can use the Bronte pistachio paste which is easily found in supermarkets.