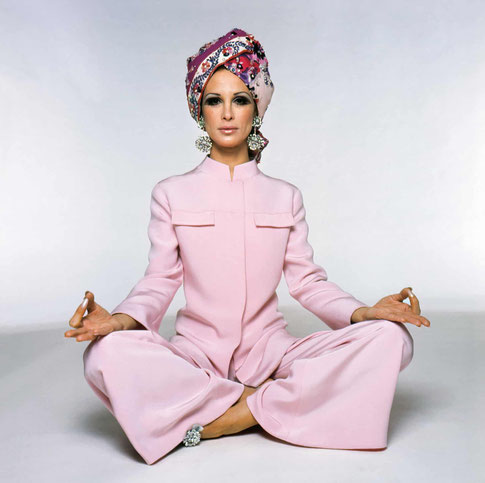 An updated version of the Taschen book, Pucci by Vanessa Friedman and Laudomia Pucci, offers an insight into fashion's first family of print. Bright colors, bold prints, and joie-de-vivre flair abound in this must-have tribute to Pucci, the fashion house like no other. Packed full of archival photography, sketches, designs, and evocative ephemera, this updated XL edition captures the breathtaking elegance, drama, and innovation of a unique brand. 
Each book is uniquely bound with one of a selection of original print fabrics from Emilio Pucci's collection. Orders placed will be fulfilled with one of the fabrics available.
Joyful, refined, bold - new Pucci collection for FW21/22
The new Pucci collection for Fall Winter 2021 2022 celebrates a sunny winter of Pucci dresses for resorts, from St Tropez to St Moritz. The spirit of Emilio Pucci has always been sunny and energetic. And today, at Milan Fashion Week , for Autumn Winter 2021 2022, the brand wants to celebrate this aspect, with a collection that, through its clothes, is able to transmit light and warmth to the cold season, with garments designed for jet set resorts , from St Tropez to St Moritz. They are cheerful, but elegant with a pinch of audacity, comfortable and colorful. The collection was born from the idea of building a modular wardrobe with pieces to match according to the style and needs of the contemporary woman. Game that is emphasized by the mix and match of the prints.
---
Don Emilio Pucci, Marchese di Barsento, who became a top fashion designer and politician, was born on this day in 1914 in Florence. Pucci was born into one of the oldest families in Florence and lived and worked in the Pucci Palace in Florence for most of his life. His fashion creations were worn by such famous women as Marilyn Monroe, Sophia Loren and Jackie Kennedy. Marilyn wore this Pucci blouse (above) during one of her last photo sessions with George Barris in 1962.