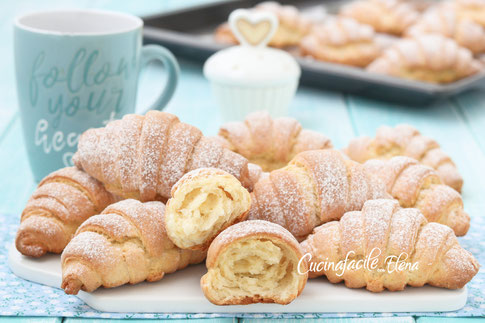 A fabulous quick recipe to the famous Cornetto filled with delicious ricotta from Giallo Zafferano. Croissants with ricotta are a very special pastry dessert. This recipe from Giallo Zafferano is without leavening, with the dough ready to be baked immediately. They come out fragrant and very soft and be filled with a variety of fillings; such as Nutella, custard or pistachio cream. They remain soft for days; if they last that long!! 
Ingredients:
00 flour 300g; Ricotta cheese 250 g; Sugar 75g; Butter 75g; Egg 1; Baking power 1 sachet; Vanilla to taste, Powder sugar.
Preparation:
The ricotta croissants are super easy and quick to prepare. Firstly, put the egg, butter (at room temperature cut into chunks) and the ricotta (drained) into a bowl and stir with a fork. Add the 00 flour, baking powder, vanilla and knead everything until the dough gets soft and compact; but a little sticky. Place the dough on a floured work surface and roll it out with rolling pin to a thickness of abut 3 mm, and make a circle. Cut the circle into 4 parts and then each quarter into 4 wedges – so you will get 16 elongated triangles. Take a cove and roll the dough up on it thus forming a croissant. Proceed in the same way to make all the ricotta croissants. Arrange them on a baking sheet lined with parchment paper and bake them in a preheated oven at 180 degrees for about 20-25 minutes; they must be golden brown.