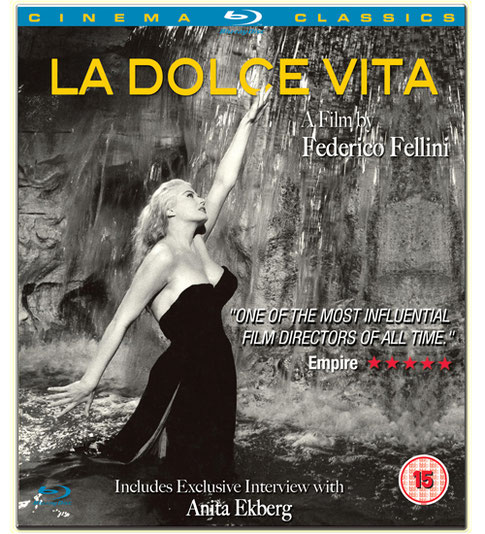 Rome succeeded in becoming Europe's most exciting, stylish and decadent city in the 1950s and 1960s. The Cinecittà Studios — known as 'Hollywood on the Tiber' — attracted international stars such as Elizabeth Taylor and Richard Burton and when the cameras stopped rolling they joined fellow luminaries Brigitte Bardot, Jayne Mansfield and Raquel Welch in the Café de Paris on the Via Veneto or at all-night parties at the Grand Hotel. 
This demi-monde  was famously chronicled in Federico Fellini's 1960 film La Dolce Vita, starring Marcello Mastroianni as a reporter for a gossip magazine who is followed everywhere by his photographer, Paparazzo (after whom paparazzi were named). Mastroianni's character is tasked with tailing the idols of the era as they are chauffeur-driven from nightlife hotspots to grand villas. The movie captured Rome in its full glory, at a time when it was a magnet for the most glittering array of people on the planet.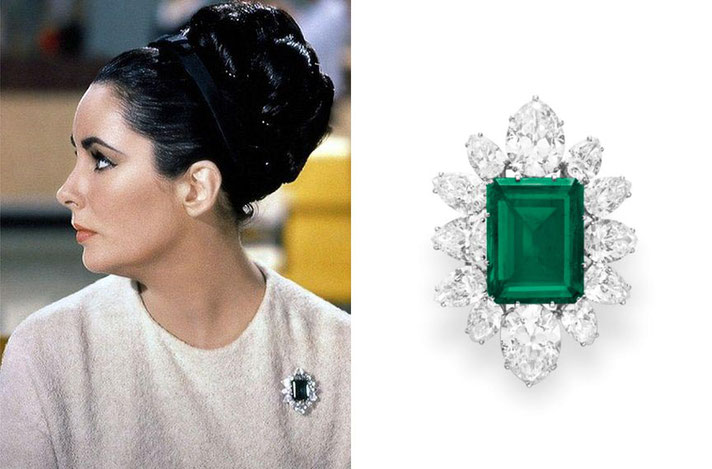 Elisabeth Taylor received the  brooch when she and Richard Burton were in Rome, after the filming in Cleopatra.  It is universally considered her engagement brooch. And she wore it perpetually during the period including in The V.I.P.s, the 1963 film the couple made after Cleopatra.
Elizabeth Taylor in the movie 'The V.I.P.s' in 1960 . One of Elizabeth Taylor's signature moves was to embellish her costumes with her own jewelry. In her movie 'The V.I.P.s', the actress is wearing two pieces from her own collection: a pair of emerald and diamond earrings, combined with a jeweled headpiece by Bulgari.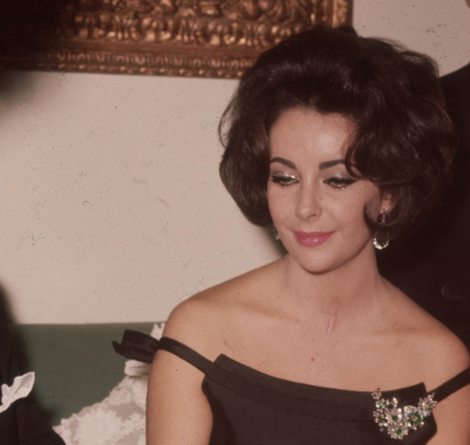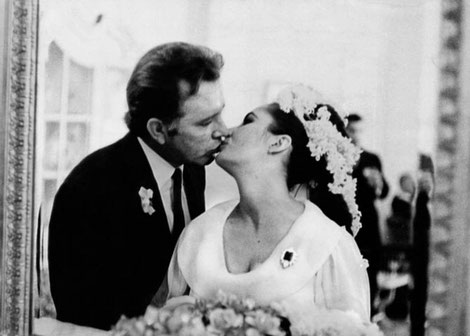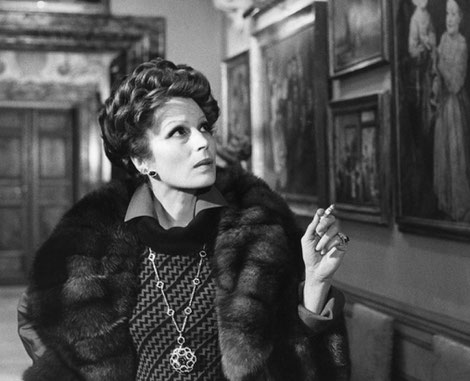 For Bulgari, the Roman Jeweler,  it was natural that he should draw on the Greco-Roman heritage for inspiration – and serpents were an intrinsic part of that. Snakes got their really big break at Bulgari in the late 1940s, and since they have appeared in countless forms: most famously as bracelets — some with watches and others without — that wrap around the wrist multiple times.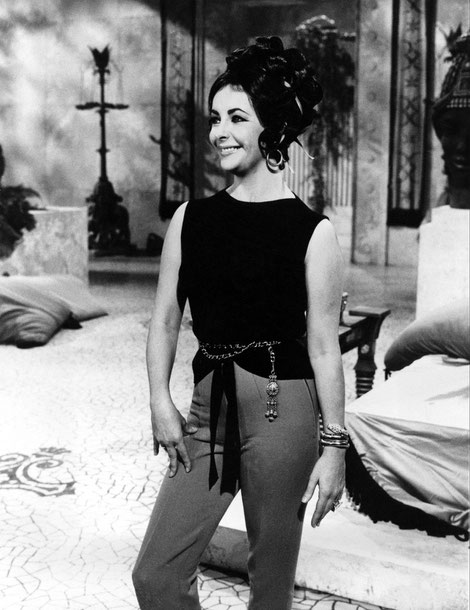 A pair of rare ruby, sapphire and diamond 'Serpenti' watch-bracelets, by Bulgari. Each designed as a coiled snake, the sprung body and the crest applied with cabochon ruby or sapphire, the head and tail enhanced by lines of diamonds, with oval-cut diamond eyes, the hinged jaw opening to reveal a circular dial with Arabic quarters and dagger hour markers, mechanical movement, mounted in gold.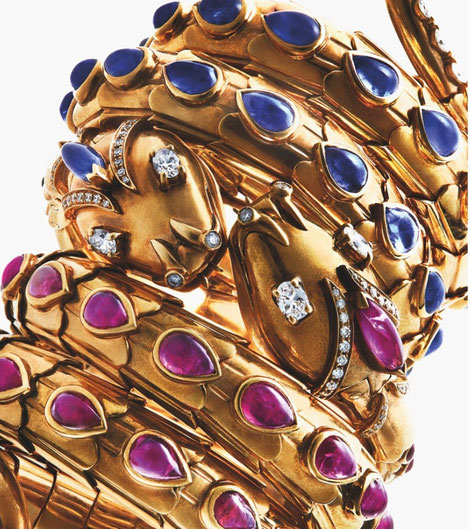 This sparkling necklace-slash-tiara transformable piece was chosen specifically by Ingrid Bergman to be worn during the filming of her movie, The Visit (1964). The platinum and diamond necklace features 13 circular-cut diamonds in varying sizes which are attached to a horseshoe motif set in an alternating sequence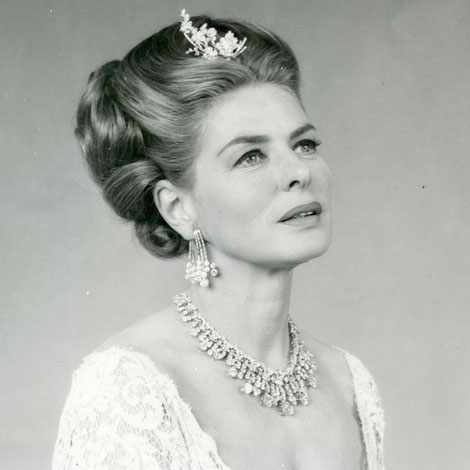 Silvana Mangano was an Italian screen siren of the dolce vita era. Born in Rome in 1930, she trained as a dancer and won the 'Miss Rome' title at the age of 16, which led her to her first film role. In 1949 she married producer Dino De Laurentiis, who is credited with bringing Italian cinema to an international audience, and collaborated with Carlo Ponti on the Fellini classics La Strada  and Nights of Cabiria. Actress Silvana Mangano wearing a quartz, onyx and diamond pendant/brooch necklace by Bulgari,  in the 1974 movie Conversation Piece (Gruppo di Famiglia in un Interno) by Luchino Visconti  The pendant of stylized star design, set with cabochon smoky quartz, onyx panels and diamond accents, to the longchain necklace of reeded bar-link design, interspersed with smoky quartz, onyx and diamond panels, circa 1975. Pendant 8.0 cm, necklace 73.0 cm, mounted in gold, in pink leather Bulgari brooch.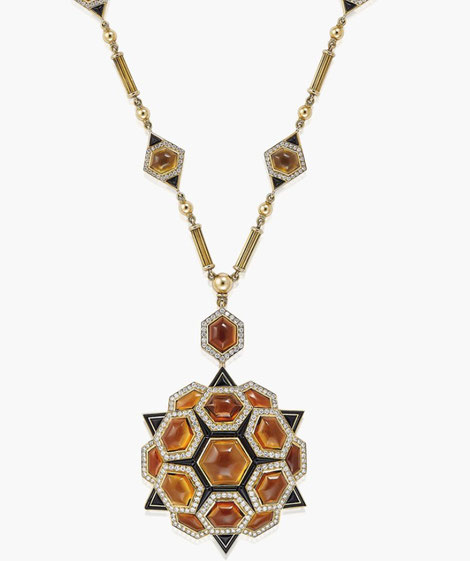 The signed Bulgari pendant above, set with cabochon smoky quartz, onyx panels and diamond accents, was given to Mangano by De Laurentiis, and is typical of the bold jewels of the dolce vita, as are the ruby, sapphire and diamond 'serpenti' watch-bracelets (below), also by Bulgari.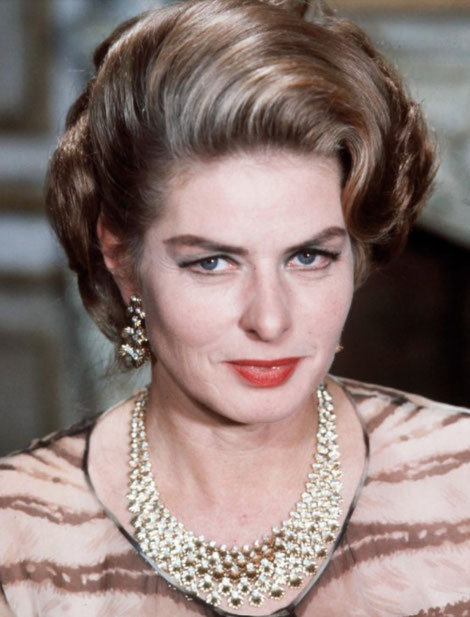 Bulgari was involved with several fabulous films during the decadess. A fan of Bulgari, Ingrid Bergman handpicked the pieces she wore in 1964's The Visit at the Italian jeweler's Via dei Condotti boutique in Rome. The movie, which won René Hubert a nomination for best costume design at the Academy Awards, saw the Swedish actress play the role of a wealthy lady who tries to persuade her fellow villagers to kill the father of her child.