In Italy, the side dishes are those dishes that serve as an accompaniment to the second dish and are usually based on vegetables, legumes and cereals. The cooking of the side dishes can be of various types: steamed, in a pan or fried. But the vegetable side dishes can also be eaten raw and simply seasoned with oil and salt. Leafy green vegetables are an important part of a healthy diet. They're packed with vitamins, minerals and fiber but low in calories. Eating a diet rich in leafy greens can offer numerous health benefits including reduced risk of obesity, heart disease, high blood pressure and mental decline. 
Broccoli alla  Napoletana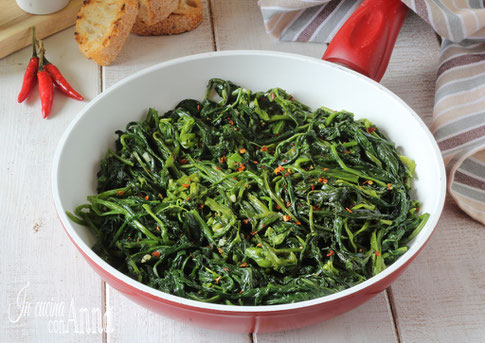 Simple, fast, tasty. The Neapolitan pan-fried broccoli is one of the fastest, cheapest and tastiest winter side dishes, very simple to prepare and excellent as a single dish, to accompany cheese, sausage or meat.
Carciofi alla Romana
Artichokes alla Romana a dish of the Lazio tradition, the Roman-style artichokes. Nothing is left to chance in the preparation of this simple and fragrant side dish: from the choice of the variety of artichoke, the violet (or Roman artichoke).
Ingredients: Violet artichokes 4; Mint or mint 1 bunch; 1 clove garlic; Salt up to taste; Black pepper to taste; Extra virgin olive oil 100 ml; Water 250 g; Lemons 1
To prepare Roman-style artichokes, first start cut the lemon in half. Then fill a rather large bowl with water and squeeze the half lemon inside and rub the remainder on your hands, in this way they will not blacken when cleaning the artichokes. Take your artichokes and start removing the outer leaves by tearing them with your hands. Then cut the final part of the stem and the tip of your artichoke. With your hands spread the artichoke and using a small knife, or a digger, also cut the central part in order to eliminate the internal beard. Also peel the stem and round off the end using a sharp knife . Place the artichoke in the acidulated water8and continue like this also for the others. Cover with absorbent paper that will be used to keep the artichokes immersed in water, keep aside and in the meantime take care of the filling. Take the mint, roll up the leaves and cut them with a knife without grinding them too much. Switch to the garlic, peel it, cut it into slices first and then chop it too. Add it to the mint; add a pinch of salt, black pepper and mix everything. Drain the artichokes and beat them lightly to remove excess water, then use the freshly prepared mix to stuff them. Massage them with salt and pepper arranged on the cutting board and as they are ready transfer them upside down in a pan, keeping them quite close together. Then pour both the oil than water, must be covered up to the beginning of the stem. Cover with a lid and cook for about 30 minutes over low heat. At this point they will be tender20 and you can serve your Roman-style artichokes still hot.
Zucchini alla poverella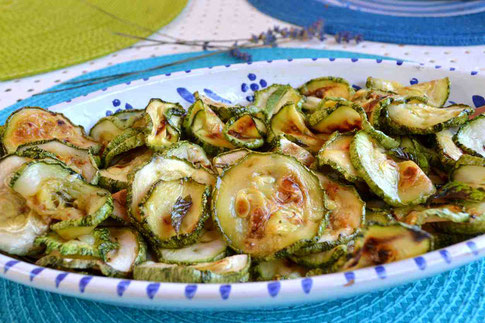 Zucchini alla poverella are a typical Apulian side dish that is really tasty and rich that can be served with many main courses. They are prepared in a few minutes and with ingredients that are never lacking in the pantry.
Insalata-di-puntarelle-alla-romana
The salad of puntarelle alla romana is a fresh and tasty side dish, very popular in Lazio and in some areas of Campania, because puntarelle are typical of these territories, even if they are now easily available on the stalls of markets and supermarkets throughout Italy. even already clean and ready to be seasoned with the typical emulsion that enhances the taste. Puntarelle are a very popular vegetable, even the Romans, well-known gourmets, loved this slightly bitter ingredient with a similar appearance to asparagus even if the chicory is collected in large clumps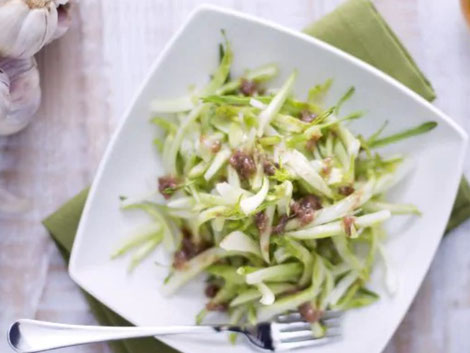 Green beans Apulian style
Green beans Apulian style, as the name suggests, represent a typical and tasty side dish of Puglia, and are prepared by boiling them in salted water, and then sautéed in a pan together with a dressing of peeled tomatoes flavored with extra virgin olive oil, garlic, chilli. and parsley. Puglia is a generous land of vegetables, which are widely used in local recipes, even to season many first courses of typical pasta.
Insalata Pantelleria salad
The Pantelleria salad is a traditional recipe of the island of Pantelleria, a wonderful place, full of naturalistic and gastronomic treasures. Colorful and fresh, this dish is a real triumph of Mediterranean flavors: on a base of potatoes and cherry tomatoes you will find the sweet and crunchy red onions, the aromatic and pungent oregano, the appetizing olives and the typical salted capers that represent the real pride of this territory. To complete this skilful mix a drizzle of extra virgin olive oil, preferably Sicilian.
Vignarola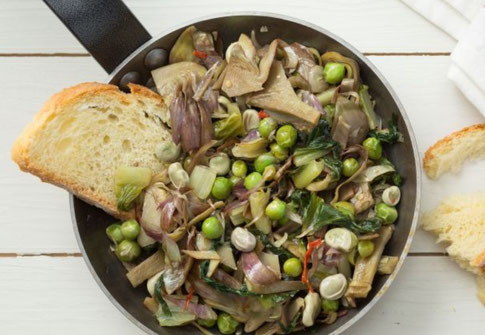 A typical dish of the Lazio cuisine, Vignarola: a perfect side dish to prepare at this time of year, which takes its name from the term "vignaroli", that is the farmers who sold fruit and vegetables. Broad beans, peas, artichokes and romaine lettuce cannot be missing in this recipe passing from the spring to the summer season! Vignarola is perfect to be enjoyed as a side dish, or alone with a slice of toast, but if you fall in love with it just like we did you can also use it to season pasta! 
Finocchi al limone
The fennel with lemon is an outline very tasty, simple and very easy to prepare , a different way to enjoy this wonderful herb very rich in beneficial properties.
Thanks to the lemon juice, fennels lose some of their sweetness, conquering even all the people who do not particularly love them because of this characteristic.
Furthermore, the breadcrumbs make the outside of the fennel crunchy which remains soft at the same time. Finally, the fresh mint leaves give that extra note of perfume, which makes this recipe really tasty, excellent both hot and at room temperature.