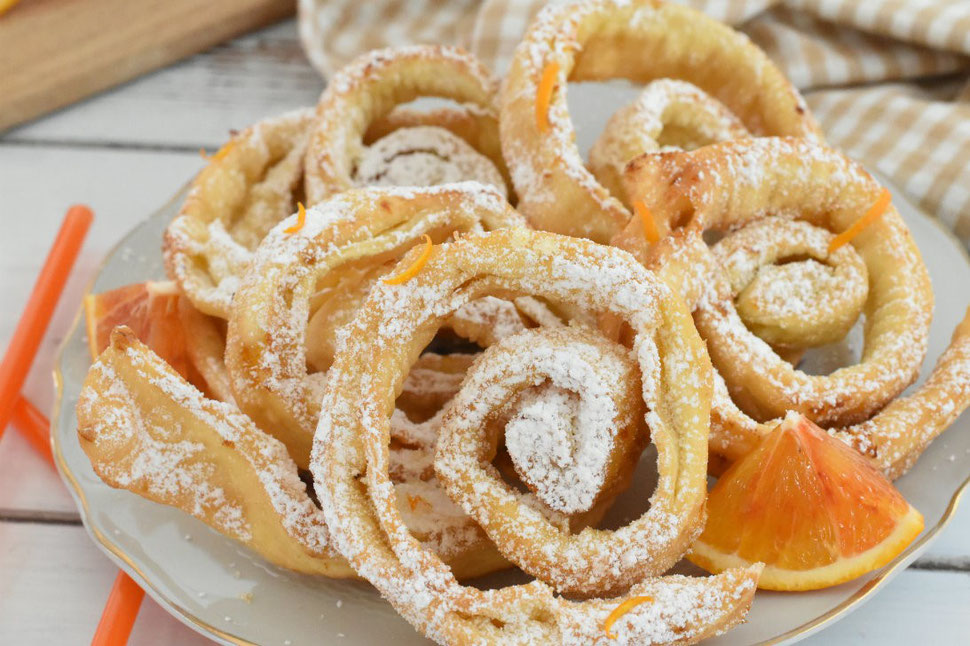 A typical Carnival dessert of Emilia Romagna are the fried egg tagliatelle.  A unique, light and especially unusual dessert if you think that the main ingredient is egg tagliatelle. The preparation is very easy and fast, just prepare the dough of the tagliatelle with a small addition of sugar, rum and orange peel. The famous shape of this cake is a swivel, but various shapes can be created, such as pasta nests that can be decorated with a few strands of melted chocolate or browned in a pan with hot honey and "breaded" with chopped pistachios. or hazelnuts.
In addition, you can create chocolate tagliatelle by balancing the flour with cocoa or use the peel of a lemon or more . And for lovers of tagliatelle, the chocolate version in walnut and gorgonzola sauce cannot be missed !
Ingredients
300 g of flour; 2 eggs; 1 teaspoon of sugar; a splash of rum
powdered sugar; grated rind of 1 orange; seed oil
Preparation
Start preparing the tagliatelle by pouring the flour with the eggs into a bowl and with the help of a fork whip them in the center of the heap of flour.
Then add the finely grated peel of an orange, a splash of rum and a teaspoon of sugar. Mix the dough for a few minutes and add an eggshell of water if necessary to combine all the ingredients. Once a homogeneous dough is obtained, let it rest for about 20 minutes covered with a cloth . Then roll out the pasta for the preparation of the tagliatelle with the help of the pasta machine or the rolling pin, flour the dough abundantly. Create nests of dough by sprinkling them with a lot of flour and let them rest for about 20 minutes. Meanwhile heat the oil in a saucepan and start frying the nests of sweet noodles. After frying and letting the excess oil drain, sprinkle with icing sugar and the dessert is finally ready to be enjoyed!