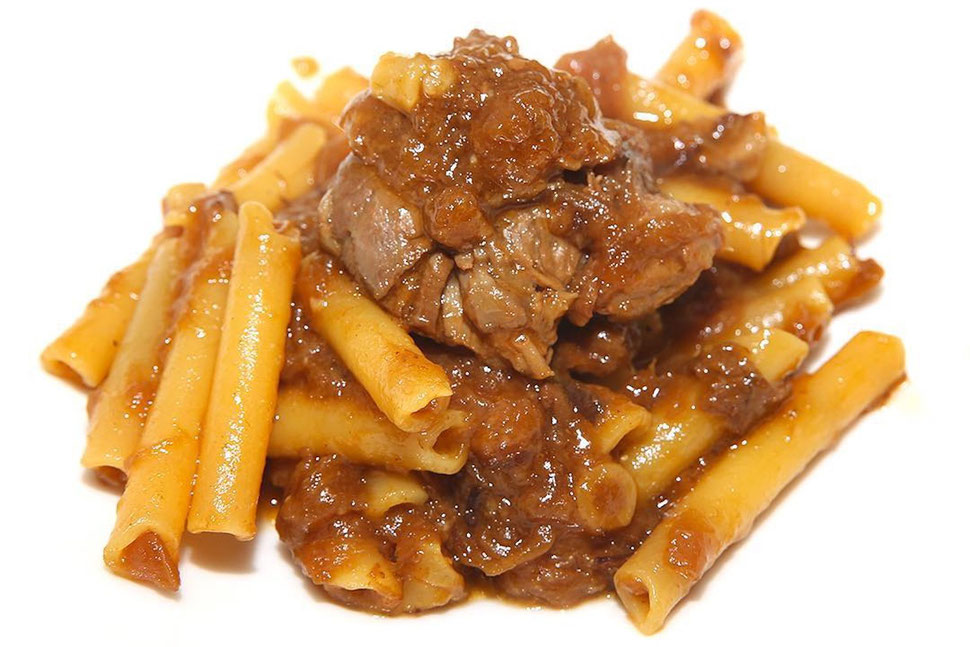 A good, tasty and tasty recipe that takes us back to "Nonna's - grandmother's house. The scent of the gnocchi spread out on the table, of the onion being cooked, of the meat sauce. This is a dish in the Neapolitan tradition that does not need many words, only love and care: it is the  famous Genovese sauce. A dish made entirely of onions and meat: there are many other variations: there are those who add the salami, some add tomato, there are those who like it drier other again creamier. The Genovese is also good the next day, re-heated. Here's the recipe:
Ingredients:
500 grams of pasta (ziti, candelabra, paccheri); 3 kilos of onion (you can choose both white and Tropea red ones)
1 kg of Lacerto (or walker); salami (a generous piece); salt pepper; chili pepper; 2 carrots; celery; oil
Preparation
In a saucepan, add the oil, the onions you have cut into small slices, the celery and the carrots. When everything is wilted, add the meat, a glass of white wine and salt. Let it cook for a couple of hours on a slow flame, let all the juices come out and bind to the others. When the outside of the meat has taken on a color tending to "cooked" (brown and the fat around it has shriveled) then turn off.
Second firing
The procedures, or rather the cooking, are various, about 3 or 4 and done every two or three hours. A bit like ragù, this is because the onion must thicken.
The day after
A few hours before lunch or dinner (but we recommend lunch given the digestibility of the onion) cook for another hour. Before eating it, heat it up and add the salami.
Read also -> Homemade croissants: The easiest recipe with the tricks to make them super soft for a nice surprise for the whole family
The pasta
In a saucepan, cook the pasta (boiling the water first). Once al dente, drain and add the sauce. A little pepper, and a sprinkle of Parmesan. There is that creates a mixture of pecorino and parmesan and good appetite.
 PS. La Genovese  is a typical Neapolitan Beef and Onion Pasta Sauce.