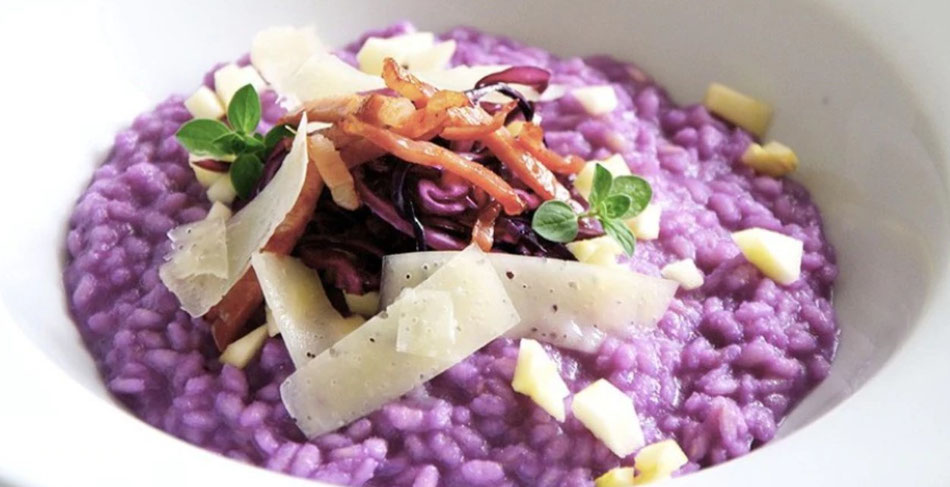 Colorful purple cauliflower is the main ingredient for this risotto recipe. Purple cauliflower  is rich in vitamin properties and is low in fat.  As with fruits and other vegetables with shades of blue and violet, purple cauliflower also has valuable nutrients. An example is characterized by anthocyanins, or pigments that color certain foods of plant origin red and blue and that have anti-inflammatory, anti-platelet aggregation, microcirculation protection and antioxidant properties. Therefore, preparing a risotto with purple cauliflower will not only make a good impression because of its unusual color but it will also align with important nutritional requirements.
Ingredients:
320 g of rice; 1 purple cauliflower;  half a liter of vegetable broth;  half an onion; grated Parmesan to taste; extra virgin olive oil and salt to taste;  4 sprigs of rosemary .
Preparation:
To make the risotto in a few minutes, just wash and clean the cauliflower. Discard the stems. Place the cauliflower in a bowl and blend 3/4 of it with an immersion blender. Add a little cold water and a drizzle of oil to form a tasty and velvety cream. Cut the leftover cauliflower into strips and set aside.
Subsequently, in a pot, boil the vegetable broth. Meanwhile, in a pan, heat a little oil and brown the finely chopped onion. After a couple of minutes, add the cauliflower cut into strips and then also the rice. Gradually add the broth to the rice. Cook for about 20 minutes and finally add the cauliflower cream. Combine the ingredients with a pinch of salt, the grated Parmesan cheese and mix everything for a few minutes. At this point the risotto is ready. Serve and decorate with a sprig of rosemary in each dish and that's it. Buon Appetito!