There are many Italian companies that over many generations have distinguished themselves for the quality of their products. That has made them well-known and appreciated all over the world. One of these is certainly Ferrero, a brand that has become the symbol of Made in Italy.  Ferrero today is an Italian multinational specialized in the production of confectionery. The history of the Ferrero Group is a story of success in its third generation, in which the development of a multinational company perfectly combines with the past, present and future of a tenacious Piedmontese family. The company was founded in Alba in 1946 by Pietro Ferrero. The products were also sold abroad. The first factories were opened in 1956 outside the Italian territory. From then on, the expansion of the Ferrero brand took over the world. Over the years, the company has become global with branches and production sites throughout the world, while still producing products that are appreciated by everyone like Nutella.
Following the success of the company in Italy, Michele Ferrero decided to start producing also abroad. In 1956 a large plant in Germany was inaugurated and a short time later a plant in France. It was the prelude to a rapid expansion of Ferrero in Europe, with the establishment of commercial offices and production centers in Belgium, The Netherlands, Austria, Switzerland, Sweden, United Kingdom, Ireland and Spain. In the following decades Ferrero becomes global, with companies and plants in North and South America, South East Asia, Eastern Europe, Africa, Australia; and, more recently, in Turkey, Mexico and China.
Ferrero Rocher products such as Nutella, or KINDER Surprise are part of Italian life. Not only does Nutella feature at the typical typical Italian breakfast but KINDER Surprise is part of the Italian Easter celebrations - in particular the special Easter editions with a range of different surprises, and gifts contained in the eggs. I remember, experiencing an Italian Easter with these huge Surprise Eggs for the first time when spending Easter in Sorrento - how wonderful!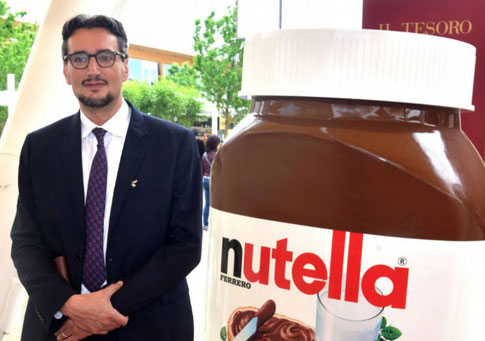 Today, Giovanni Ferrero continues to run the company successfully, aiming to reach goals that are even more ambitious and ensuring that the company inspiration and motivation that so strongly shared with his father Michele and his brother. Today, just as yesterday, it is a structure based on solid family values.
Giovanni Ferrero has just been voted the richest man in Italy in 2020. Over the course of the past year, the assets of the entrepreneur who owns the group of the same name, famous throughout the world for Nutella, reached 27.7 billion dollars which are equivalent to 22.6 billion euros .