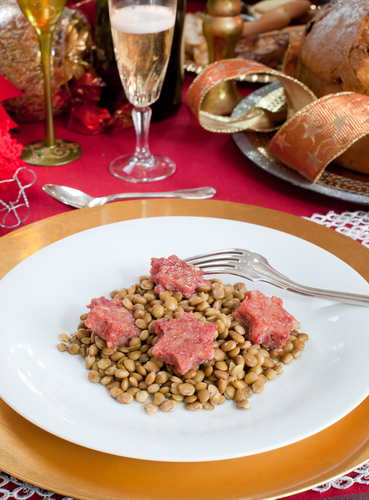 Lentils in Italy are a symbol of growing prosperity because thanks to cooking they increase in volume, the tradition of eating lentils on New Year dates back to an ancient custom. Giving on the evening of December 31st a purse full of lentils with the good wishes that they will turn into money. Like coins, and able to swell when cooked, lentils symbolize money and (economic) growth.
Whether they accompany zamponi or cotechini does not matter: lentils are an absolute must. Where does this belief come from that eating lentils at the New Year's Eve dinner or at New Year's Eve brings luck, a good omen, especially from an economic point of view and "guaranteeing" a prosperous future? This custom derives from the ancient Roman tradition of giving a "scarsella", a small leather bag to store money, containing lentils, with the hope that the lentils can be transformed into coins.
 In addition to this, lentils are among the healthiest legumes that nature reserves for us. Rich in fiber, mineral salts and vitamins, lentils have been considered, since ancient times, the meat of the poor. This belief is linked to the fact that on the tables of the poorer classes of the ancient Romans and Greeks, they were never lacking by virtue of their nutritional and energetic power. In the Middle Ages, due to its easy availability and low cost, and in times of severe famine when food was scarce, this dish easily replaced a complete meal by providing proteins and vitamins and also improving health conditions and therefore resistance to disease.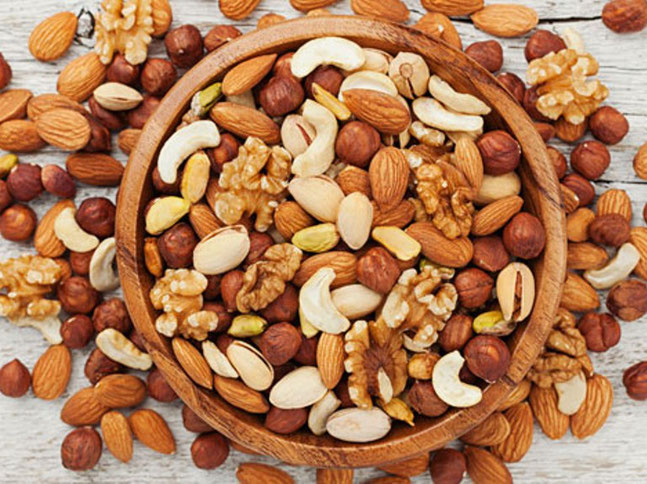 Also nuts are a must to have at the dinner - the tradition of putting walnuts on the New Year's table is  based on peasant tradition: in ancient times, the head of the family took 12 walnuts, put them in the cupboard and covered them with salt; the next day, the driest or wettest walnut indicated the month of the new year which would be driest or wettest.
Always used in rituals to the gods, as a symbol of luck and happiness, nuts as well as all dried fruit in general must never be missing on the New Year's table : a beautiful basket full of nuts will give joy and happiness to the whole company.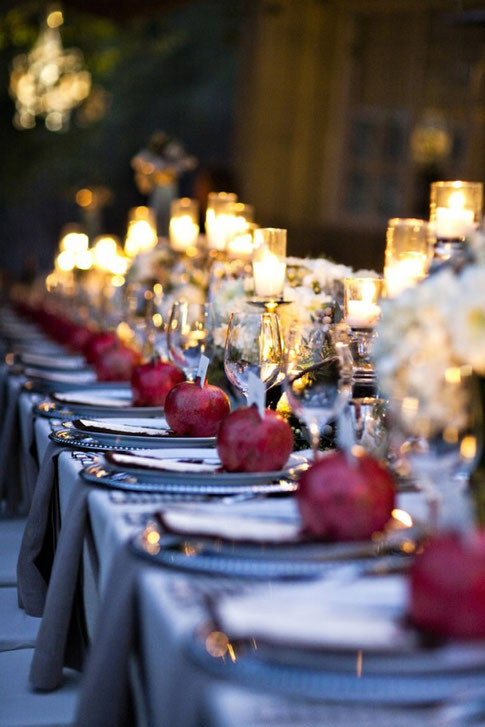 Pomegranate  has always been a symbol of fecundity and luck, thanks to the spontaneity of this fruit to release the red seeds when it  is opened.
The Red Fruit stands for good fortune and good health. Since antiquity, the pomegranate has been a symbol of plenty, youthfulness, fertility, and good luck. In the Jewish religion it is mentioned several times in the Bible as one of the seven fruits of the Promised Land.  At the time of the Roman Empire, brides intertwined pomegranate branches with their hair as a wish for fertility. Even today, many call pomegranate a lucky charm and giving it at Christmas is a good omen for the new year.
"Whoever eats grapes for New Year's Eve counts his money all year"
Grapes are as delicious fruit  but also  symbolize abundance. One belief, is eating 12 grapes or raisins by the time midnight strikes (one for each month of the new year) will bring luck.
In addition rice : according to many beliefs, rice grains are a symbol of abundance, therefore a good omen for the new year. Rice can be used as an ingredient in dishes to be prepared for the dinner and put some raw on the table or in bowls.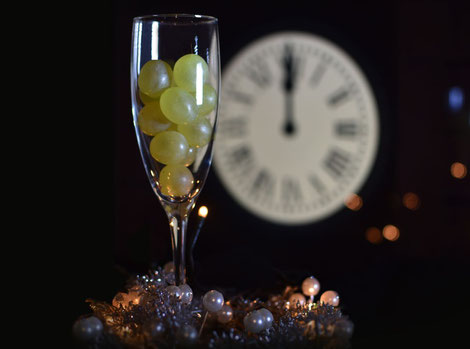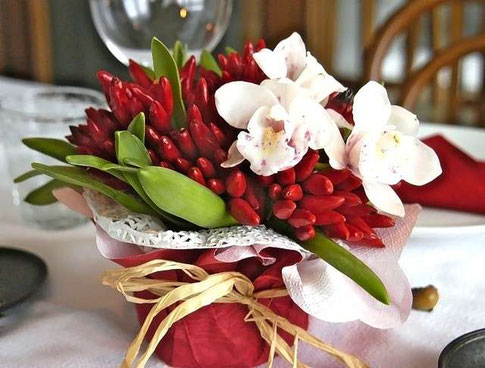 With its red color, the color of holidays, the chili pepper is auspicious as a symbol of good luck , also for its shape that recalls the lucky horn , a superstitious object typical of our southern Italy. You can use it as place holders , as decoration of centerpieces or to add flavor to dishes, from appetizers to desserts with chocolate .
Italian Playlist - the best music to dance into the New Year!