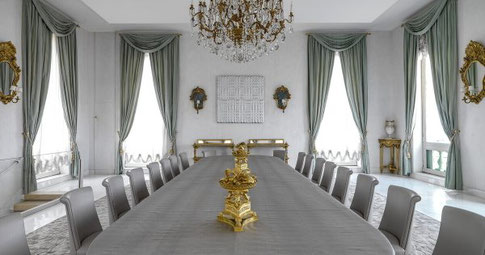 Giorgio Armani, one of the Italy's most prevalent designers was asked by Italian's president Sergio Mattarella to provide the Quirinale Palace, the seat of Italy's government with contemporary interior design. Armani/Casa will be fulfilling this request. Armani, as an interpreter of the Italian lifestyle and national state, to impress and dazzle guests - whether local or global visitors.
In 1986 Giorgio Armani stepped foot into the Quirinale Palace for the first time and felt a bit intimidated, and impressed by the magnificence of the Quirinale building.
Now 35 years later and several honors later, including that of Cavaliere of the Republic, Giorgio Armani returns to the Quirinale, on the express request by the President of the Republic.
The Quirinal Palace (known in Italian as the Palazzo del Quirinale or simply Quirinale) is a historic building in Rome, Italy, one of the three current official residences of the President of the Italian Republic, together with Villa Rosebery in Naples and the Tenuta di Castelporziano, an estate on the outskirts of Rome, some 25 km from the centre of the city. It is located on the Quirinal Hill, the highest of the seven hills of Rome in an area colloquially called Monte Cavallo.