New Year's Eve a series of perfect recipes to celebrate the arrival of the new year with relatives and friends, a complete collection of all the recipes you would like to prepare for New Year's Eve to celebrate the arrival of the new year with all your friends. This special Capodanno cenone starts with a range of delicious and elegant appetizers, followed by a light pasta dish and a range of desserts. All underpinned by the highest quality Italian sparkling wines.
Obviously you'll require lots of sparkling wine, prosecco or champagne. Try the famous range of sparkling wines from the Trentodoc or Franciacorta regions. Just like prosecco, Franciacorta originates from Italy. However, connoisseurs argue that Franciacorta is actually much closer to its French cousin – Champagne. This wine is geographically produced just beneath Lake Iseo in the region of Lombardy. Both wines are made from a traditional 'champenoise' method; this means that the 'bubbliness' of the wine is retrieved during its 'in-bottle' secondary fermentation. As a consequence, the wine tastes a lot younger, lighter and an enhanced fruit-flavor .
Highest quality of Italian sparkling wines from Trentodoc or Franciacorta
Antipasti
A range of appetizers or Antipasti - we have listed some of our favorites which include Timballini di Riso e  Salamone, Gamberi alle mandorle - Shrimps in Almond batter,  Rosti di lenticchie rosse con capesante  - Rosti with lentils (for good luck) and caramelized scallops. For this special cenone (dinner), we are proposing a range of delicious and elegant appetizers.
Primi Piatti
Pappardelle ai gamberi e lime
The recipe for pappardelle with prawns and lime offers a simple and refined seafood first course, characterized by sweet and citrusy notes reminiscent of Asian cuisine. The protagonist of the dish is a traditional format of fresh egg pasta, of Tuscan origin, which with a few other quality ingredients and easy steps gives a sure success.
 It is also a quick first course to make; the fresh sauce is prepared while the pasta is cooking and, since both the prawns and the pappardelle need a short cooking, the result is quickly obtained.
Ingredients:
300 g of egg pappardelle; 300 g of shrimp; 3 spring onions
2 limes; extra virgin olive oil;  pink pepper; chopped almonds
Preparation:
Start preparing the shrimp and lime pappardelle by bringing plenty of salted water to a boil to cook the pasta. In the meantime, rinse the shrimp under running water, drain them very well and pat them with absorbent kitchen paper. Remove the heads and the carapace and remove the black fillet that constitutes the intestine with a toothpick. Clean the spring onions, rinse them and slice them finely. Fry them gently in a pan with a little oil. When they are soft, add the prawns and cook them for a few minutes. When cooked, add the lime juice.
While you sauté the prawns, proceed with cooking the pappardelle for the cooking time indicated on the package. Drain them al dente and toss in a pan for a few moments together with the sauce, adding a few spoonfuls of the cooking water if necessary. When the bottom is soft and creamy, turn off the heat and stir in a drizzle of oil, ground pink pepper and a handful of chopped almonds. Transfer the pappardelle with shrimp and lime to a serving dish, finishing with a little lime zest. Serve immediately! Grazie a Cucchaio d'Argento
Zuppa inglese con pandoro
A practical way to use any left-over pandoro or panettone from Christmas, is this quick dessert for New Years' Eve. It is prepared with the typical liquor for Zuppa Inglese: Alkermes, a Florentine liquor with the main flavours being cinnamon, nutmeg, cloves and vanilla. But if you cannot buy alkermes, you can also use brandy.
Ingredients:
200 grams pandoro; 6 yolks; 90 grams of sugar; 20 grams of flour; 5 deciliters of milk; 50 grams dark chocolate; 150 grams mixed dried fruit (dates, apricots, figs); q.b. bitter cocoa; 150 grams of sour cherry jam; 1/2 glass alkermes; 4 bunches of red currant; q.b. powdered sugar
Preparation:
1) Beat the egg yolks with the sugar until you get a frothy cream; add the flour and, little by little, the milk. Cook the cream mixing it until it thickens, then divide it into 2 parts; add the grated chocolate to one and the dried fruit to the other.
2) Cut the pandoro into slices. Line the bottom of a large bowl with one side, sprinkle with Alkermes and pour over half of the dried fruit cream. On top, make a layer of black cherry jam and one of pandoro soaked in liqueur, then pour half of the chocolate cream, then repeat the layers until all the ingredients are used up (keep a slice of pandoro aside for decoration).
3) Put the cup in the fridge for a couple of hours; just before serving, cut the remaining pandoro into very thin slices and toast them under the oven grill for a few moments. Sprinkle the dessert with bitter cocoa and decorate it with toasted pandoro, black currant and a sprinkling of icing sugar.
The trifle is a dessert classic. Find out how to prepare a delicious pandoro trifle, perfect for Capodanno!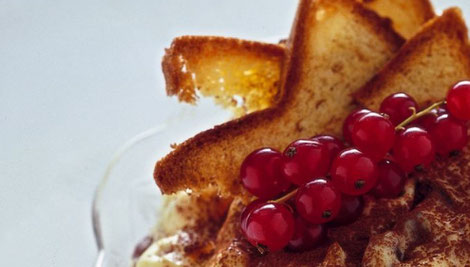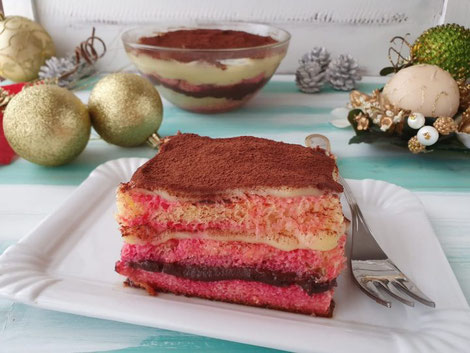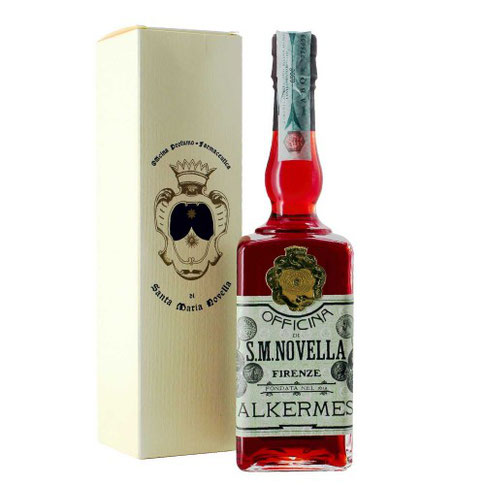 Alkermes, a spicy-sweet liqueur with a lovely floral aroma and distinctive bright red color, was created in Tuscany and has been popular throughout Italy since the Renaissance. Pope Clemente VII considered it healthful going so far as to call it "the elixir of long life." Alkermes was supposedly brought to France by Maria de' Medici where it was called "liquore de' Medici." Today it is still made by the Santa Maria Novella pharmacy in Florence using the same recipe they created back in the early 1700s combining spirits with various spices, rosewater and kermes, a small insect that gives the drink both it's color and name. 
Semifreddo alle fragole
The strawberry parfait is a quick and very tasty dessert like the strawberry cheesecake. Very easy to prepare especially for those who have little time to spend in the kitchen and want to surprise guests at dinner. It is a very light spoon dessert contrary to what one might think.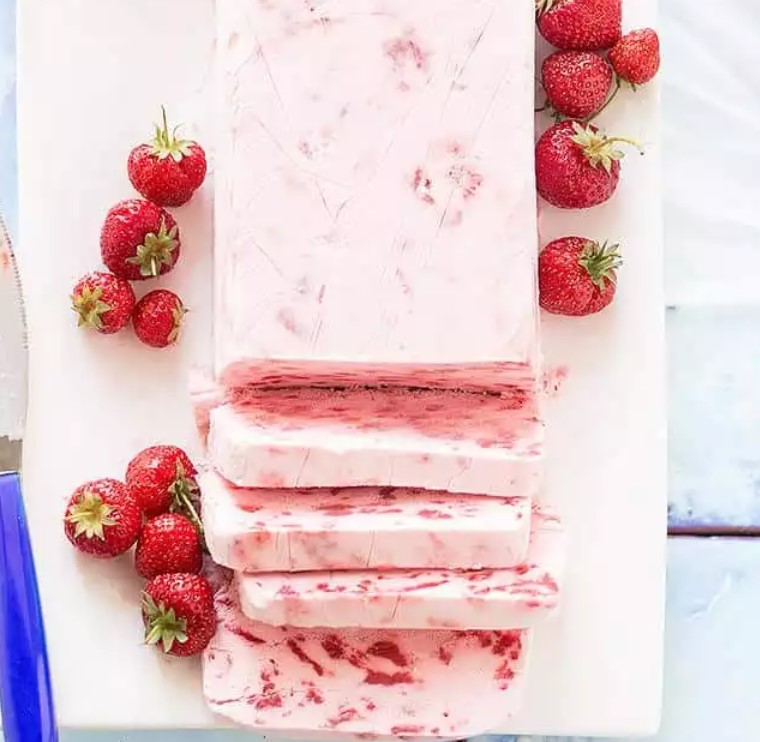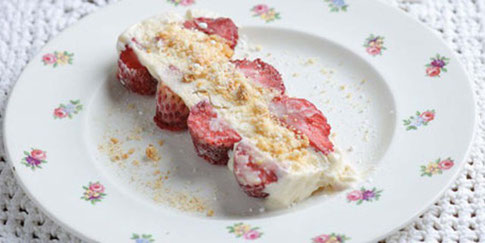 Ingredients:
Strawberries 500 g;  sugar 150 g; water 200 ml; Fresh cream 200 g.
Let's start the preparation by washing the strawberries, removing the green stalk and putting only 3/4 of them in a mixer, adding lemon juice, vanillin and sugar. Blend everything to obtain a puree.
Add the whole strawberries that you have preserved in order to obtain different different textures in the finished semifreddo. In a bowl, whisk the egg whites until stiff and add them to the strawberry puree. Gently mix from bottom to top. In a separate bowl, whip the cream firmly and then add the two compounds while continuing to gently mix everything with a spoon. Pour the mixture into a loaf pan lined with cling film.
Leave to rest in the freezer for at least 6 hours, even better if overnight. After this time, remove the strawberry semifreddo from the freezer half an hour before serving. Cut it into slices and accompany it with a chocolate sauce or whipped cream. Serve the strawberry parfait.