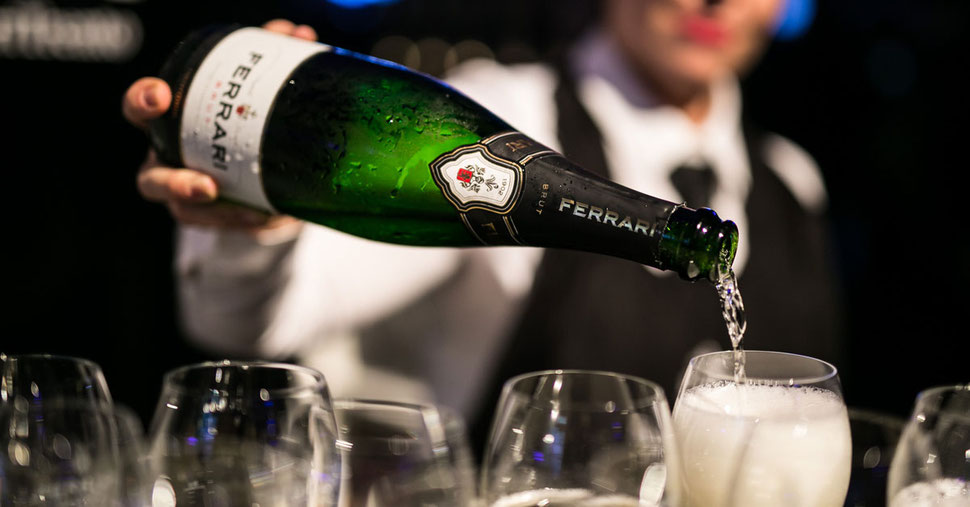 Countless bottles of sparkling wine are opened during the Christmas holiday season. Sparkling alternatives to champagne can also be found away from the large growing areas - for example from the highest sparkling wine gardens in Europe in Trentino. Today, even though a Brut requires 15 months of aging, a single-vintage 24 months and a 'riserva' 35 months, many winemakers here often age their wines for 60 months to ensure optimal quality. Some of the best sparkling wines in the world are bottled in Trentino. From a winegrowers' association called Trentodoc. Sparkling wines have been made in Trentino for about a century. This began after a visionary winemaker, merchant and avid traveler named Giulio Ferrari introduced the Chardonnay grape to the region. Today these wines can also include Pinot Noir, Pinot Blanc and Pinot Meunier.
Although Trentino now produces both still and sparkling wines, the sparklers have their own appellation—Trentodoc—created in 1993 and trademarked in 2007. These wines are made using the champenoise method (think Champagne) rather than the charmat method (think Prosecco). This means that secondary fermentation which produces bubbles takes place in bottles, not within pressurized tanks.
The Trentodocs are characterized by two special features. First: They are the highest sparkling wine gardens in Europe with up to 800 meters. And secondly: Almost all Trentodocs are Blanc-de-Blancs, so they are only made from Chardonnay and Pinot Blanc. This makes the sparkling wines of Trient, which formerly belonged to Austria, sparkling, cool, invigorating and, if a wooden barrel was used, also spicy and elegant. In addition: Due to the often slightly higher acidity, many Trentodocs can be stored surprisingly. The few sparkling wines that are blended from Chardonnay, Pinot Blanc and Pinot noir, or even made from Pinot noir or Pinot Meunier alone, are more similar to champagnes.
By far the largest producer of sparkling wine is the Ferrari winery, in whose shop you can also buy amazingly well-aged vintage sparkling wines. The sect of Cantina Altemasi and Endrizzi are also excellent. Those who prefer biodynamic Trentodocs will find what they are looking for at Maso Martis. At Mas dei Chini, again biodynamic viticulture, you can also eat and sleep well, and the Etyssa winery, which is also biodynamic, is the little insider tip that you are looking for in every wine-growing region.
The entire region, part of the Trentino-Alto Adige autonomous region of Italy, is a land with excellent regional food ('speck' ham, rainbow trout, trentingrana hard cheese, acacia honey, durone cherries, renetta canada apples), spectacular mountain climbing, biking and skyrunning, as well as hot springs and mountain cabins.Trento itself is a most attractive city with white stone chapels, open main squares and bell towers, parks, a funicular, views of the sweeping green Adige river and attractive and looming limestone cliffs that face the city.