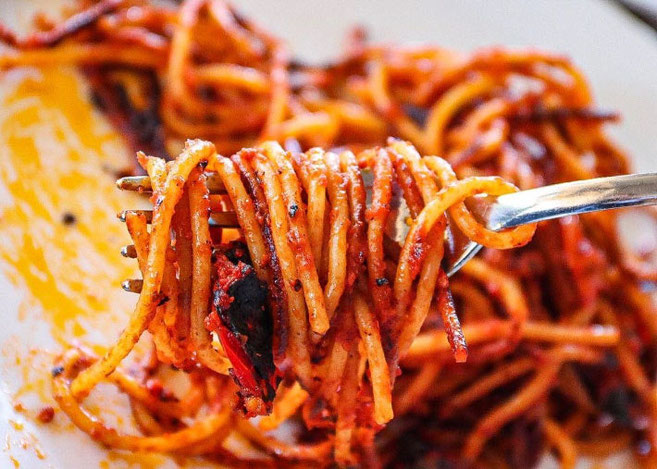 Burnt, crispy, spicy: these are the three essential characteristics of a Spaghetti all'Assassina, one of the typical dishes from the city of Bari, in Puglia. You don't need to kill someone to prepare this dish. The name "assassina" meaning killer is linked to its cooking technique, the risottatura of pasta needs to be respected religiously.  It is a dish that has recently become part of the Bari tradition, as well as an appetizing way to use the leftover sauce. Thanks to the cooking of the spaghetti directly in the pan, in fact, you will get a crunchy and tasty consistency particularly appreciated by lovers of a crust! A quick and easy recipe also ideal for using leftover pasta.
Ingredients:
Spaghetti 320 g; Tomato sauce 300 g; 1 clove garlic; Dried chilli 1; Extra virgin olive oil 25 g; Hot and salted water to taste; Basil to taste.
Preparation:
To prepare spaghetti all'assassina, start by heating the leftover sauce in a saucepan prepared with sautéed onion and cooked for 30-40 minutes. Meanwhile, in another pan, fry a clove of garlic with a drizzle of oil  for a couple of minutes. Then add the spaghetti and immediately wet with hot water. Stir a few moments to soften the pasta  and then pour a ladle of the heated sauce . Crumble a dry chilli pepper and continue to wet the pasta with hot water as if you would like to cook it again. When cooked, remove the garlic  and add the remaining part of the sauce. Adjust salt as needed and finish cooking by raising the temperature, letting the bottom burn  to make the pasta crispy and golden. Your Spaghetti Assassina is ready, serve hot, decorating as you like with fresh basil. 
Spaghetti all'assassina is a religion here in Bari, so much so that a dedicated academy and counter-academy exists for the the most authentic recipe. These are lovers and experts of this dish, committed to enhancing it through monthly meetings that revolve around sharing preparation methods. They are vigorous defenders of the use of the black iron pan, an essential tool for the preparation of l'Assassina according to tradition and the Academy. The truth is that when the owners of Al Sorso Favorite acquired the adjacent restaurant – a former rotisserie – they found the Assassin's recipe on paper and decided to relaunch it  - with obvious success!