The magic of December 25th is made up of many things. Waiting, sharing and memories that overlook the most important lunch of the year. And the most classic Christmas recipes are the full expression of these emotions, thanks to their ability to evoke memories and habits bite after bite. But the beauty of Christmas dishes is that they begin to excite us right from the preparation, especially if everyone does something. To involve the children and entertain them a little, for example, just leave a little pasta to work on the table on which we are cooking.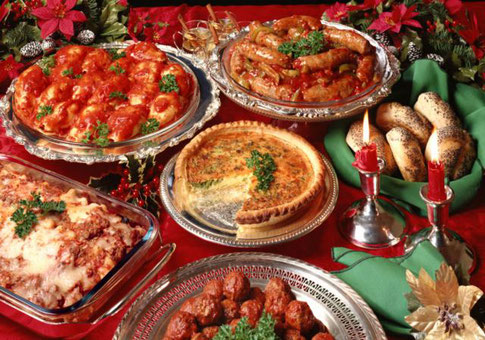 Tradition has it that the Christmas menu is mainly of meat as opposed to the Christmas Eve dinner which is instead "lean". Every Italian region, every city, even every family, have their own customs but what everyone agrees on is that the Christmas lunch must be very rich, of quality and elegant.
Rosti di lenticchie con capesante - Scallops with lentils rosti
Red lentil rosti with scallops: salmon, lentils and seafood are the symbols of  Italian Christmas that cannot be missing on your Christmas Lunch table. 
Ingredients:
12 scallops (St James shell); 250 gr lentils; 50 gr smoked bacon or bacon; 4 tablespoons extra virgin olive oil; 2 tsp mustard; 1 tablespoon white vinegar; 1 bay leaf; q.b. parsley; q.b. salt; q.b. pepper
Preparation:
1) Cook the lentils. Put 1 small potato in a saucepan, cover it with cold water, bring to a boil and cook for 20 minutes. Drain it, peel it and mash it with a potato masher. Check the shallot, peel it and rinse it. Heat 3 tablespoons of oil in a saucepan, add the shallot and let it dry over low heat. Rinse 80 g of peeled red lentils under running cold water, add them to the pot, and brown them for 1-2 minutes. Pour 5 dl of hot broth, cover and cook the lentils for about 10 minutes, stirring occasionally, until they are dry, but still a little al dente. Pour them into a bowl and let them cool.
2) Prepare the rosti mixture. Add the mashed potato, egg yolk, salt and pepper to the lentils. Then mix until you get a homogeneous mixture. Melt 50 g of butter in a large pan, add the lentil mixture, divided into 8 tablespoons, crushing them with the back of the spoon, to form 8 irregularly shaped discs.
3) Brown the scallops. Cook the rosti 2-3 minutes on each side and drain them on overlapping sheets of absorbent paper. Rinse 8 scallops, remove the walnuts (the white and fleshy parts) from the corals (keep them aside and use them for a seafood risotto) and dry them, dabbing them with absorbent kitchen paper. Arrange a few sage leaves on each walnut and wrap each with 1/2 slice of speck, cut lengthwise, and secure it with a toothpick. Melt the remaining butter in the pan, brown the scallops for 3-4 minutes per side.
4) Remove the toothpicks and place them on each of the rosti and serve.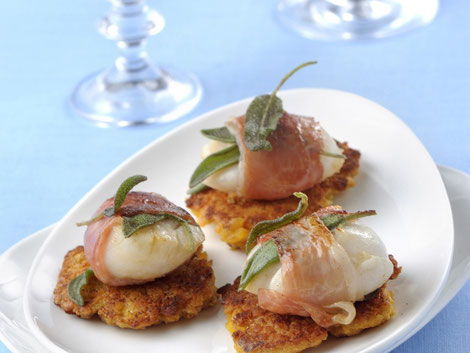 Cosce di cappone farcite con castagne - Capon stuffed with chestnuts
For second then a triumph of roasts and stuffed meats. The capon stuffed with herbs and sparkling wine is a classic of the Christmas period because it appears, by ancient tradition, on the menu of great lunches.
Preparation:
Debone the capon legs or have them boned by your butcher. Boil the milk with chestnuts, a pinch of salt and 10 g of butter for 10 ', then blend. Brown the livers with 10 g of butter and a pinch of salt and pepper for 30 seconds, then chop them with the crumbled sausage and add them to the cream of milk and chestnuts (stuffing). Lay one leg on a sheet of plastic wrap, placing it on the side of the skin, fill it with 2-3 spoonfuls of filling and roll it up to form a tight cylindrical shape, then wrap it in aluminum as well. Do the same with the other legs and steam them, with the basket or in the steamer, for 45 '. Blanch the spinach for 30 seconds in unsalted boiling water, then drain. Open the capsules of the capon and recover the sauce. 
Brown the rolls in a pan greased with oil for 5 ', then keep them warm. In the same pan, reduce the sauce with a large ladle of broth or water for 20 '. Heat 10 g of butter in a saucepan, add the dried fruit and, after a couple of minutes, the squeezed and shredded spinach. Slice the rolls and serve with the spinach and the reduced cooking juices.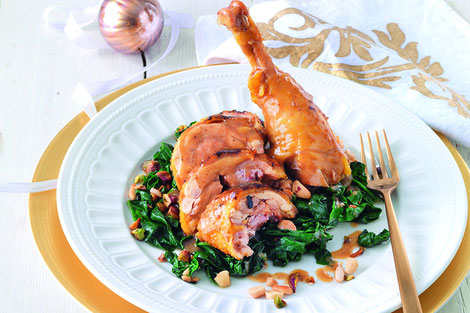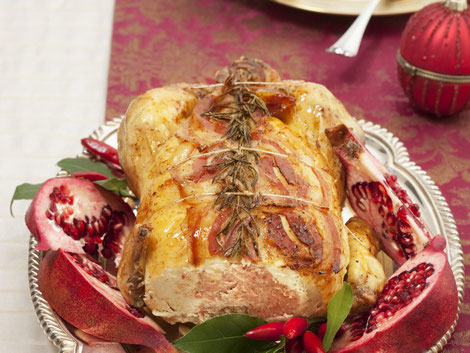 Dolci: Panettone or Tiramisu?
And if there is space left, dried and candied fruit, as well as the inevitable desserts, with panettone and pandoro in the head and, if stuffed, they are even more delicious! The panettone filled with orange cream and snowflakes is a simple recipe to make that will appeal to young and old. But if you don't want to give up a traditional tiramisu to close your Christmas lunch.