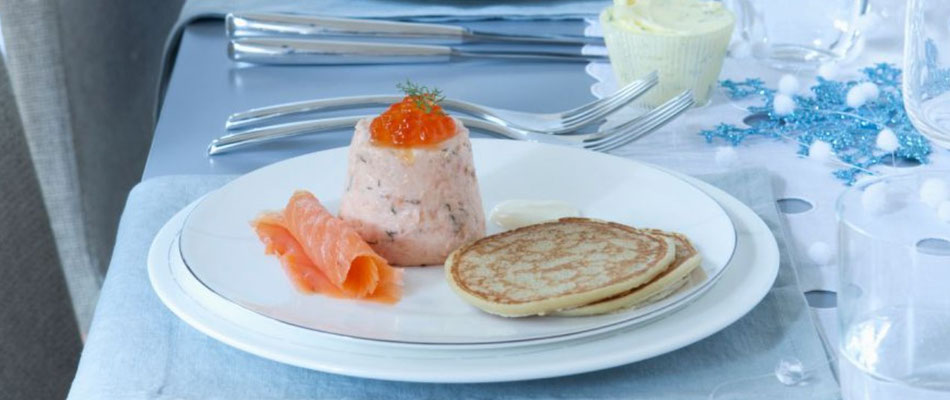 Christmas Eve is December 24th, a unique day that precedes Christmas and is generally spent in the company of the family, gathered for a special dinner.
The traditional Christmas Eve menu is seafood; as Christmas Eve is considered a lean day: we don't eat meat, but fish. The recipes for the traditional dinner on December 24th are usually based on different types of fish: eel, cod, capitone and then salmon, crustaceans, prawns and prawns, gratins, baked fish.
 Rule number one is to prepare a delicious appetizer, but not too abundant: you don't want your guests to feel full before the main courses themselves! A convenient choice is certainly finger food. Provide your guests with a toaster, bread rolls, butter and salmon or other treats that can be placed on a canapé and let them serve themselves. The marinated anchovies are also very welcome and easy to prepare, or the very thin omelettes that are filled with tuna and mayonnaise mousse, closed with a roll, wrapped in cling film and placed in the fridge to rest.
Appetizer - Antipasti
Girelle di pane salmone e philadelphia -  rolls of salmon bread, rocket and philadelphia are an easy appetizer to prepare and require only 4 ingredients and 5 minutes of time to prepare. In particular combined with a glass of prosecco! Preparing them is not just easy but also practical because we can make them well in advance, keep them in the refrigerator and cut them just before bringing them to the table. Polpo con gamberi e patate - Octopus with shrimps and potatoes is a very easy fish recipe, prepared a few days ago for a light and tasty lunch, ideal in summer, in winter, at Christmas , always! Insalata Russa al Tonno - Russian salad with tuna appetizer recipe for Christmas, with tuna as an extra ingredient, and it's delicious! The Russian salad recipe is very simple and the basic ingredients are carrots, potatoes, peas and mayonnaise that certainly make up the most traditional recipe, you can serve it in single-serving bowls or prepare it in a single tray decorating it  with boiled eggs, olives, gherkins, shrimp, you can also enjoy it as a side dish.
Primo Piatto
Tortellini in brodo
Tortellini in broth are a great classic of Italian cuisine and the great pride of that of Emilia. In the traditional recipe, tortellini are prepared in meat or capon broth but it is also possible to cook them in chicken or vegetable broth. 
Ingredients:  500 gr tortellini; 1 kg. rump meat, brisket, royal, pulp; 3 liters of water; 1 onion; 2 carrots; 1 stalks of celery
3 cloves; 1 bay leaf; fresh parsley only the stems; grated Parmesan cheese
Preparation:
Prepare the meat broth (chicken or vegetable) by placing the pieces of meat in a large pot. Add the cold water, carrots, celery stalks and onion and put on the heat. Add 1-2 bay leaves, cloves and parsley stalks and cook for about 2 hours. When the meat is cooked, strain the broth and set the meat aside. If you want, you can blend onion, celery and carrots and add this vegetable cream to your meat broth. At this point you just have to cook your tortellini in the broth, they will be cooked in a couple of minutes. Serve the tortellini in broth hot with ground pepper and a handful of grated Parmesan.
Pasta con le cozze in bianco
Pasta with mussels in white is the typical first course for fish - simple, tasty and super fast! To be prepared with Spaghetti or Linguine, the important thing is that it is creamy, the mussel sauce must literally wrap the pasta. The secret? The Risottatura of the pasta in the broth of the mussels which, together with the shelled mussels and the Soffritto of oil, garlic and parsley will give the pasta all the flavor of the sea! The trick is to cook the pasta in the broth of the mussels. For the rest, the recipe is really very easy and you can customize it to your liking by adding 2-3 cherry tomatoes to give just a little color. 
Cannelloni ricotta e spinaci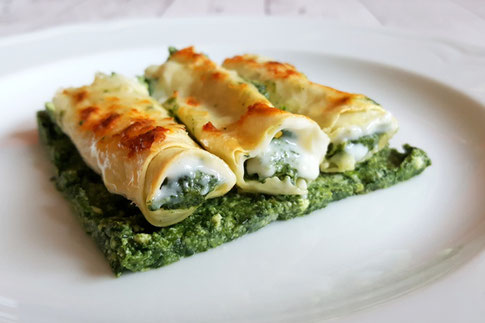 Cannelloni with ricotta and spinach in sauce are the red alternative to the classic vegetarian cannelloni in white prepared only with bechamel. What makes cannelloni with ricotta and spinach so irresistible? Their genuine simplicity? The balance between fresh homemade pasta and a soft filling? The golden crust of delicious bechamel?
Secondo Piatto
Tonno in crosta di pistacchi
Ingredients:
Fresh tuna - 500 g; egg whites - 1; whole unsalted pistachios - 150 g; extra virgin olive oil - to taste; Salt to taste. To accompany - seasonal salad - 200 g; cherry tomatoes - 6; fresh mint - to taste lime - 1/2
Preparation:
To prepare the pistachio crusted tuna, start with the breading: put half of the pistachios in the glass of a blender equipped with blades (cutter) and blend to obtain a rather fine consistency. Transfer the chopped pistachios to a plate and blend the remaining ones coarsely, then mix them with the others.
Pour the egg white into a bowl and beat it with the tines of a fork along with a pinch of salt. Dab the tuna steak with kitchen paper and pass it in the egg white, then place the tuna in the panure dish and turn it several times making the pistachios adhere well with your hands. In a small non-stick pan, just a little larger than a slice of tuna, heat 2 tablespoons of oil, then place the tuna and cook it on all sides for a couple of minutes on each side: please, no more! Once ready, remove it from the pan and let it rest for a few minutes, then cut it into slices of about 1-1.5 cm using a sharp knife. For the salad: vut the cherry tomatoes in half, add them to the salad and season with oil, salt and lime juice. Plate your pistachio crusted tuna adding the salad and a few fresh mint leaves. The dish is ready to be enjoyed!
Tournedos di salmone con crema alle noci
A simple but chic second course of fish? Salmon tournedos with walnut cream: an easy and delicious baked recipe that can make you look good even in the most important lunches and dinners: from Christmas Eve to New Year's Eve.
Ingredients:
800 gr salmon; 80 gr walnut kernels; 2 slices pancarre '; 1 bunch thyme; 0.5 clove garlic; q.b. extravirgin olive oil; q.b. salt
q.b. pepper
Preparation
1) Prepare the fish. Remove the bones from the 2 salmon fillets. Rinse it, dry it and place it on the cutting board with the skin down. Remove it with a long, flexible and sharp knife.
2) Make the cream. Chop the 2 slices of bread in a mixer with 1/2 peeled garlic clove, 80 g of walnut kernels, a little salt and a handful of thyme leaves. Overlap the 2 head-tail fillets and tie them with kitchen twine. Wrap them in plastic wrap and keep in the fridge for half an hour.
3) Cook the salmon medallions and complete the dish. Remove them from the fridge and cut them between a round of string and the other, obtaining 6 tournedos (thick slices) tied by a round of string. Bread the tournedos, place them on a baking sheet lined with parchment paper and sprinkle everything with a drizzle of extra virgin olive oil. Bake at 200 ° C for 5 minutes. Serve the salmon tournedos on individual plates with the warm walnut cream.
Dolci - Dessert
Christmas Eve Cake - soft, filled with lots of Chantilly cream and perfect for celebrating and cheering up the table. Or the Terrina di cioccolato - a double chocolate richness you have to absolutely try!