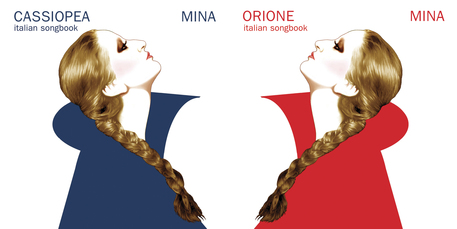 Timed in  the year of her eightieth birthday, Mina returns with a work that goes to the rediscovery of the Italian song book: on November 27 the double album "Italian Songbook" is being released, the first chapter of a project of six anthologies total, as explained by her son Massimiliano Pani.
Italian Songbook is the union of "Cassiopea", the first stage of a six-disc project.
A journey into a varied world (between great successes and lesser-known pearls (all digitized and restored), following the thread of taste and desires of Mina herself.  Songs that she sings for the first time or resumed after the interpretation of other voices; and two previously unreleased tracks, which close the two tracklists. For Cassiopea there is "Un tempo piccolo",, written by Antonio Gaudino, Alberto Laurenti and Franco Califano, interpreted by Mina with the reworked text of the version of Tiromancino (2005); Orione instead ends with "Nel cielo dei bars" written by Leo Chiosso and Fred Buscaglione, who played her in the film "Noi duri". "It was a job of collecting the pieces to make them available again - says Pani, who defines his mother" the most famous unknown in Italy "-. The idea was to take Mina's successes, not to make them a best of , along with great Italian hits and pearls that, according to her, did not have the right timing when they came out. They are the pieces that Mina wants to bring back to you, even the ones that maybe people would not have listened to, showing courage and intelligence ".