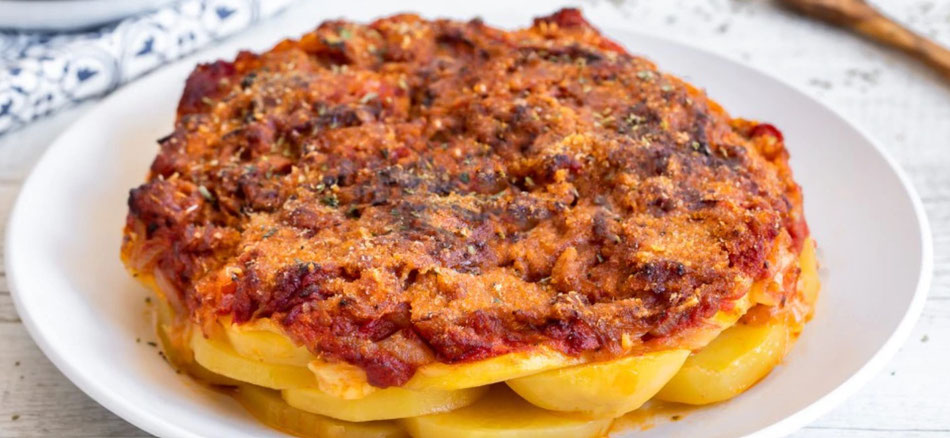 Patate a Sfincione alla Siciliana is a tasty side dish inspired by one of the symbols of Palermo street food, the Sfincione, one of the musts of Sicilian cuisine. Patate a Sfincione alla Siciliana al Forno, the easy and caciocavallo stringy side dish of tradition with a rich and tasty flavor, ideal to prepare for any occasion. 
The traditional Sicilian cuisine  is full of interesting recipes. This recipe in particular, is easy to prepare and has beautiful flavors.
Ingredients for Patate a Sfincione: 
700 g patate; 400 g peeled tomatoes; 3 onions; 4 anchovy fillets; 40 g breadcrumbs; 200 caciocavallo; q.s. extra virgin olive oil; to taste salt; q.s. oregano.
How to prepare Patate a Sfincione:
1. Take the potatoes, peel them, wash them, cut them into slices that are not too thin and put them in a pan covering them with water, bring them to a boil for 10 minutes then drain them and let them cool.
2. In a pan, heat up a little extra virgin olive oil. Cut the onions into thin slices and add them to the pan.
3. Add a pinch of salt and let it fry slightly, stirring occasionally.
4. Add the anchovies and let them melt by mashing them with a wooden spoon. We add the peeled tomatoes, oregano salt. We let it cook for 15 minutes.
5. Take the potatoes and arrange them on the bottom of a round baking pan lined with parchment paper.
6. Add a little onion sauce, diced caciocavallo cheese, breadcrumbs and another row of onions. We make many layers until we finish the ingredients
7. On the surface, put plenty of sauce, oregano and a sprinkling of grated caciocavallo.  Bake the dish on the bottom of the oven at 200 ° for 30 minutes.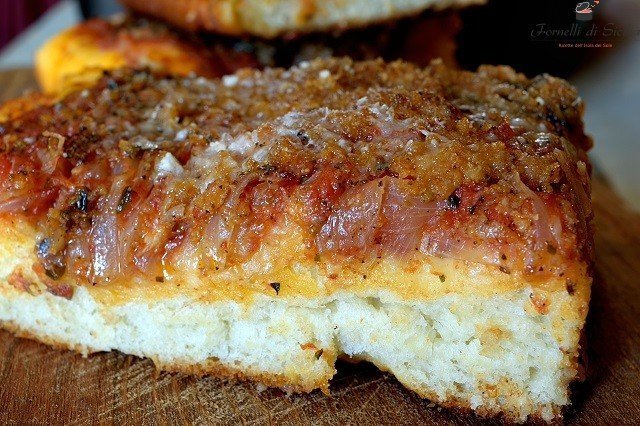 The Sfincione Palermo is one of the cornerstones of Sicilian and Palermo street food in particular. It cannot be defined as pizza nor focaccia, but its history and notoriety mean that it becomes a category in its own right. It is a leavened dough topped with a sauce based on onions, anchovies, caciocavallo and breadcrumbs, a goodness with a rich and full flavor. Like arancine or bread and panelle, sfincione represents an important piece of Sicilian culture and gastronomic tradition. One of the little secrets for a good sfincione consists in the double leavening: the first time when you have finished kneading having obtained a soft, elastic and light mass; the second leavening for another two hours when the dough is rolled out in the pan with all the ingredients in their place. Preparing the Palermo sfincione takes time and patience but, if you follow this procedure, you will enjoy a very good sfincione.