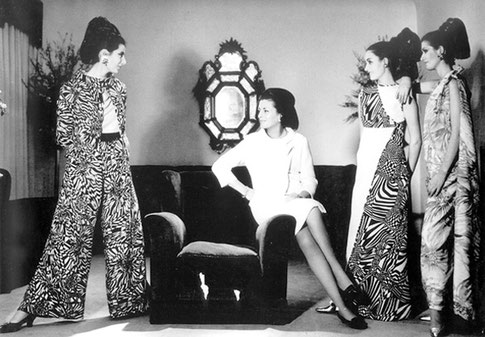 Italian fashion houses such as Emilio Pucci, Valentino, Fendi designed luxurious clothes, but they were always rooted in a strong sense of reality.  In the 1970s, these pieces laid the foundations for the transition of Made in Italy from haute couture to prêt-à-porter.  The clothers were well-made clothes, elegant, but also practical, in line with the changing image and profile of the Italian woman. Short cocktail dresses that allowed movement, while oversized coats were created with the warmth they could offer in the winter time in mind. 
Princess Irene Galitzine designed elegant, yet comfortable, jersey evening dresses. Created with the modern woman in mind. Irene Galitzine was a visionary Russian-born fashion designer whose most renowned creation was the "palazzo pyjama." Princess Galitzine designs have been worn by Sophia Loren, Elizabeth Taylor, Marie-Helene de Rothschild, Jacqueline Onassis, Lee Radziwill, Greta Garbo, Duchess of Windsor, Audrey Hepburn Hepburn, Claudia Cardinale, and many others.  Claudia Cardinale wore Galitzine's famous palazzo pajamas in the original version of The Pink Panther (1963). Princess Galitzine also appeared in the cult classic Mahogany as herself.
Another reason why Italy became the first market for clothing was a cadre of women designers who understood the needs of women, such as Germana Marucelli, Mila Schön, Simonetta and Galitzine.
Many of these designers came from the Italian aristocracy and found themselves without work and without money after the war. What they knew how to do was clothes, they loved clothes and they had the technical know-how to create fashion collections, and became influential in creating the brand "made in Italy'.
Made in Italy fashion has always been popular with celebrities and "royalty". The Valentino dress that Jacqueline Kennedy wore at her wedding with Onassis, the famous red Salvatore Ferragamo shoes worn by Marylin Monroe. Made in Italy became a brand not just for Couture but also for Pret-a-Porter.
Emilio Pucci was one of the first stylists to bring Italian fashion literally "to heaven", thanks to his chic uniforms specially created for hostesses and crews. As part of the couture and prêt-à-porter collections, the Italian brands offer a wide choice of accessories, which bring even more global fame and success. Gucci is known for its bags and Ferragamo for its shoes.