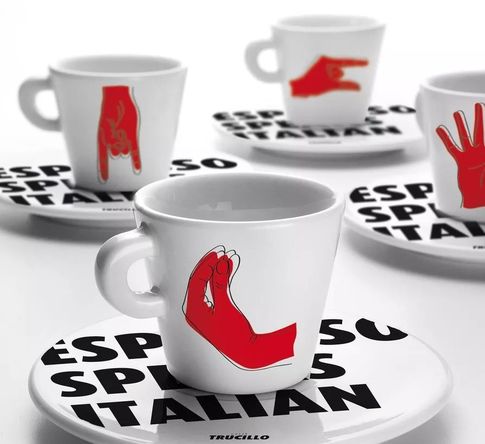 Caffè Trucillo launches a fun collection inspired by a work by artist-designer Bruno Munari.
Drinking a cup of coffee at the bar. Surely one of the typical rituals that Italians missed so much during the lockdown perio due to Covid19.  That said, in Italy the culture of coffee is deeper and more rooted than in any other country, so much so that not only the product and its ritual are exported, but also the vocabulary with which it is described. Espresso, long or macchiato are just some of the terms that have now become terms of common use in cafes all over the world. What's more: the preparation of coffee is also expressed through very precise gestures, also typically made in Italy. Gestures that are now imprinted on collectible cups by Trucillo.
The "Espresso Speaks Italian" collection by Caffè Trucillo, a historic Salerno roasting company, which is celebrating its 70th anniversary this year, is inspired by the "Supplement to the Italian dictionary", the iconic work of the most eclectic artist-designer Bruno Munari.
Just as Munari's work reinterprets Italy and Italians through their typical propensity to express themselves with gestures, sometimes more eloquent than words. This collection celebrates celebrates the language of the hands that is expressed in the ritual of preparation and, above all, of coffee tasting. On each cup, there are  different messages such as : "what do you want?", "Finished", "I like it", "perfect", "a little bit" and "I beg". You can only buy these  in the online shop of trucillo.it.
The messages are also captured on panels, displayed in the Trucillo Coffee Shop in Dubai, the outpost in the
Emirates of the Salerno coffee firm. The first has been open since 2019 in Al Seef, the cultural and historical heart of the Emirati capital. Two more openings are planned for this year at the WTO headquarters in Dubai and at the Nakheel Mall on the Palm Jumeira island. Trucillo is present with its high quality blends in the premises of more than 40 countries around the world, such as Pusateri's Fine Foods and the Don Alfonso restaurant in Toronto.