In the fourth episode of Bruno Barbieri's 4 Hotel, the winner was the historic Art Hotel Marmorata owned by Anna Camera d'Afflitto.
Stretching out into the Tyrrhenian Sea, between hidden bays, crystal clear sea, the mild climate and the vegetation that smells of olive and lemon trees, the Sorrento peninsula is one of the main tourist destinations in Campania, and it is here  that Bruno Barbieri crowned the winner of the fourth episode of 4 Hotel,  the Hotel Marmorata in Ravello. The winning hotel was born as a mill around the year 1000 thanks to its favorable position on the sea. oil mill.  The hotel is now in the second generation.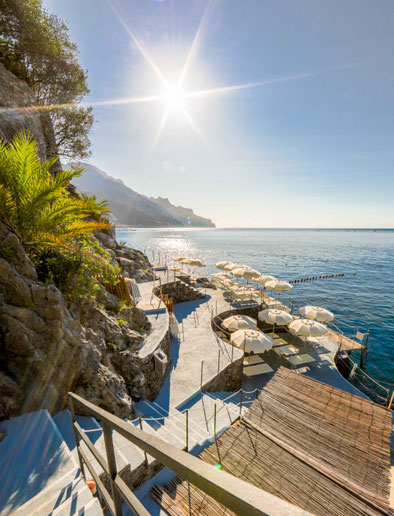 Ravello Art Hotel Marmorata is a beautiful 4-star hotel located in the charming inlet of Ravello Mare. It is the ideal solution for an exclusive stay or vacation just a short walk from Amalfi, with many services available to the hotel guests.
Skillfully obtained from an ancient fifteenth century paper mill, the Ravello Art Hotel Marmorata offers dream landscapes that can be admired from the rooms with sea-view or from the beautiful terrace, where every morning you will be able to enjoy a rich and tasty breakfast prepared with care and respect for the local tradition.
The Ristorante L'Antica Cartiera, overlooking the sea, caters for lunch and dinner with the traditional flavours and smells of the divine Amalfi Coast. L'Antica Cartiera is a typical Amalfi Coast restaurant. Now he knows a lot and can cook dreamy dishes to Amalfi Coast tourist every year.