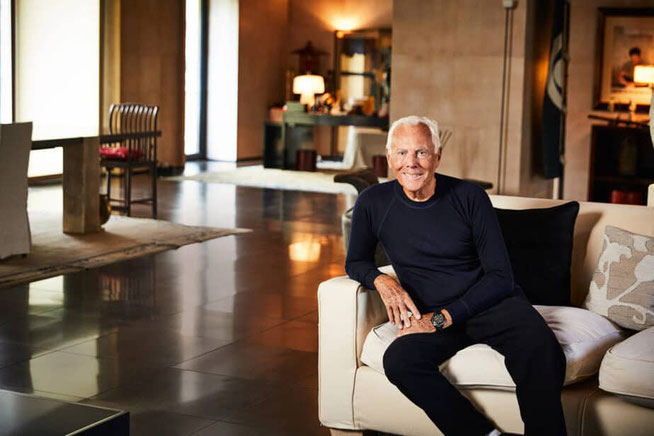 Nearly twenty years ago, Giorgio Armani launched his Armani Casa label, bringing his geometric lines and dazzling designs to interiors. In addition to a comprehensive furniture collection, Armani Casa has partnered with industry-leading partners including Dada (part of the Molteni Group) on kitchens, Roca on bathroom fixtures, Rubelli on textiles, and Jannelli & Volpi on wall coverings. With its own interior design studio, it oversees the Armani-branded hotels and luxury residences. Giorgio Armani should be very proud of how far his design label has evolved; with growing well beyond his fashion label to successfully extending his design philosophy to become a lifestyle brand. An editorial campaign titled 'Living with Armani Casa' was published to mark the 20th anniversary.
Armani Casa partnership with Rubelli has resulted in a fabulous rich and luxurious furnishings collection. Rubelli Fabrics were founded in 1858, and the legendary Venetian textile company Rubelli is in many respects unique, given its capacity to produce hand-made fabrics using traditional techniques as well as highly sophisticated textiles of all kinds, using cutting edge technology in both their conception and production. Alongside the Rubelli Casa furniture, Rubelli Venezia fabrics are found in some of the most exclusive private homes, international hotels, private yachts and cruise ships, world-renowned theatres, castles and museums in the world.
In March, Armani launched the Residences by Armani Casa condo tower in Miami, a collaboration with the late architect César Pelli and the brand's largest project to date. The 2020 collection was intended for launch during Salone del Mobile but due to the pandemic, it has been postponed to September,  and features wood and stone for furniture, fabrics for accessories. In 2023, his flagship store on Manhattan's Madison Avenue (which will also house Armani's fashion offering), is being revamped with 19 apartments above.