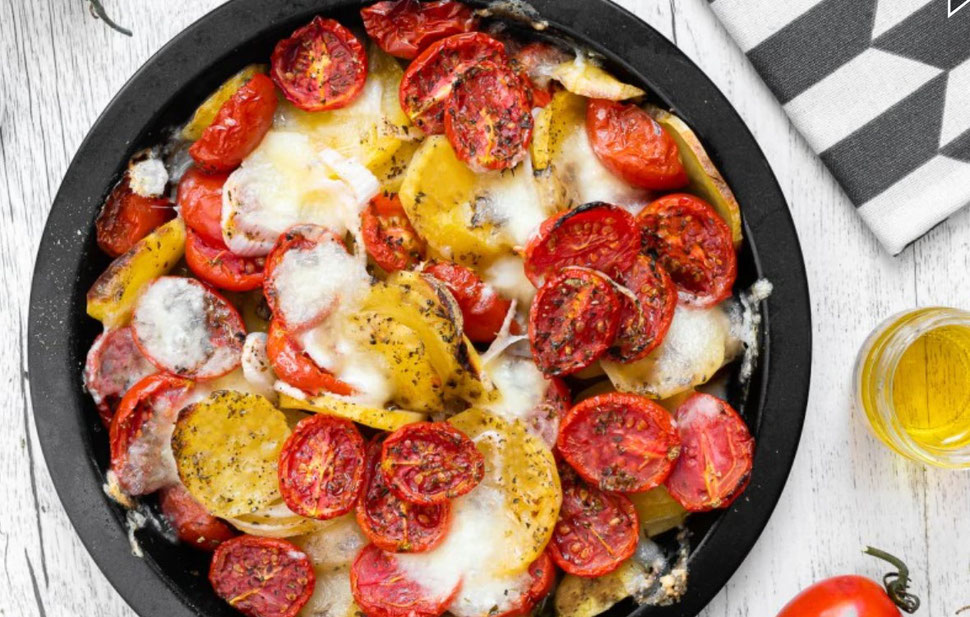 Vastase potatoes are a delicious dish typical of  the Trapani cuisine. A tasty dish that is a classic in the city's rotisseries and pizzerias and that can of course also be prepared at home.
The recipe is extremely easy: the potatoes are cut into slices and then placed in a pan and baked in the oven together with slices of onion, cherry tomatoes, and oregano. Towards the end of cooking, add some fiordilatte et voilà: a rich side dish or a single dish is ready for a quick dinner.
If the vastase potatoes inspire you, try the sfincione potatoes, another delicious specialty of Sicilian cuisine. If, on the other hand, you like the pairing of potatoes and onions, with or without tomato, try the Lyonnaise potatoes or the baked Vegetables pan.
---
In Trapani "vastase" potatoes are one of the typical appetizers of the city of Trapani. The term "vastaso" in dialect stands for "rough" or "not very polite", and it was probably attributed to it because of its not very elegant appearance. The dish is not the lighest type of meal, but a very make you feel good  dish, and its savory taste and its spiciness will convincr you . In Trapani you can find this typical dish in any pizzeria, where they are served as an alternative to the classic French fries, as a hot appetizer before pizza.