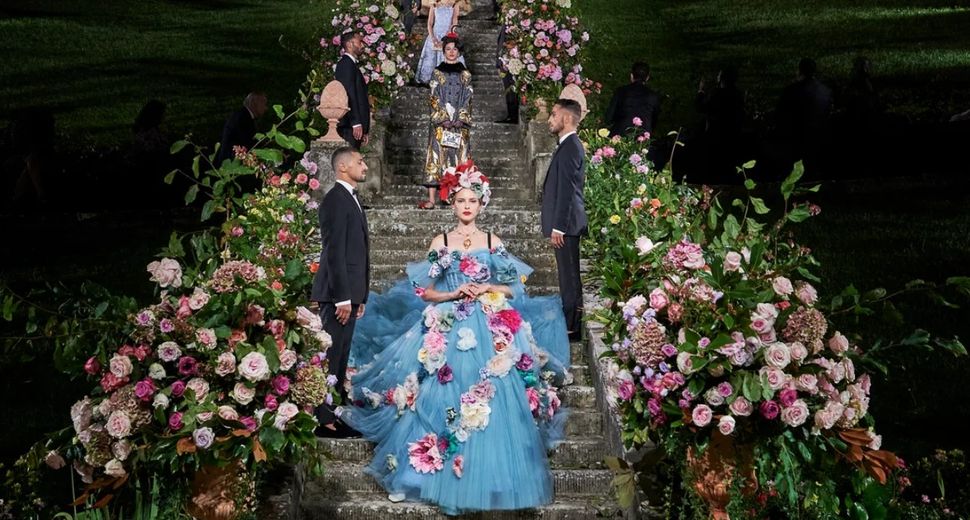 Last week's Dolce Gabbana's Alta Moda womenswear show and menswear show in Florence, was a symbol for a return to the glamorous style of the 50's and 60's( abiding by government health guidelines). The statement by Florence's mayor Dario Nardelli : "Here in Florence, from the bubonic plague emerged new ways of thinking about art, science, and philosophy… Florence is not only a center of the past but also of the present and the future", created a positive response and raised confidence.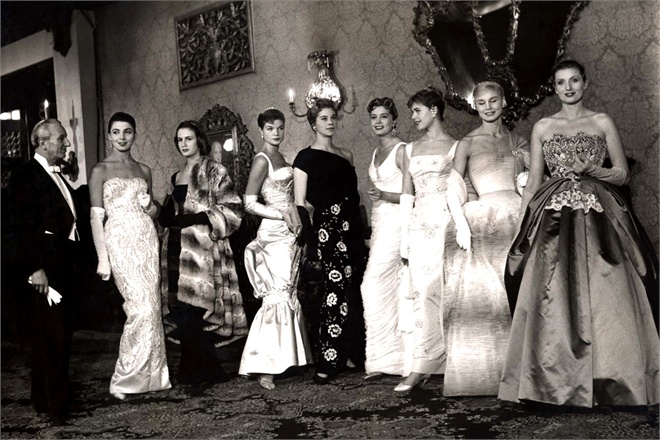 It was in Florence in 1951, that  the Florentine merchant and aristocrat, Giovan Battista Giorgini, initiated the establishment of an international identity for Italian fashion. He invited the fashion press and key buyers from US department stores to attend the runway shows held at the Villa Torrigiani in Florence with the key aim of showcasing Italian fashions to American buyers. Many of the models were from Italy's nobility as were a considerable number of the fashion designers themselves, including the Marquis Emilio Pucci, Simonetta, Biki, Simonetta Visconti and the Princess Giovanna Caracciolo (Carosa). The clothes were therefore displayed a European aristocratic elegance. In addition, the historical and grandiose setting of Villa Torrigiani, it further reinforced  the greatness of Italy's historical and cultural heritage. Parallel, with the emergence of 'Hollywood on the Tiber' with Hollywood runaway productions, relocated to Rome (and other parts of Italy) in the late 1940s—as depicted in Federico Fellini's 1960 film La Dolce Vita, was also highly significant in attracting attention.This  creating an appealing and powerful quality of Italian glamour to the clothes and enhanced the international reputation of the 'Made in Italy' label. The Alta Moda Show by Dolce & Gabbana managed to revisit those times in a most glamourous setting with a striking elegant collection, underpinned with the beautiful  Nino Rota soundtrack.
---
This Dolce & Gabbana Alta Moda collection, as per their  previous shows,  involved Italian Artisans from a variety of artisan studios.  A newly assembled team of 50 employees,  dedicated to various forms of embroidery, enabled this to be the first all in-house fabricated Alta Moda collection. Villa Bardini, just outside the city, and set to a dreamy Nino Rota-composed soundtrack. The collection showcasing the luxuriously embroidered gowns in the style of the 1950s and early '60s silhouettes.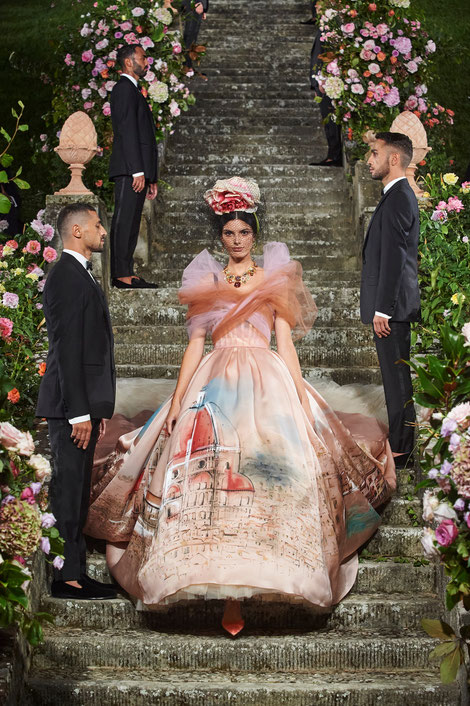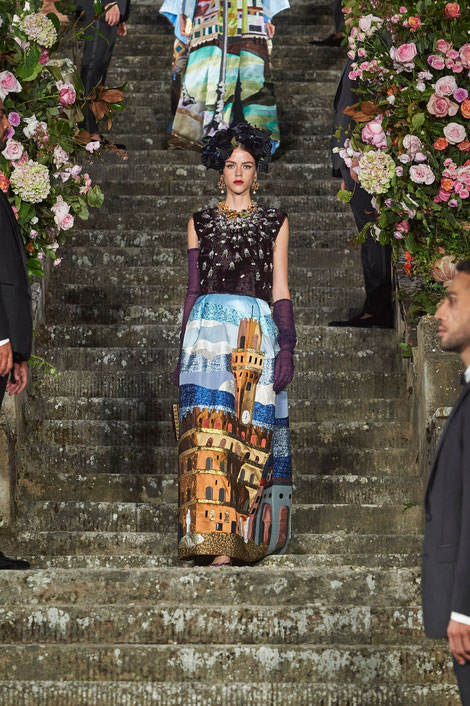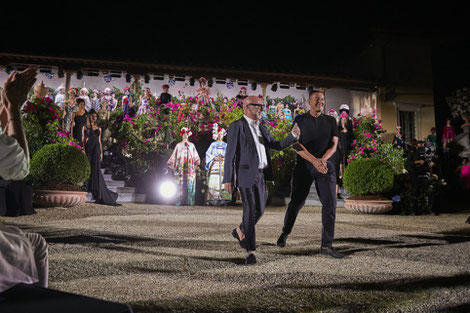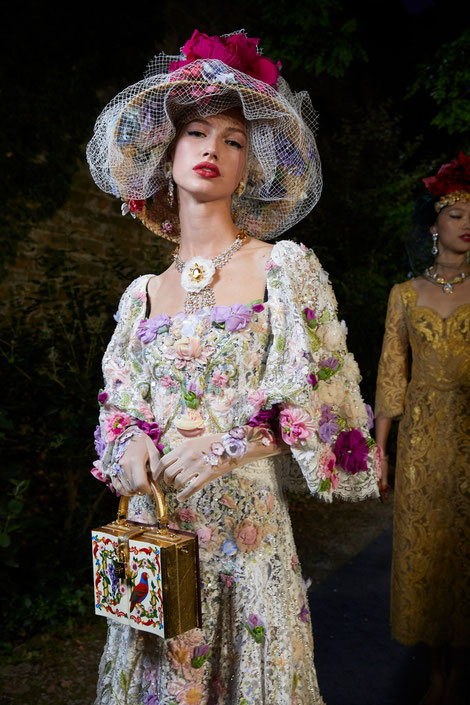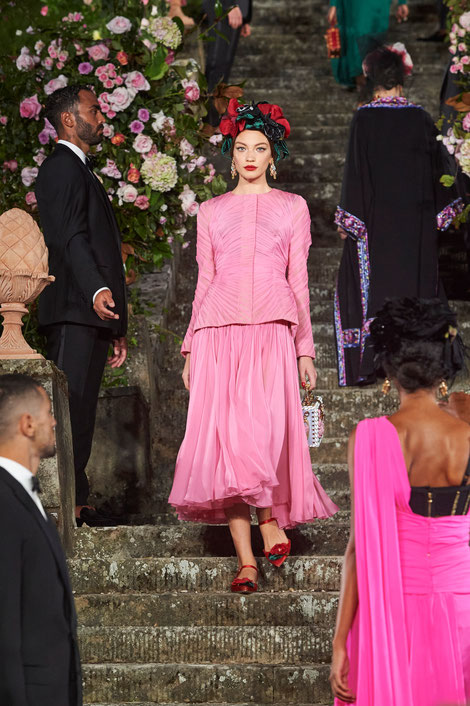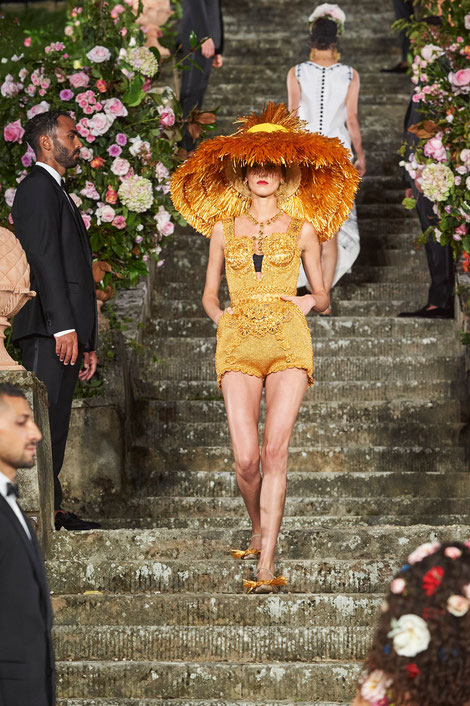 Nino Rota was an Italian composer, pianist, conductor and academic who is best known for his film scores, notably for the films of Federico Fellini and Luchino Visconti. He also composed the music for two of Franco Zeffirelli's Shakespeare films, and for the first two films of Francis Ford Coppola's Godfather trilogy, receiving the Academy Award for Best Original Score for The Godfather Part II (1974). He has composed the film score for many Italian Film classics such as Godfather, La Strada with Anthony Quinn and Guilietta Masina 8 1/2 with Marcelo Mastroianni,  La Dolce Vita  with Marcello Mastroianni and Anita Ekberg, The Leopard with Burt Lancaster, Alain Delon and Claudia Cardinale. Bocacaccio'70 with Sofia Loren, Romy Schneider and  Rocco and his brothers with Alain Delon, Renato Salvatori and and many more films.
Domenico Dolce statement, that Italy is based on artisanship, not only in fashion but in everything—food, wine, all aspects of culture, highlights their commitment to show casing Made in Italy. Over the last few seasons, Dolce & Gabbana to different regions of Italy, showcasing the respective culture and history, such as their womenswear Alta Moda show in Agrigento, Sicily in 2019.