How to prepare this fabulous and delicious dish.
Shell the shrimp snd with the shells, we  will prepare a concentrated broth. The shrimp flesh, we season with oil, salt crystals, fresh pepper and lemon zest and let it marinate in the fridge for an hour.
Meanwhile, filter the shrimp broth and reduce it to a syrupy consistency, then emulsify it with the butter until a slightly creamy and fluid sauce with a concentrated shrimp flavor is obtained.
At this point, we cook the pasta in abundant salted water; in the meantime, in a pan, dry toast some fresh ground pepper, add the vegetable broth and a drop of extra virgin olive oil, let it simmer for 3-4 minutes and thenn remove it from the heat. Still off the heat, add the pasta cooked al dente and stir in the grated pecorino a little at a time, creating a creamy sauce and composing the dish. Buon Appetito!!
Serve the dish by arranging a part of the marinated shrimps at the base of the dish, place a nice nest of tagiatelle on top, bring to the top with other marinated shrimps and sprinkle with the concentrated shrimp sauce, complete with the atsina cress, a freshly ground pepper and zest of fresh lemon.
Giuseppe Stanzione Michelin star chef of Il Glicine di Santa Caterina di Amalfi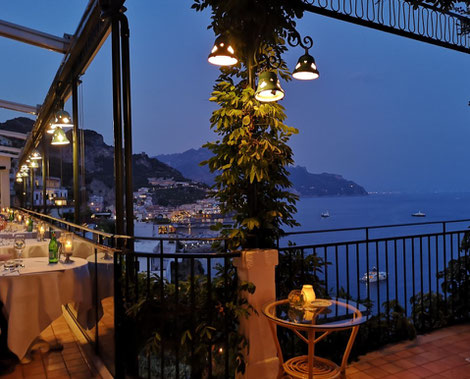 A late 19th century liberty style villa immersed in the beautiful scenery of the Amalfi Coast, an elegant seaside residence surrounded by the perennial blue of the Mediterranean sea and sky, by luscious bougainvillea and by lovingly cultivated olive groves and fruit orchards. This is Hotel Santa Caterina of Amalfi, a special place to experience the finest of Italian hospitality and lasting sensations of wellbeing.