Lost in Amalfi - L'eterna Belezza Italiana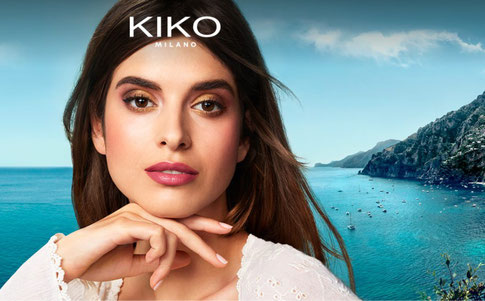 What's better than discovering a great new beauty brand? Especially one  that celebrities love; make-up artists swear by and stock up on; and which makes an appearance every year at Milan Fashion Week.
Commonly dubbed the "MAC of Italy", Kiko Milano is a favourite among high street and high end shoppers alike. 
KIKO MILANO was established and founded in 1997 by Percassi. It is an Italian professional cosmetics brand that features a range of cutting-edge makeup, face and body treatments.  Safe and effective products of the highest quality, created to satisfy the beauty requirements of women of any age.
Kiko impersonifies the style and chic of the Italian beauty. Loved by stars and the fashion industry, Kiko are Made in Italy high quality products and its brand is extremely successful. The brand is headed up by Cristina Scocchia  who worked for Procter & Gamble in Geneva, where she was the US consumer goods giant's Global Managing Director - Cosmetics International Operations. She took over as CEO of Kiko in 2013, which generates revenue well over €600 million and currently operates more than 1,000 stores worldwide.
Through its extraordinarily wide and diversified range of products, KIKO allows everyone to express their own personality with custom-made products. A variety of colours, effects and sensations that are unique in the market to suit your style, skin tone, skin type and specific requirements, at every phase of your life. KIKO's identity is rooted in "Made in Italy" values and the world of the capital for fashion, art and design. The research into original textures and colours is combined with research into quality formulas with guaranteed performance, for a perfect fusion of quality and creativity.
The result of cutting-edge scientific discoveries and the latest fashion trends, KIKO continuously renews itself with products that are always new and closer to the multiple ideals of beauty.
August is the best time for this fabulous summer look - Lost in Amalfi - This August, set off to discover Made-in-Italy beauty with LOST IN AMALFI and let yourself be enveloped by the scent of an all-Italian summer!
It concists of a  complete line of exclusive makeup, skincare and accessories.  A selection of textures enriched with heady citrus and flowery fragrances to immerse yourself in the charming Mediterranean atmosphere.  Sophisticated ultra-pigmented shades and vibrant glamorous hues inspired by the colours of the Amalfi Coast, to create sophisticated and elegant makeup looks.
Made-in-Italy cosmetic formulas with extraordinary performance test results, that are no-transfer, water-resistant and long-lasting. All packaging with an eye-catching design, inspired by the traditional majolica tiles of the Amalfi coast. Available in Kiko stores or online.