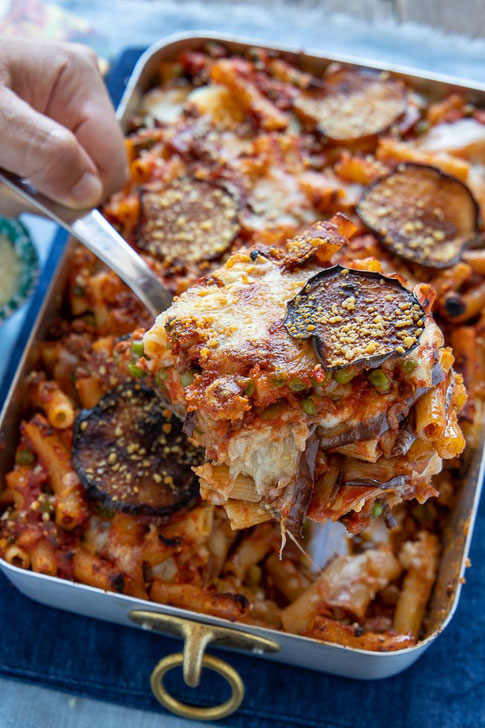 Pasta 'ncasciata is a Sicilian baked pasta, it is also known as the Montalbano pasta made famous by Andrea Camilleri. The author of the famous Commissario Montalbano crime books and TV series.
The ingredients that characterize the 'ncasciata pasta are fresh caciocavallo or tuma cheese, fried aubergines, pecorino, salami, hard-boiled eggs and meat sauce.
Usually it is prepared for Sunday lunches and it is a rich and tasty dish excellent to be served as a main dish.
Why is it called 'ncasciata? The name derives from the pot in which the pasta was assembled in layers or simply from the presence of pecorino cheese (in dialect "cacio").
There are two versions, the 'ncasciata Palermitana pasta in which simple tomato sauce is used and the Messina one . As a pasta shape, the ideal are sedani rigati but macaroni are also good.
Ingredients:
2 purple eggplants; 300 g minced meat; 700 ml Tomato puree; 250 g frozen peas; 200 g diced mortadella; 3 hard-boiled eggs; q.s. extra virgin olive oil; q.s. salt
half onion; 500 g pasta in celery shape, penne, macaroni
3 leaves Basil; q.s. grated Parmesan cheese; 250 g diced mozzarella or stretched curd cheese; q.s. frying oil
Preparation:
Wash and peel  the aubergines and cut them into slices not too thin. Place the aubergine slices in a colander, sprinkle each layer with salt, place a weight and let it rest for about 30 minutes to eliminate the water. After this time, dry them and fry them in abundant seed oil until they are very golden on both sides. Remove them from the oil and lay them on kitchen paper.
In a saucepan, pour a generous drizzle of extra virgin olive oil, brown the chopped onion, add the minced meat and cook over high heat until it is well browned, stirring frequently. Add the tomato puree, season with salt and cook for about 30 minutes over low heat. With the fire off, add the basil leaves.
Boil the peas in abundant salted water brought to a boil, drain and add them to the sauce. Usually the sauce is extended with a little broth or water and then add the peas to cook together. Cook the eggs in a saucepan full of water and take about 15 minutes from boiling to get hard-boiled eggs cooked to perfection. Drain them, pass them under cold water and peel them. Boil the pasta and drain it al dente.
Put the pasta back in the pot and season it with a few ladles of sauce.
On the bottom of a non-stick pan pour a little sauce spreading it evenly, proceed with a first layer of pasta (half the amount of pasta), add the mortadella, peas, slices of egg dose, mozzarella or spun curd cheese into cubes, abundant grated cheese, arrange the slices of fried eggplant, a few ladles of sauce and cover with the remaining pasta.
Season the pasta with sauce and grated cheese
Bake in a preheated oven at 180 ° C for about 20/25 minutes. The surface of the 'ncaciata pasta must be golden with a delicious crust! Grazie a GialloZafferano!