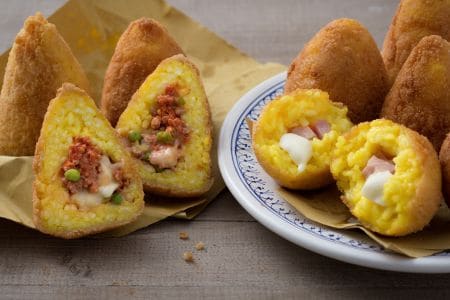 Rice arancini (or arancine), the pride of Sicilian cuisine, are small timbales suitable to be consumed both as a snack and as an appetizer, first course or even as a single dish. In Sicily they are found everywhere and at all times, always hot and fragrant in the bars and cafes: from city to city they often change shape and size, taking on oval, pear or round features, depending on the filling. There are about 100 variations: from the most classic with meat sauce and ham, to the most original ones such as pistachio and cuttlefish ink! 
Some of the best arancini from Michelin Star Chefs in Sicily
There are so many gastronomic icons in the Sicilian cuisine such as Bronte pistachio, the ca meusa sandwich, the cannolo, the cassata and so on, delight after delight, calorie after calorie. Everyone has their favorite, but there is a specialty every Sicilian adores: the arancino, or arancina. In Sicily, there is always a debate whether the arancini from the West or in the East are better. And of course Michelin Star chefs also prepare their interpretation of the famous arancini.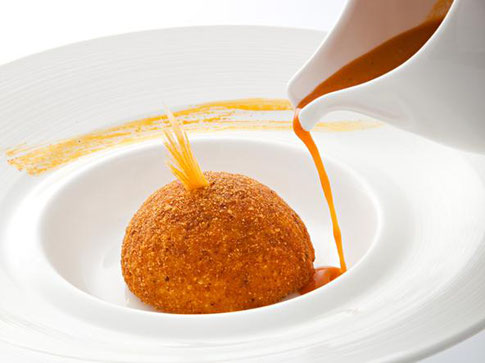 Pino Cuttaia - La Madia Restaurant
Pino Cuttaia, one of the best known cooks of Sicilian haute cuisine (and president of the association Le Soste di Ulisse, which aims to collect the best of the island's food and wine), offers in his two Michelin star restaurant  "La Madia" in Licata, the rice arancino with mullet ragout and wild fennel, which is served in a dish on the bottom which  is accompanied by a mullet soup. Everything is garnished with a dried and fried mullet tail.
Ciccio Sultano, i Banchi
The two-star Michelin chef Ciccio Sultano, in addition to his historic "Ristorante Duomo", also manages the "I Banchi" restaurant in Ragusa Ibla, with a more informal seafood and local cuisine and an offer of bakery and snacks at the counter. available from 10 to 23, obviously including the arancina.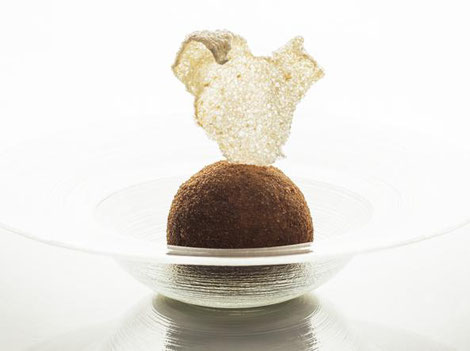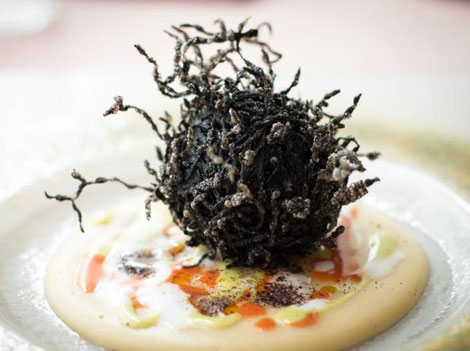 Alessandro Ingiulla, Sapio
Alessandro Ingiulla, a new Michelin star from Catania with his "Sapio" restaurant, likes to start his tasting journey by serving an arancino as an amuse bouche, proposed in different variations. The one currently served is an arancino with a squid ink crust, pea cream and buffalo mozzarella.
Chef Giuseppe Costa of the one-star Michelin restaurant Il Bavaglino in Terrasini (PA)  presents a special arancini recipe with ricotta -  Nuvola di cassata.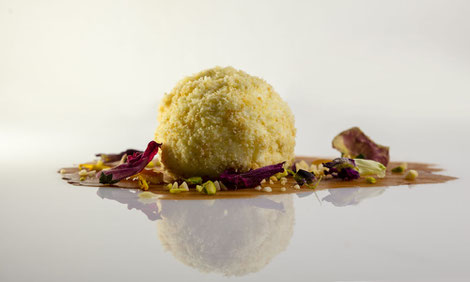 Accursio Craparo, Accursio Restaurant
The "cook of the Two Sicilies", as he is nicknamed for his tendency to move between Western and Eastern inspirations, offers his customers as a small welcome an arancinetto with different ingredients according to the seasons (at this moment he prepares it with wild chard and buffalo mozzarella). Then on the menu there is his "arancino that closes like a sea urchin", with sea urchin pulp, red shrimp, tomato and mozzarella.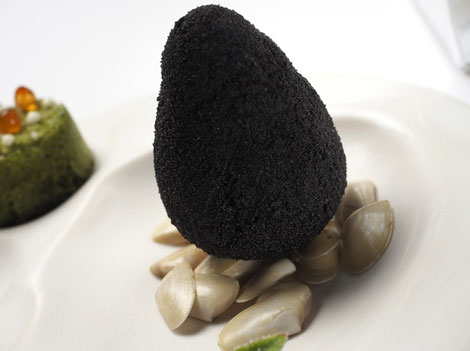 The Arancini Festival in Ficarazzi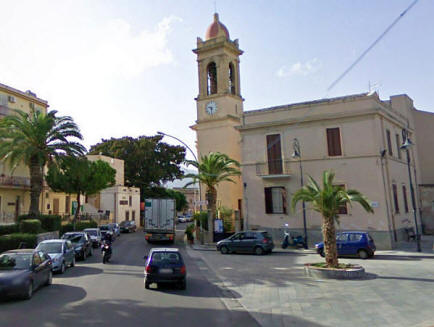 Preparations are underway for the Arancini Festival scheduled in Ficarazzi, a hamlet of Acicastello (Catania). This festival is staged from 5 to 8 September in Piazza Giovanni XXIII in Ficarazzi with a combination of flavors, folklore and tradition, which enhances one of the most famous dishes of Sicilian street food. 
It will be a meeting between gastronomy, music and folklore, at the court of the king of summer in Ficarazzi: the arancino. Among the novelties of the 2019 edition, there was a gluten-free arancini.  Arancini are excellent both hot and cold, but when they are hot the mozarella is at its best, as it becomes stringy. There are many variations that can only be found in Ficarazzi, such as  with pistachio, octopus, mushrooms, pink sauce, nutella, pesto, vegetarian, chicken, cuttlefish ink.
Gli arancini di Montalbano
The arancini of Montalbano is the second collection of short stories by Andrea Camilleri starring Commissioner Salvo Montalbano. 
One of the favorite dishes of Commissario Montalban are arancini. The author, Andrea Camilleri, also drew a novel from it which was brought to TV in an episode called "Gli arancini di Montalbano".  In the role of the infamous Commissioner, the talented Luca Zingaretti. Here we are sharing the original recipe.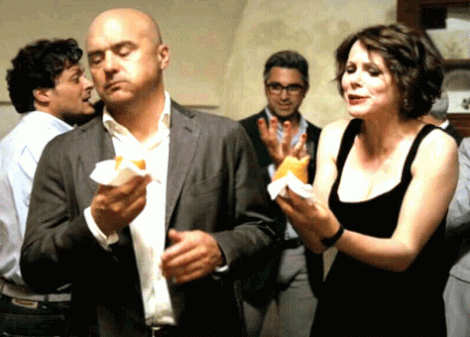 Gli arancini di Montalbano, ricetta da film
Ingredients:
Meat sauce to taste (according to your recipe), 500 g of rice, 150 g. of peas, 1 onion, extra virgin olive oil as needed,
butter to taste, meat broth to taste, 2 eggs, 125 g of smoked mozzarella or smoked scamorza cheese (it was my addition),
bechamel to taste (according to your recipe or if you want to follow mine you can find it here), egg whites to taste,
breadcrumbs to taste, Salt and Pepper To Taste; oil for frying. 
Preparation:
Prepare the rice by sautéing onion with oil and butter, put the rice and toast it for about 3 minutes and cook it by adding the hot broth from time to time. At the end of cooking the rice must be dry. Allow to cool and add the béchamel and eggs. Let it cool down.
Make the arancini: take a little rice, flatten it, put the ragù, peas and a piece of stringy cheese in the center, close it in the shape of a ball. Continue like this until all the ingredients are used up. Pass the arancini first in the beaten egg white and then in the breadcrumbs.
Fry the arancini in plenty of hot oil until golden brown and put them on a plate with absorbent paper to remove the excess oil. They can be served hot, but they are also good cold. Thank you GialloZafferano!
The Arancini Franchising Chain - Sfrigola
In the Sfrigola franchise stores, an environment in full vintage-modern style welcomes you: a real dive into the bewitching past of Sicily and its street food traditions, which will amaze and involve you. But the real surprise comes later: the Sfrigola staff prepares every single piece in a delightful open kitchen, in front of your eyes: from cooking rice to creating a perfectly round arancina, from breading to frying, step by step.frigola is the only Sicilian arancine franchise "prepared on sight".
An innovative and successful idea that brings Sicilian arancine and their traditional recipe throughout Italy and around the world. It is the franchising of Sicilian restaurants, of fast / street food revisited and adapted in the style of Palermo hospitality that shows its customers all the stages of preparation of the arancina.
Each phase of the production of arancini, in fact, is carried out in front of the eyes of those who enter and this, on the one hand, tells all the quality and transparency that Sfrigola puts in its arancini and, on the other, is precisely the strength of the concept which makes the arancina an amazing dish to taste and spectacular to see prepared: the "on sight" arancine branded Sfrigola!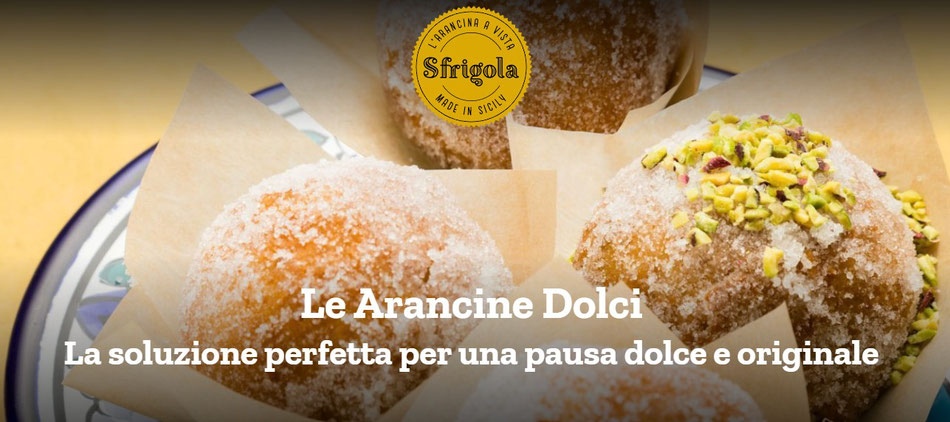 There are up to 30 different arancini options, even for the sweet tooth, delicious sweet options.