La colazione a casa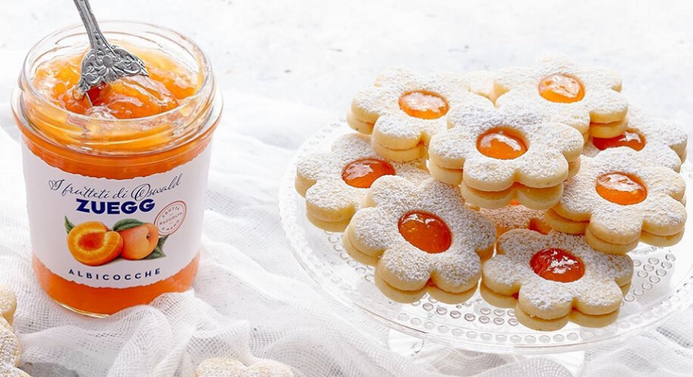 A typical Italian breakfast at home usually comprises of coffee, milk and bread, often with jam and butter, breakfast biscuits or fette biscottate (a form of crispy galette).
This is the type of breakfast you will have in the house of a friend and the breakfast staples you will find in all supermarkets.
Some of the fabulous ingredients for a typical Italian breakfast at home, includes good moka, made with the caffetierra and either bisquits, bread or cornetto warmed up with Jams from Santa Rosa or Zuegg. And good coffee from Lavazza, Illy or Borberone.
The most famous coffee brands in Italy include Caffè Borbone, Caffè Lavazza, Caffè Illy, Caffè Motta, Caffè Toraldo, Caffè Vergnano, Caffè Pellini, Caffè Agostani, Caffè Splendid and  Caffè Passalacqua (Napoli). 
La Colazione al  Caffè bar
A timeless ritual of most Italian breakfasts, is to go their local Caffè bar for a cappuccino, with a dense and compact foam that gives you a great start to the day.
In addition to the coffee, there is another reason to have breakfast at the Caffè bar , such as Gattullo, in Milan, a historic  Caffè bar since 1961: the homemade pastries are a real delight,  difficult to choose from the vast assortment of croissants, jam puffs, mignon, small cassata and puff pastries which in the morning fill the air with a very inviting perfume.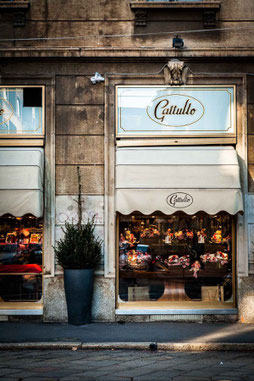 At Caffè  Blend in Milan, the atmosphere is charming with its large chandeliers and courteous service. Their puff pastry with blueberries, is too die for but even the apricot jam croissants are great for breakfast: soft and buttery with a crunchy glaze on the outside that makes every bite perfect.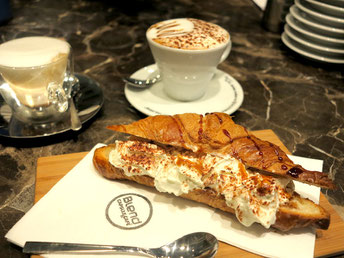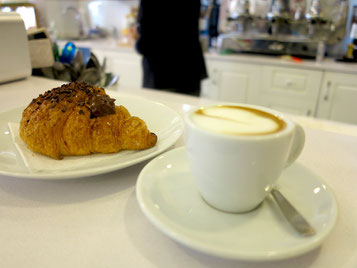 The most traditional Italian breakfast is made of cappuccino and cornetto, a sweet baked pastry in the form or a little horn (cornetto= little horn).  The Italian cornetto is sweet, tastes less of butter and comes in several varieties: Cornetto semplice, meaning empty, is a plain cornetto. Cornetto ripieno (=filledl) is a basic cornetto with either custard, chocolate or jam inside, respectively called 'cornetto alla crema', cornetto al cioccolato or cornetto alla marmellata. Over the course of the years, the choice of cornetti and other pastries has grown exponentially and it is common now to also see many other variations such as a pastry called  saccottini (pain au chocolat), to ventagli and tortine and pretty much anything the creativity of the bar owner puts on offer!