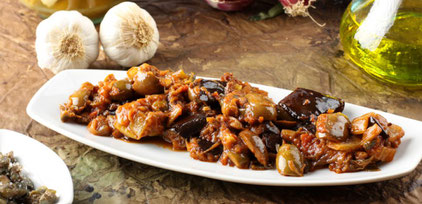 Sicilian caponata is a dish that has its roots in the history of the  Sicilian cuisine. Originally a typical recipe from the Sicilian region dating back to 1869, it has found today many interpretations across Italy and even globally.
It is deemed a traditional Sicilian summer dish.  But can also be prepared during other seasons.  The eggplant caponata can be a side dish or a single dish to be accompanied with toasted bread and to be enjoyed cold (the day after it has been prepared) or at room temperature. Served in finger food glasses, caponata can be a nice way to eat it during a lunch on the terrace with friends!
Ingredients:
1kg Aubergines
400g Celery
200g White onions
300g Tomatoes (San Marzano, Ramati, or other juicy variant);  230g Green olives (in brine or fresh)
Preparation:
This  option is also called caponata alla trapanese, as it adds a little pepper to the classic eggplant recipe, so as to give even more flavor and, depending on the quality of the peppers, a unique sweetness.
The preparation is  rather simple: the aubergines are cut, preferably into small cubes, salting them and leaving them to expire their juices and to be drained after twenty minutes. Meanwhile, start heating the oil in the pan to fry them. After draining the aubergines, start to fry them in hot oil. If you prefer not to fry them, you can also bake them in the oven with a drizzle of oil and maybe flavor them slightly with some spice. After frying, heat a drizzle of oil in a pan and start sautéing the onion with the tomatoes, then adding the cut celery, the olives, the pine nuts and the capers. Let it bubble for a few minutes, then adding the vinegar, salt and tomato paste. Mix and let the mixture just reduce. Towards the end of cooking, for the last 5 minutes add the peppers, stirring occasionally. The appearance of the eggplant mix should now be very juicy, if it is too liquid let it further reduce. Finally, with the heat off, add basil and any other herbs.
The Palermitan Recipe
The true Palermitan tradition requires the aubergines to be rigorously fried. The Sicilian capotana, in its original recipe from Catania, sees substantial differences compared to the Palermo recipe. The latter tends to use more aubergines, and less tomatoes, as well as being certainly simpler, often excluding the use of basil and pine nuts. The process is therefore the same as the caponata described above, but with the difference that this time it will be necessary to prepare the sweet and sour sauce for the aubergines. Using vinegar and sugar, dissolve the latter slowly, waiting for the sauce to cool slightly. The only different step from the recipe with peppers, besides the omission of these, is to pour eggplants, the sweet and sour sauce (in addition of course to olives and capers) in a pan, heat to mix all the ingredients, leave to cool and serve!