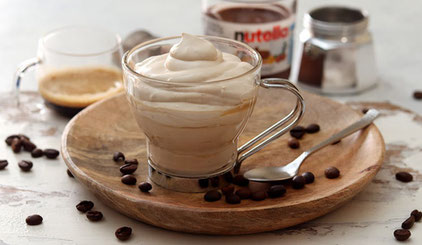 The Espressino Freddo made with mocha coffee and cream is an incredible pleasure that you can prepare at home in no time using your Thermomix. Since it should be enjoyed cold, we suggest you make the coffee well ahead of time, in order to create the espresso with cream promptly. You can serve it in a cup of coffee or in a slightly larger glas and garnish it with coffee beans, whipped cream or chocolate flakes. You can also serve it with waffles, as if it was icre-cream.
Ingredients: 400g cream; 100 g cold coffee, 100 g sugar, 10 g nutella
Preparation:
1. Put the cream (cold from the refrigerator), coffee (cold or at room temperature), sugar and Nutella in the mixing bowl of the Thermomix. Mix 3 minutes at Speed 4.
2. Check the consistency, if it has a poor consistency, position the butterfly whisk and continue 1 minute at speed 4.
3. Pour into glasses and serve with whipped cream to taste.
Usually, the Espressino Freddo is served at the end of  lunch or dinner and is a real spoon dessert for  summer, when it feels too hot to drink hot coffee. However, it is also a nice pick-you-up, if you feel like brighten your day!
Our advice is to modify it according to your needs and those of the guests, for example by adding a liqueur of your choice or, as we have done, using the delicious Nutella.