Fashion labels are branching out into food more than ever, with even indie brands cooking up ways to fill stomachs and closets. They're following on the heels of giants like Armani and Versace, who have been feeding shoppers for years. For brands, dining venues and pop-ups offer an inventive new way to click with customers. For label-hounds, they're a way of getting closer to a favorite designer. (And it's no secret you're more likely to buy something once you've lingered over an espresso, martini, or even a bowl of cereal.) These are the top spots currently fusing fashion and food.
Fendi Caffe
Brunch at the Fendi Caffe is a must for any fashion lover ! Brunch is always a good idea, and even more so if its somewhere that's open for a limited time only. Such is the case with the Fendi Caffe, the culinary counterpart of the renowned Italian luxury house. Arriving on Harrods' fifth floor, the café gives fans of fashion and food alike the chance to eat in truly stylish surroundings. The space itself has been made in collaboration with LA-based artist, Joshua Vides, who lends his trademark monochromatic graphics to the walls, tables, seats and even the crockery.
Prada - Pasticceria Marchesi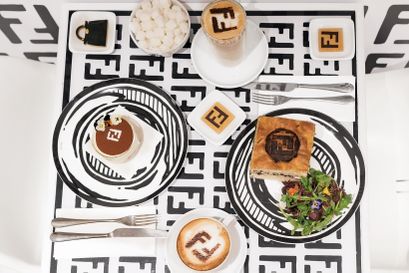 There is no Prada sign inside this supremely stylish new branch of an iconic Milan pastry shop. But Prada acquired 80 percent of 190-year-old Marchesi last year, and it's adding its stamp in subtle ways. The mint-green interior of the Via Monte Napoleone location looks like one of Miuccia Prada's jolie-laide prints brought to life, and the sumptuous furnishings—in hues like chartreuse and chocolate—are exquisitely coordinated. Prada's sworn to leave Marchesi's beloved sweets alone, though; Angelo Marchesi, grandson of the pastry shop's founder, still manages both shops.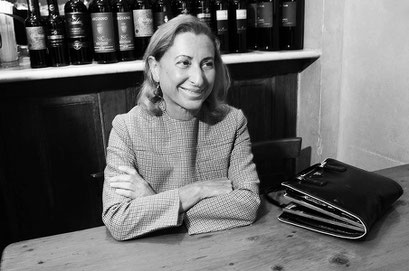 Giorgio Armani Restaurants
Milan
When entering through the main hall of  Armani/Ristorante on the beautiful seventh floor of the Armani/Hotel Milano, one is blinded by the sunlight.  Every day, even though it's inside, the huge windows that surround the entire floor give off plenty of light and with a stunning view onto the Duomo. The ambiance has  an elegant and sophisticated allure in line with the characteristic "Armani style." It's impossible not to notice the attention to detail in every corner. The staff is well-trained and offers a service that is more of an experience, rather than just a simple meal.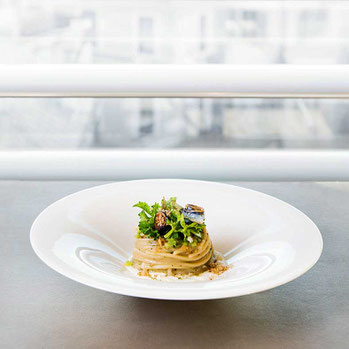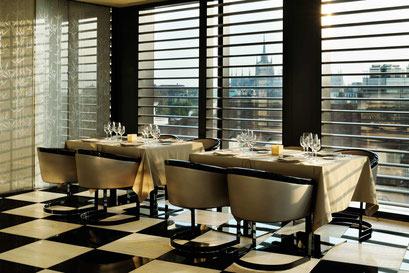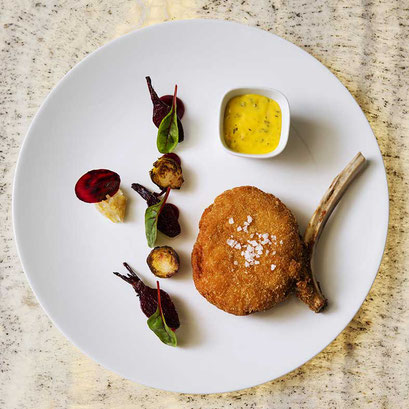 New York
Immersed in the heart of Manhattan, overlooking Fifth Avenue; Armani Ristorante lends itself to forge a new form of dining experience. Vanguard cuisine marries Italian tradition to create a variety of exclusive and innovative dishes served in a unique atmosphere.  The chef at Armani/Ristorante 5th Avenue spoils its guests with his signature twist on epicurean delights, while they are enjoying spectacular views of New York City.
Armani Caffe Cannes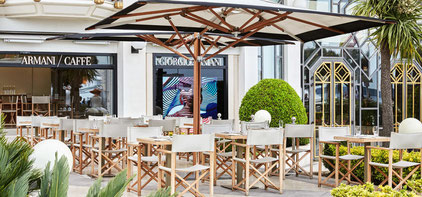 Located on the famous Boulevard de la Croisette on the Cote d'Azur, the Armani/Caffè features both an inside area and an outdoor patio area.
Emporio Armani Caffe
Palazzo Versace Restaurants - Australia - Dubai - Miami
Palazzo Versace opened in 2000 in Queensland, Australia, and its restaurant Vanitas is the more opulent of the hotel's two restaurants. Some faux Pompeii tiling with acres of Italian marble; some plush, velvet upholstered timber carvers; same extraordinary Versace-branded crockery; some electric blue light in the pool, just a metre from the tables.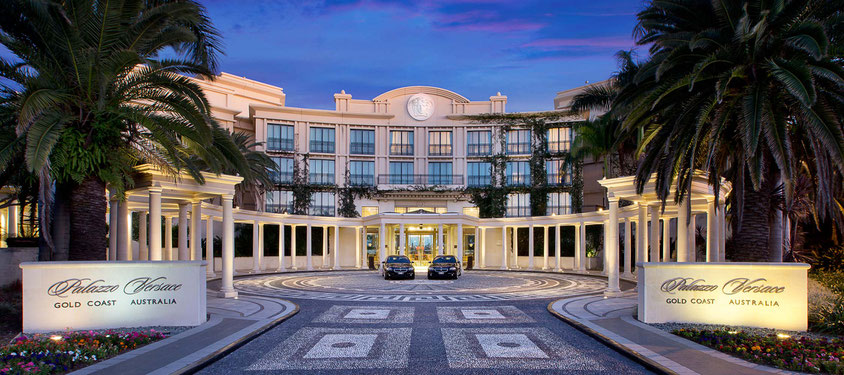 Soheil Abedian of the Sunland Group visited the House of Versace in 1997 to propose the idea of a Versace branded hotel. He claims Palazzo Versace Gold Coast to be the first fashion-branded hotel. On his reasons for approaching Versace, Abedian says "Gianni Versace was a lover of architecture in the first place, a person who used in his fashion all the elements of the Baroque style. ... Also, Versace was the only fashion house at the time that had a home collection and everything that a hotel needed from the porcelain to cutlery, pillows to fabric."
At Palazzo Versace Dubai, the focus is on curated dining where each venue is a tribute to Versace's signature works. There are eight of Dubai's delightfully contrasting Versace-themed restaurants and bars that grace the luxury hotel, and enjoy al fresco dining with views of the surrounding Dubai Creek. Enigma restaurant's culinary tale continues to evolve as it features the 'Taste of Persia'. Inspired by the Iranian origins of our Michelin starred Executive Chef Mansour Memarian, it is the most authentic culinary story to grace the kitchens of Enigma. Enigma has an indoor and outdoor seating that offers beautiful views of the main pool and Dubai Creek. 
Located in The Villa Casa Casuarina, the former Versace Mansion, Gianni's offers delicious gourmet Italian Mediterranean food and wine selections in a one-of-a-kind atmosphere on world famous Ocean Drive in the South Beach area of Miami Beach.
Gucci Osteria Massimo Bottura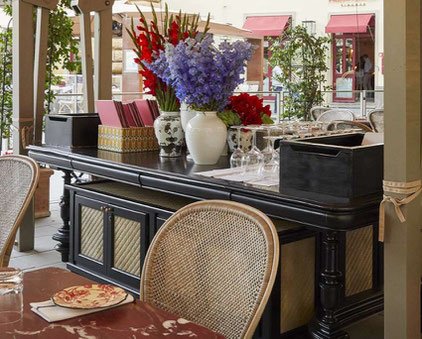 Massimo Bottura's dishes explore the deep roots of the Italian kitchen while making references to history, art and philosophy. His internationally renowned three Michelin star restaurant, Osteria Francescana, located in his hometown of Modena was named number 1 on the World's 50 Best Restaurants list in 2016 and 2018. For Gucci Osteria da Massimo Bottura the chef has created  a new menu influenced by his travels and applied to Italian cuisine.
Gucci Garden Florence Restaurant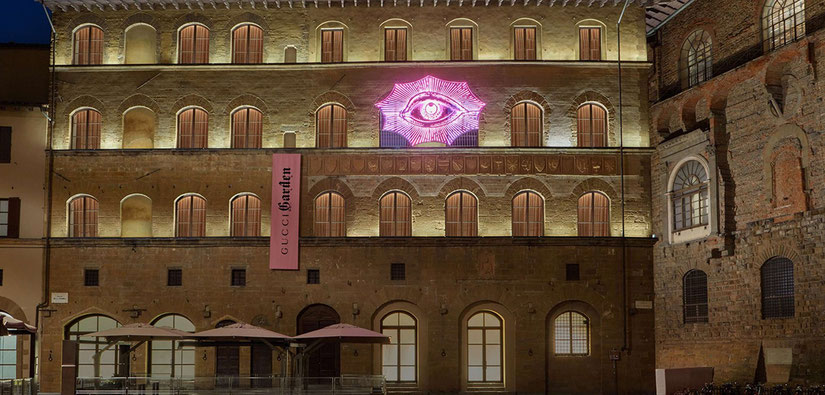 Gucci fashion fans can find galleries filled with Gucci clothes (both contemporary and vintage), video installations, art (including a "giant nineteenth-century equestrian oil portrait"), a boutique — and chef Bottura's newest restaurant. The menu at the 50-seat restaurant will include Italian dishes like Parmigiano Reggiano tortellini and mushroom risotto, but also Peruvian-inspired tostadas and pork belly buns, all for around 20-30 euros per item.
The Gucci Garden officially opened in January this year inside the Palazzo della Mercanzia, which formerly housed the Gucci Museo. It isn't a garden, but an interactive, Gucci-themed museum. Or, as Gucci Creative Director Alessandro Michele put it in a press release: "The garden is real, but it belongs above all to the mind, populated with plants and animals: like the snake, which slips in everywhere, and in a sense, symbolizes a perpetual beginning and a perpetual return."